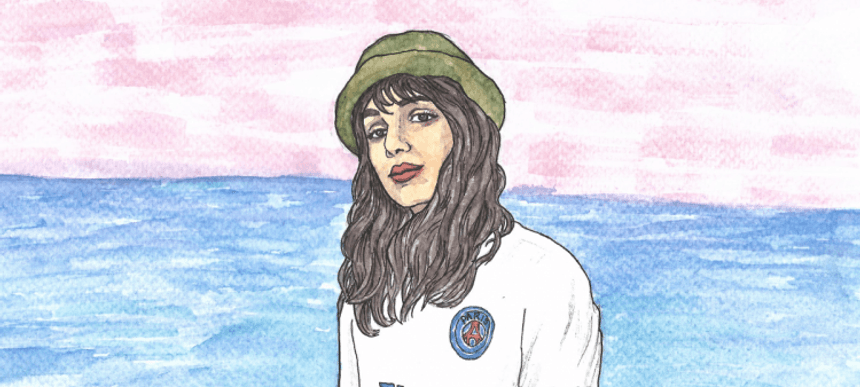 05.10.2018, Words by dummymag, Photos by Helen Stride
The Dummy guide to M.I.A.
Delving deep into the discography of the powerful, vital pioneer...
"'Arular' is shouty, 'Kala' is going around the world, 'Maya' is when you get the dream and 'Matangi' is where you realise it comes at a cost."
In a 2016 interview, that was how M.I.A. described her discography thus far – her fifth full-length 'A.I.M.', which she has referred to as her "final" album, was about to drop. Looking back, it feels a reasonable way to describe them all – Mathangi 'Maya' Arulpragasam has always specialised in a certain ilk of brash, global pop sounds that pulse with a defiant, infinite sense of invincibility.
On her 2008 New Order-sampling track '20 Dollar', when she spat, "I put people on the map that never seen a map", it felt deliciously on-point. The meaning was twofold – on the one hand her work was giving a voice and platform to artists and sounds often neglected by the Western cultural hegemony, which in itself was incredible; but in causing that disruption she went even further.
For people like me, the first time hearing Maya Arulpragasam's glorious mishmash of diaspora sounds pulsing from her MySpace page as a teenager was the most thrilling thing. As a British-Indian, I had never felt so represented than by this brightly-dressed Sri Lankan-British artist with her Bollywood samples topped with sing-song raps and met with humid riddims. She was giving immigrants and refugees a voice in the West, searing a path to help put South Asians and non-white cultures on this New World map.
Recently the excellent documentary, MATANGI / MAYA / M.I.A., was released, piecing together footage from Arulpragasam's life. Largely filmed with striking prescience by the artist herself from her adolescence onwards – she had initially wanted to work as a documentary-maker, which means for the viewer her whole story is just there, to be watched. The story that unfurls is one that proves the unforgiving nature of being an outspoken woman in the public eye – albeit one that perhaps glosses over the the issues that have made her genuinely problematic to her core fanbase. Regardless, the documentary is an insight into just how powerful Arulpragasam's existence has been in the face of her being gaslit time and time again in frustratingly patronising, paternalistic ways.
The film also serves as a reminder of how unmatched she remains in an industry that seems unlikely anytime soon to make room for another brown artist singing about sipping on Rubicon, or, even more unlikely, one who – in no uncertain terms – raps about the refugee crisis.
Accordingly, it felt right to delve deep into her discography and celebrate M.I.A.: whether you're among the uninitiated; someone who never really got further than that one year where Slumdog Millionaire came out and you couldn't go anywhere without hearing 'Paper Planes'; or even just a huge fan here ready to get lost in this vital pioneer's work all over again.
Piracy Funds Terrorism vol. 1 (2004)
"To Congo, to Colombo
Can't stereotype my thing yo"
A self-released mixtape brought to you by M.I.A. and and her then-boyfriend (a relative unknown called Diplo), it featured early vocal takes for debut album 'Arular' mashed-up over fuzzy electronic chops from pretty much everything she loved: hip-hop, R&B, baile funk, dancehall, and even the likes of Madonna and Prince. It was an innovative, brash and colourful sound that would later be credited with paving the way for Brazilian groups like CSS and Bonde Do Rolê – and, importantly for M.I.A., it set the tone ahead of 'Arular', earning her spots on end of year lists and garnering a hallowed, elusive 8.5 'Best New Music' on Pitchfork.
Arular (2005)
"Hello, this is M.I.A.
Could you please
Come get me"
The story goes that M.I.A. had turned up at the legendary XL Recordings in West London announcing, "I'm the one you've been looking for". What followed was probably not quite what XL were looking for, because M.I.A.'s musicality came from a much more DIY, untrained place than the label was typically associated with – but with her blazing, punky, scuzzy mash-ups of humid worldwide sonics, intricate worldwide polyrhythms, and laden with collaborative work from the likes of pop producer Richard X, Jamaican DJ Switch and, of course, Diplo (these latter two would go on to form Major Lazer). Named after her largely absent father, its artwork was controversial – images of tigers seemed to nod to Sri Lankan terrorist resistance group the Tamil Tigers that her father was said to be associated with. This was a theme that spread across her career: the politics of resistance and, for her dissenters, unfair accusations of "radical chic" (as though talking openly about ugly, lived experience was a cool costume). Beyond that, of course, it banged – little skits cut through the boisterous glory of tracks like 'Bucky Done Gun', and the album remains a joy to listen and dance to.
Kala (2007)
"M.I.A. coming back with power, power"
This was when M.I.A. hit the mainstream – which, when you consider just how weird her biggest track 'Paper Planes' actually was (the siren-like Clash sample, the childish drawl of a chorus parodying what everyone thinks of immigrants) is kind of phenomenal. Propelled to fame off the back of that song, via Pineapple Express and her work on the soundtrack for Slumdog Millionaire, suddenly she was an Oscar-nominated talent. But amid the newfound stardom, it's easy to get distracted from what a feat Kala – this time named after her mother – really was. Yes, she had the plethora of glorious samples – one of my favourites was her take on a schmaltzy Bollywood jam that she used to perform a dance routine to as a kid for family friends (a very desi kind of memory). They literally travelled the world to make the record (following purported US visa denial) – so, for example, when you hear cawing on kaleidoscopically chaotic 'Bird Flu', that's not a sample; when you hear the men chanting at the start of 'Hussel', those are Indian fishermen – these are all real sounds she picked up while creating this around the world. Often it was a process that involved taking beats to different places and seeing how they reacted, and picking up new things from each location. She told the Fader in 2016, for example: "Every record I make is about equal appreciation of all cultures, unified and layered so they co-exist. Purely to reflect that, actually, co-existing can be possible. And I think this is why it was really important, for example, on a track like 'Boyz', to take a 2,000-year-old drum beat, which is called 'dupping' […] I took it to Jamaica, and they loved the rhythm, and they got on it, and then you took that back to [other countries], and then took it here and there… I just learned that as a human being, people connect to shit."
/\/\/\Y/\ (2010)
"You want me be somebody who I'm really not"
Of course, with fame came more of a sense of responsibility than ever: now that she had a platform on US talk shows and the like, it was Arulpragasam's time to to talk about what was going on in Sri Lanka, using language that was deemed as inflammatory – calling what the government there were doing "a genocide". Journalists and TV hosts spoke down to her as though she didn't know what she was talking about, and the thing was, no one wanted to hear it anyway. The striking video for thrilling track 'Born Free' was controversial and, at the time, banned from YouTube, but few seemed to want to discuss the persecution M.I.A. was actually trying to draw attention to by placing whiteness on the stage. People were less interested in the album, or what the UN would later declare as a war crime, than they were in the now-infamous truffle fries debacle. It was a strange album, though – it found her ferocious, yes, and in fact was home to one of her finest pop tracks ('XXXO' should have been much, much bigger than it was). But the ideas felt a little convoluted and lost too, stripped away of Kala's colour and forced onto a bigger platform: it's an album I enjoyed at the time for its various whirring industrial moments, but listening back now, in truth, she sounds a bit jaded.
Vicki Leekx (2010)
"I find
If it's not the world, it's the people
And if it's not the people, then maybe its you
If it's not you, then maybe it's me
But if it's not me, then it's the music"
This tape followed soon after the relative misfire that was '/\/\/\Y/\', and though the title might allude to her politics (she is a friend and fan of Julian Assange), it's really more a tape that harks back to early days M.I.A. – these are just grubby and brilliant dance tracks, with names like 'Let Me Hump You' which seemed to suggest, actually, she didn't really care what anyone else thought. Some of the '/\/\/\Y/\' songs get a revisit too, but overall she sounded freer again.
Matangi (2013)
"Live fast, die young, bad girls do it well"
It's kind of hilarious and terrifying how the main controversy of M.I.A.'s career, to the North American public at least, was her giving the finger when performing with Madonna at the Super Bowl. Over a year later, this album continued to laugh at the absurdity of it all. Indeed, if '/\/\/\Y/\' found Arulpragasam a little lost in the midst of fame, 'Matangi' found her coming back fighting – "what doesn't kill us makes us stronger" she chants on sweet and uplifting highlight 'Come Walk With Me'. She sounds more relaxed, and more poised again – you can practically feel the wind blowing through your hair when you blast 'Bad Girls'. She had realised that talk shows and the mainstream media were not platforms for her ("Brown girl, brown girl, turn your shit down / You know America don't wanna hear your sound", she taunts on 'Boom Skit'). There were the giant orchestral hits on tracks like 'Bring The Noize', the inclusion of The Weeknd (then still a largely "alternative" act in so far as mainstream R&B went) offering swoony melismas, the squelchy dub of 'Double Bubble Trouble' – she was back doing what she was best at, picking up radical sounds from all cultures and piecing them together into her patchwork musical map.
AIM (2016)
"What haters say about me don't worry me
I keep it moving forward to what's ahead of me
You gonna see I'm gonna be
And you're gonna remember me"

If this is, in fact, the final M.I.A. album then it's kind of a characteristic way to go out. Full of immigrant politics and immigrant sounds, it was a necessary balm to the Brexit and Trump hellfire of 2016. It's not to say it all worked – some of the lyrics could be a little clumsy, sure ("Mexicans say hola!", was perhaps not the most insightful take on the US border), but this was still that swaggery, sing-song rap she does so well. The clashing sounds of swords add to the percussion, ex-Diplo returned in spite of an acrimonious ending (although, it would transpire, not all was forgiven), and 'Freedun', the soaring pop collaboration with Zayn (the only brown popstar to have emerged into the limelight in Arulpragasam's aftermath) was a real beauty, punctuated with Indian classical-style konnakol (kind of like scatting).
M.I.A. might be a problematic popstar, and not all of the issues she speaks on are 'the right ones' – but her willingness to speak out in spite of an industry that constantly tries to silence women, not least women of colour, is true testament to her strength of character. And as an artist, her oeuvre of sonics and visuals are truly something else. At its best, M.I.A.'s back catalogue proves her as no less than a true pioneer.
The 'MATANGI / MAYA / M.I.A.' documentary is out now and showing in cinemas – find tickets here.