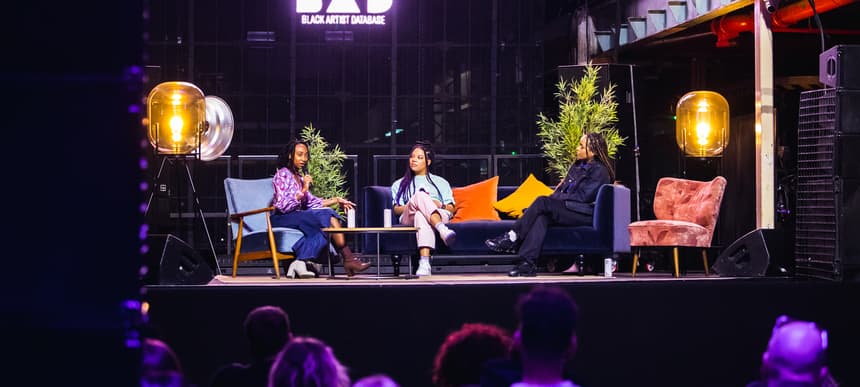 28.02.2023, Words by Payton Dunn
The future of UK music was paved at AVA Conference London 2023
The visual arts conference took over Printworks this past Friday...
The future of music has been pioneered at Printworks for years, but few of its regular attendees would ever expect it to look like this.
The super club was taken over by AVA London on Friday, which brought some of the biggest speakers in the UK music and entertainment industries here to London. The conference started off with an opening keynote from Hot Chip, the iconic synth pop band that's proven to be one of the most recognizable indie groups worldwide. Band members Alexis Taylor and Joe Goddard talked about their career path over the years, which took them through genres like pop, synth, and electronica.
Attendees were then treated with up to three new keynote options every hour. DJ and Hooversound label boss SHERELLE sat down with Niks (founder of Black Artists Database and co-founder of BEMA) to discuss inclusivity in the live music industry, the Black and Queer origins of dance music and the importance of funding grass roots projects. 
The day was closed out by the "Migrant Footprint" keynote, which was presented by The Right To Dance and War Child. The keynote was led by GAIKA, DJ Nooriyah (Middle of Nowhere) and Lumi, who talked about the impact of migration on their music careers.
Throughout the event, there were tech drop-ins that let attendees experience the newest and most innovative technology. Companies featured included Square, Easol, War Child, Sentric Music, Steel City Dance Discs, Volta XR, Immerse / Bluman Associates, and Velocity Press.
As conference attendees filtered out towards the end of the day, AVA London got the venue ready for its accompanying club night at the venue.
The event was surely one to be remembered, and if the quality of this year's conference is any indication, next year's is sure to be even better.
Read next: Five talks to catch at AVA Conference London 2023