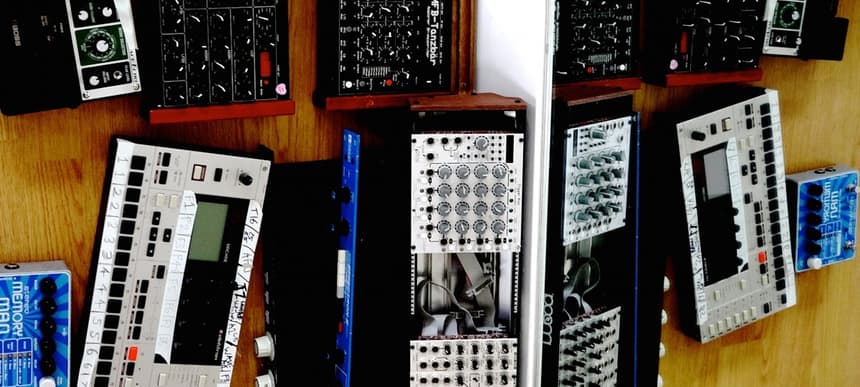 13.09.2016, Words by dummymag
The music gear that made Factory Floor's album '25 25'
Industrial inspired dance duo Factory Floor made a triumphant return to DFA last month with their hyper-modern and hypnotising second album, '25 25'. Breaking the three-year hiatus that followed their self-titled debut 'Factory Floor', the band slimmed down to members Nik Void and Gabriel Gurnsey, who operated in unison from a now demolished North London warehouse, before Void took to Norfolk and Gurnsey relocated to Manchester before taking up residence in the (much) less soggy climes of Los Angeles.
Inspired by the number of late night shows they played along with Void's decision to switch from playing the guitar to handling a modular synthesiser, the pair felt a renewed sense of creativity, which pushed them along in the lead-up to what could have been the 'difficult second album': '25 25'.
Flawlessly ticking the boxes of dubbed-out acid disco with album opener Meet Me At The End, slinky vocals colliding with Sheffield bleeps on Dial Me In, and post-punk inspired industrial techno-fantasies of stand-out track Ya – Void describes the 10-tracker as "probably the most 'me' record that I've ever done." Taking the lead with a chiselled out sound that is so obviously layered with a multitude of complex (and beloved) music gear, we decided to ask Factory Floor for a rundown on what may be one of the most thought-provoking electronic music albums of the year.
Read through Factory Floor's set-up below and get prepared for serious gear envy.
Intellijel Atlantis Module
Nik: "So I started with the Intellijel Atlantis Module influenced by the SH101. This is the main synth voice of '25 25'. This gave me everything from the rich bass sound you hear on Dial Me In, to the synth tribal drone on Slow Listen."
Intellijel Metropolis Sequencer
Nik: "Most sequences on '25 25' are triggered by Ableton Live. I did, however, get a Metropolis (also by Intellijel), as this has a totally hands-on approach that can produce more far out sequences by assigning auxiliary modifiers with shuffle and clock dividers, that can randomly give you more exciting result rather than Ableton, where you literally limited by your own input. Bass lines like Meet Me at the End and the high synth on track '25 25' came from here."
Make Noise units
Nik: "I consciously limited my modular set up knowing I only had a window of time to make the record, I wanted to go in with my eyes open enough to see my way around. Once I got the hang of it I added a couple of modules that would twist the sound in unexpected ways – like the Make Noise Wogglebug, you can hear the wobble in Wave, and the Make Noise MMG to add organic pops and squelch.
I brought in some percussion mainly using Tip Top audios 808 and 909 clones – claps, rim shots, (loved this in Ya). The best part of this record was that Gabe and I liked the idea of visiting each other's territories. I had fun adding some percussion and drums (mainly the claps and the rim shots you hear on Ya), as I have two midi outputs I could choose between to make a separate sequence pattern. Sometimes it's fun to tap into the bass sequence, using say the MA808 Maracas white noise generator, to roughen up the synth line by using the same Gate source. Dropping it in and out gave me simple lifts and not in your face lifts. Wait, did I just say face-lifts? [Laughs]"
Make Noise Erbe – Verb
Nik: "This is a complex Reverb unit that can blend delays and reverse functions. Unlike a simple reverb, you can completely transform the sound to resemble nothing like where you started. It is an amazing unit but be warned, like most modules something happens to time, and two hours can pass without you knowing it. On the track Ya, I produced the low bass, and Gabe the high. I took Gabe's high synth pattern and feed it through the Erbe-Verb in reverse. It messed it up, really nice!
Mackie 1604 VLZ4
Nik: "I am yet to find Modules that give me the same amount of instant satisfaction as effects pedals, like boss delays and reverbs, so I continued using these by feeding them via the auxiliary sends on the Mackie desk. Every channel ran through this desk before hitting the Metric Halo audio interface (Gabe and I both had the own identical units). We use the Mackie 16 track mixer (1604 VLZ4) live. I love it because it's simple and built like a tank – the controls are easy to handle and it has eight separate outs, which is perfect for mixing and tracking live.
I had so much fun with the vocals on this album. When playing electronic sets across the continent in the year or so previous to getting down to '25 25', I took vocals from our debut album to resample and manipulate them on stage. For this record, I felt freer. I expanded by pushing the processing and making each vocal a different persona for each track by pitching down, using dual functioning with normal and pitch blend, plus delays through the Effectron, stretching and resampling into vocal loops in Ableton."
Shure SM7B
Nik: "To get to a good start I invested in a decent affordable mic. I'm not one for posh ribbon mics – I have used the Shure SM57 Dynamic mic for years as its directional and helps with feedback as I run it through so many effects. For recording, I used the Shure SM7B. It picks up good close up vocals like for Dial Me In and Ya, as well as distant range vocal takes like in Slow Listen. It shields from hum, so no problems with setting up within close proximity to all my other running gear and equipment (in my bedroom [laughs] and there's no professional vocal booth there). Just like the Mackie mixer, it is built like a tank."
TC Helicon Voice
Nik: "For vocals, I also made an effects chain using the TC Helicon Voice tone (green) doubling and detune – this is built with a nice pre-amp so gives me gain without hiss that I tend to get with the Boss guitar pedals. I did combine this with Boss as I'm not too fussy about hiss, then I fed these through the Effectron II."
Effectron II
Nik: "This unit provides me with the most natural sounding delay, without weird clipping and choice of flanging. It has a simple 5 step combination that colours the chosen delay performance, be it HI, MID, LO for the flange, a doubler. It's great for thickening sample vocals to give it that 'house' effect: SHORT, LONG and INFINITE. The infinite switch is my favourite and I created the sample at the end of Slow Listen with this. It allows you to punch in the effect real time, so almost at random, as it performs a slice of vocal sound and continuously recirculates with no degradation. You can hit record and not adjust the setting to get that rigged repetitive long stream sample – great for track play outs and organisational sections like the vocal part of track 25 25. I prefer not to adjust the sound and let it run, as I love the simplicity. You can if you feel like it adjust whilst on the play, by adjusting the modulation dials – delay factor and delay speed. It is by far my favourite delay unit ever!"
Metric Halo 2d Expanded
Nik: "We both have one!"
Eurorack Modules
Nik: "Walking into the modular world felt pretty daunting, it reminded me of when I would go to guitar shops to try out new gear – feeling the pressure of spilling out a guitar solo on the spot, but to much disappointment (sometimes amusement, and rolling of the eyes) of the staff I'd pull out a drumstick. I have to say Modular enthusiasts have a slightly different tone: my experience when first walking into Rubadub was greeted with happiness and excitement, an overwhelming want to share knowledge, no secret codes or nodding know-hows…it was so ace! Same goes for London Modular and Control in NY."
Elektron Analogue 4
Nik: "To add texture,layers and another synth voice I invested in the Analogue 4. You also have the added benefits of memory that you don't have with modular synths. It has around 4000 sounds built in that you can manipulate to create your own sound by playing (again for hrs) with the FX parameters, pitches, by illuminating sound layers as well as adding. You can noticeably hear this on the pop sounds on Relay."
Gabe: "The Delta Lab Effectron was a favourite of Arthur Russell's. The Effectron has a sound no other delay rack has. There's something about it. I have pretty much tried every drum track through it and everything always sounds good."
MFB Tanzbar
Gabe: "There's something MFB gear has that you can't find in most modern analogue machines. There's so much character in the way they program and in the sounds it creates, almost like it's a different drum machine each time you turn it on and start it running. This is my go to drum machine when starting up a track and it's used on every '25 25' track. It can be so subtle but at the same time, you can make it sound predatory. An amazing drum machine. I wept when I sent it off for repair last month."
Elektron Monomachine
Gabe: "I like to record sequences by punching in notes by hand rather than step sequencing and this is perfect for that. I love it when you make mistakes but the machine corrects them back in time, creating something you might not have thought of. I used it for the hi synth line sequence on Ya."
MFB Dominion x SED
Gabe: "A beast of a synth but built like an Airfix model, and feels like it could crumble in your hands at any given moment (which it has at a couple of shows), but still sounds immense. It was used for the high synth line in Ya and the sub bassline in Wave. This sonically paired really nicely with Nik's modular set up when we were recording '25 25'."
Delta Lab Effectron II & Emperical Labs Distressor
Gabe: "Knowing that after the initial tracking of the album we'd be in different parts of the world to finish up producing '25 25', we bought two of each of these units as well as the same monitors and mixing desks we used . This way we'd have the same reference points and in a way a boundary on what we could use on producing the record in terms of effects.
We were introduced to the Distressor by New Order's Stephen Morris whilst working on Real Love with him at his studio. It went straight on the shopping list.
We used it more as an effect rather than a traditional compressor on this record. Re-tracking snares and hi-hats through it to dirty them up and pull away from the silky sound you can get too much of with some soundcards."
TipTop Audio Trigger Riot and drum modules
Gabe: "One morning when I was working on the record In Los Angeles, I walked into my studio to find a note saying "Gigantic deadly spider near power strip. Kill. Proceed with caution." This thing (which turned out to be a venomous brown recluse spider), decided to plot up behind my modular rack. Nice of him, but it stopped me working for a week until he moved on. Anyway, so the TipTop Audio modules are really amazing. Crunchy and big sounds. The Trigger Riot was key to some of the off-kilter percussion rhythms on '25 25'. If you want a really versatile drum machine sequencer then this is the way to go.
The modular world is an abyss – be warned."
Roland Boss Space Echo RE-20 & ElectroHarmonix Memory Man w/Hazarai
Gabe: "How can I do this without sounding like an eBay listing?
'A nice replication of the Roland RE-201 Space Echo. Gigged 20,000 times and comes with a power supply. Buy it now.'
The memory man w/Hazarai is great on drum machines and live drums. No one knows what Hazarai is but it sounded nice on the snare for Dial Me In."
Factory Floor's album '25 25' is out now on DFA (buy/stream).