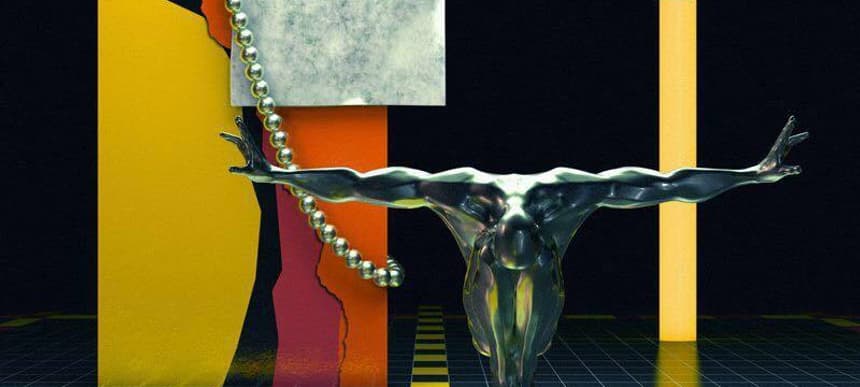 27.09.2016, Words by dummymag
The music gear that made Vin Sol's 'Instinct' EP
It's been one hell of a year for San Francisco resident Vin Sol, who has been putting most of us to shame with a to-do list that included the inception of new label spawned from his Club Lonely party series, followed by the release of the 'Club Lonely Power Tools' and 'Like This' EPs, plus a split 12" with Matrixxman. And breathe.
Raring to go for a final slog of the year, the jacking house connoisseur joins the ranks of Jimmy Edgar's shimmering, aesthetically led label Ultramajic with his five-track jack masterpiece 'Instinct'. Pulling together the sounds that define his well considered palette of house, techno, old skool midwestern jack tracks, and "something for the real freaks" – the release moves from opening siren Instinct (which instantly made us think of Eric Martin's Fire Alarm), through to the dark 'n' bumpy grooves of sandwiched tracks 1314 and Can't Cope, and that high-powered season finale DTWL. Of course, we can't forget the bonus click-n-crash remix of Instinct by close collaborator Matrixxman.
Built exclusively for the dancefloor, it's definitely a release we'll be keeping in mind to champion during our end of year dance lists, but for now, get 'Instinct' snuggled up in your pre-order list and take a trip inside Vin Sol's studio below to see the gear that made 'Instinct', which ranges from your standard Akai-shaped fayre to a less expected item on the studio line-up – a mammoth crystal.
Akai MPC 2500
Vin Sol: "This is the second brain in my studio. I usually end up doing my drums on here or the classic Roland boxes. When I first started making music, all I had was an MPC and I have had them all through the years with the exception of the MPC 2000. This is the third 2500 that I have owned, as I tried to switch to software… but that really isn't my way. This model seems to me to have the best interface and ease of use. Most of the tracks from the 'Instinct' EP started on this machine."
Rega Fono Moving Magnet Phono Stage
Vin Sol: "This is what I run my turntable through for sampling. I don't do my DJ rips with it as I prefer to get the punch of my Urei 1620 mixer for clubs. I find that I get lots more detail when I sample through this guy. It's also great for listening to non-dance music."
Vinyl sample stash
Vin Sol: "What can I say? I first started making hip hop, so I invoke my right to sample from time to time. A good sample can really make a good track into a great track."
Ensoniq DP/4
Vin Sol: "A favourite FX rack piece. Hawtin used it for his 'Deck & FX' record and tour back in the day. This was the go to for FX on most of the 'Instinct' EP tracks. You can really hear how wild they are on DTLW. Instant inspiration."
Eventide H3000
Vin Sol: "This guy is a little more difficult to wrangle than the Ensoniq but the vastness of FX on here is just plain crazy. I upgraded the Eprom chips and maxed out all the presets, so there is like 1000 on here. You can use the dial to control parameters in a musical way, which I really like to do. You can hear the reverb on the high synth on Can't Cope."
UAD Apollo Duo
Vin Sol: "One of the biggest improvements to the processing of sounds in my studio. I use the plugins on all of my final mixdowns. Going from a Motu to this guy is night and day."
Genelec Monitors
Vin Sol: "In my opinion, the best monitors for clear mixes, especially when used with a sub."
Roland TR 909
Vin Sol: "Not much to say about this that hasn't already been discussed. A straight up classic that never gets old to me."
Roland TR 808
Vin Sol: "Like the 909 above, this guy is a staple in my productions."
Yamaha DX100
Vin Sol: "The smaller version of the classic DX7. To me, it sounds more analogue than its older brother, probably because it has fewer operators. Made some of the high synths and bass tones on it for the EP."
Yamaha PSS 680
Vin Sol: "My favourite 'cheap' synth. I found out about this one whilst looking at pictures I found online of DJ Deeon's studio in the '90s. I had built in speakers so took them out. You can hear its distinct FM sounds all over 1314. It has that classic portamento you hear on most '90s Chicago records."
Crystals
Vin Sol: "I really think I have to be in the right head space when I get into the studio. I used to think you just had to show up every day, but as I got older, I realised I actually need to be collected and focused. My girl gave me these crystals and I think they kept me chill and in the right mind when I wrote this EP for Ultramajic."
Vin Sol's 'Instinct' EP is out October 7th on Ultramajic.