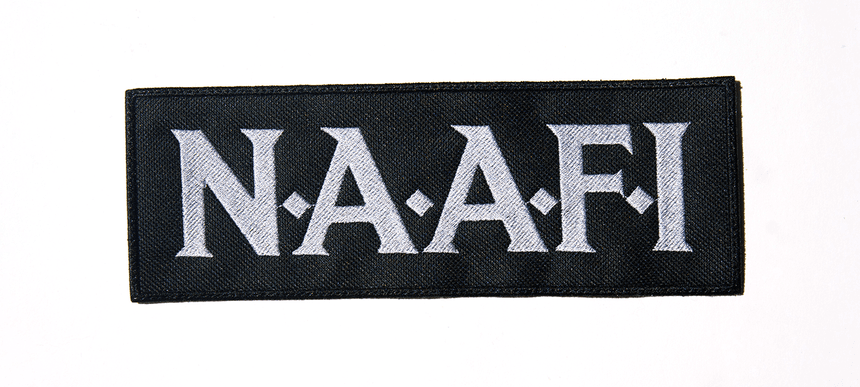 20.10.2016, Words by dummymag
The N.A.A.F.I guide to Mexico City
Founded in 2010 by Tomás Davó and Alberto Bustamante, N.A.A.F.I (aka No Ambition And Fuck-all Interest) was formed from a chance meeting, after the Southern Mexican pair met at university and decided to throw a bi-monthly party, and in just over five years, it has firmly rooted itself as one of the most intriguing labels in underground electronic music.
A forward thinking collective that dominates (and subverts) the Mexico City party scene, the club-night-turned-label-and-merch-dominator is home to the likes of DJ Tetris, Mexican Jihad, Imaabs, and Lao. N.A.A.F.I might decide to do a party on a beach, or they might do a party in a cantina – but rest assured it'll be dynamic – with a unrestrictive music policy that darts from grime and Jersey club remixes of mainstream R&B classics to kuduro and ballroom house, as well as shining a spotlight on the crew's main agenda and USP: their identity as young Latin Americans.
Currently deep in a European tour, the N.A.A.F.I squad will be stopping off to make a mark in London by taking over the city's nightlife series Clock Strikes 13 this weekend, bringing crew members Lao, Mexican Jihad, Fausto Bahia and NON Records co-founder Nkisi to The Jazz Cafe in Camden on October 22nd. Ahead of their showdown, we asked the label to guide us through some of their favourite Mexico City haunts to share "intel", the best tostadas, and the city's own answer to Stonehenge.
Read through the guide below, and hold tonight for a taste of N.A.A.F.I's genre-busting fiesta this weekend.
CU and Espacio Escultórico
N.A.A.F.I: "The National University Campus is one of the best sightseeing trips you can do if you're a fan of modern Mexican architecture. The whole campus is really nice and was recently declared part of the cultural world heritage. The Espacio Escultórico is a crater of volcanic rock monoliths that frame the sky and the valley's 360º views. Kinda like a Stonehenge in the south of Mexico City. Cruising friendly."
Frikiplaza
N.A.A.F.I: "This is a weird shopping mall on Eje Central, with several locations. The epicentre of Otaku culture in the city. You can get comics, video games, noodles and Japanese snacks next to Magic tournaments."
Pialadero de Guadalajara
N.A.A.F.I: "We go to this place every time we get back from a tour to gossip and exchange intel. The micheladas are amazing and you can get a 'torta ahogada' drowned in the hot sauce that comes in three different levels of spice. Ask for a plastic globe to eat it properly. The tostadas and agua chiles (raw shrimp cooked in lemon juice) are also recommended."
La Lagunilla Market
N.A.A.F.I: "Perfect plan for Sunday. Its next to Tepito, so you can go antique hunting or for the sportswear bootlegs, but the true highlight is the 1lt. micheladas and the after-tianguis parties. This requires a certain amount of street cred or a local companion who knows what's up (if you don't want to get mugged). Some of the best styles in the city can be seen here. Tepiteños are true cosmopolitans, and this is the barrio that dictates the local street fashion."
Museo Nacional de Antropología
N.A.A.F.I: "CDMX is the city with the highest number of museums in the whole world. If you only have time to visit one, this is it. The building is pretty dope and it houses some of the most impressive sculptures and artefacts from all the prehispanic civilisations. The whole display was design to construct an idea of 'national identity'."
NA DE FO
N.A.A.F.I: "Our favourite Korean BBQ. We often have family dinners here. Korean is the biggest and most visible migration in the city. Colonia Juárez, where we have the office, is slowly turning from Zona Rosa (Gay Quarter) to K-Town. Mini markets, karaoke bars and coffee shops are all part of the city landscape now. There is a similar vibe between Mexican and Korean cultures."
Bósforo
N.A.A.F.I: "The best mezcalería in town, behind a velvet curtain in the corner of Independencia and Luis Moya. Sometimes you have to knock the door. During the week it's perfect for a low-key date, the weekend gets infested with tourist and mezcal enthusiasts. Order 'agua de maracuya' and grasshoppers to go with your ensemble."
Hiyoko
N.A.A.F.I: "Hiyoko is a tiny Japanese place in Colonia Cuauhtémoc with great service, run by our friend Toshi. The speciality of the house are the chicken skewers. We advise you to order the omekase or chef's menu. $$$."
Tianguis del Chopo
N.A.A.F.I: "This is the classic street market where all the 'urban tribes' gather and get everything for their outfits. Only on Saturdays. Punk, rasta, goth, ska…The hardcore shows are right at the end of the stalls. 'El Chopo' is next to the Vasconcelos Public Library – a building by Alberto Kalach that looks something like an Aztec spaceship. The gardens around the building are also perfect for taking a cute walk."
Yautepec Gallery
N.A.A.F.I: "The front shop looks right into Circuito Interior, one of the busiest inner-city highways. Yautepec Gallery represents a lot of the young and contemporary art scene in the city. Some of the artists have contributed artwork for the label. Shout out to SANGREE. N.A.A.F.I also takes care of the MATERIAL afterparty, the younger art fair that happens during the Spring. A great season to visit DF."
N.A.A.F.I play NTS on October 22nd (5-6pm) before bringing Lao, Fausto Bahia, Mexican Jihad and Nkisi to The Jazz Cafe, Camden for their takeover of London party series Clock Strikes 13 on October 22nd, 2016 (info).