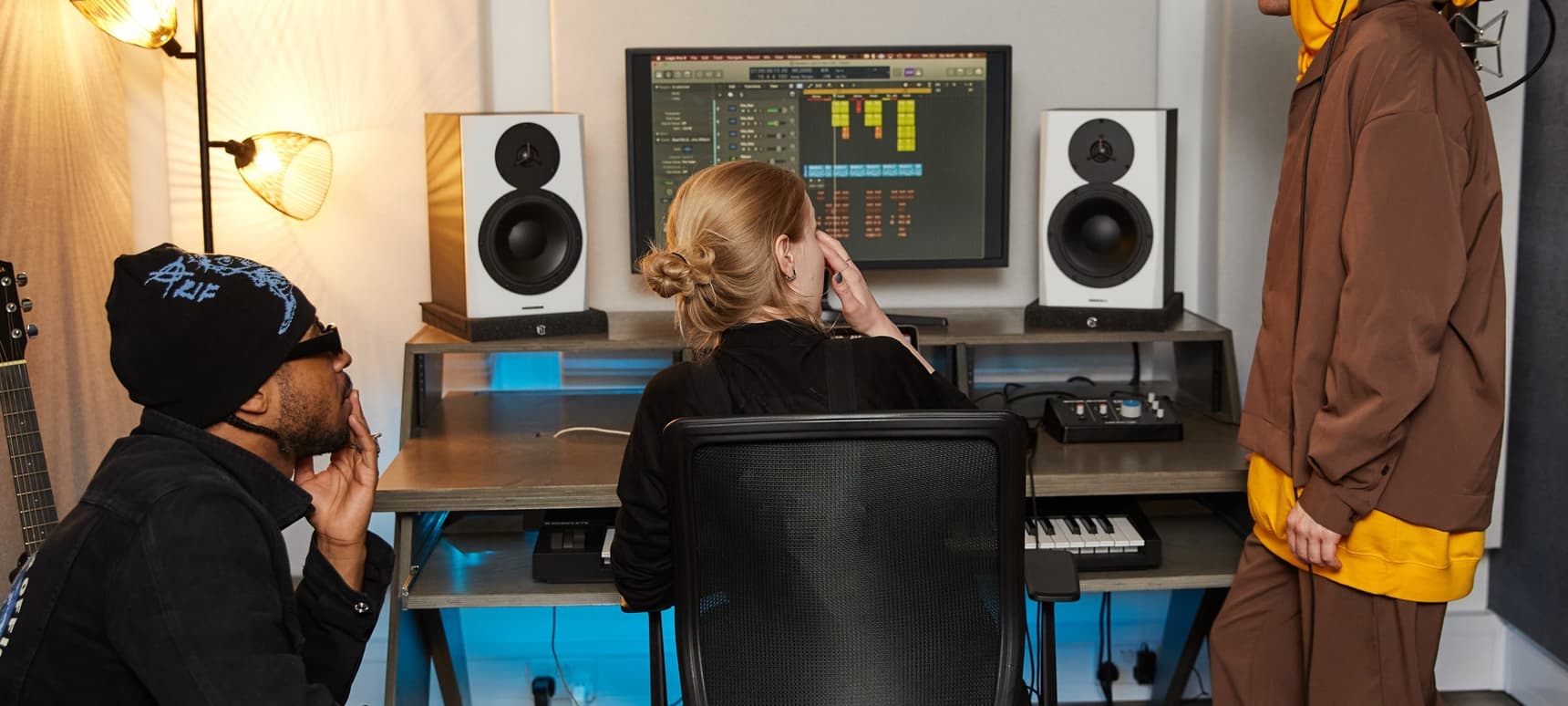 14.04.2022, Words by Billy Ward
The Qube is the London-based members space handing power back to creatives
With The Qube's first ever talent development happening this April, we sat down with the company's co-founder to discuss their vision for democratising the music industry
A home for London's most inspired creators to prosper, The Qube is a first of its kind space, resource and network designed specifically for creatives by creatives. Members can expect to share access to 30 purpose-built studios across music, podcast, video and photography, bringing creators across disciplines together under one roof to share ideas, inspire each other, and find their flow.
Despite regularly opening its doors for stars such as AJ Tracey, Krept and Konan, Ellie Goulding and Lewis Capaldi, the studio space aims to give rising creatives a platform to prosper and is currently underway with its first ever talent development programme, 'Qube Futures', which started on April 19.
The new scheme is a unique opportunity for 18 to 25-year-olds with an ambition to take their careers to the next level. Over the course of this month, the Class of 2022 will develop an understanding of modern-day life in the music industry, establishing a productive network of like-minded creatives while working alongside some of the most well-respected names in the business. The 4 week intensive development programme seeks to remove the financial and social barriers that often prevent many individuals from pursuing a career in music, providing access to masterclasses, workshops and panels from leading professionals in the industry.
After receiving hundreds of applicants, the team managed to select 8 participants to enrol onto the programme. The final selection for the Class of 2022 includes: UK garage singer, rapper and producer, Afroditetoolively; Windsor-based LGBTQ+ songwriter, DMNIQ; South London jazz pianist and producer, DoomCannon; multi-faceted South London creative, BINA.; alternative R&B producer Sunsetdrver; Japanese-Canadian jazz pianist, bassist and producer, Tai Kirby; multi-instrumentalist, producer and band leader, KALLA; and Croydon-based producer and artist, Richard Carter.
With 'Qube Futures' now up and running, we went to the West London facility to speak with Nicholas Sonuga, one of two co-founders who shaped The Qube into the community hub it is today. Originally an aspiring producer, Nick took a while to find his feet in the industry and found himself doubting his ability to carve a sustainable path due to a lack of guidance and support. After studying Music Technology at university and seeing a gap in the market for community-based studios with a family feel, he set out to create a space his younger self would've benefited from.
Now in charge of supporting members on their creative endeavours with his role as chief cultural officer, The Qube co-founder gave up some of his time to map out the company's ambitious vision for democratising the music industry and removing the barriers to success.
What is The Qube in your own words?
"The Qube is the world's first members studio for content creators. The easiest way to describe it is if you were to mix the meaningful community of a members club with the magic of a studio and the convenience of a coworking space."
What inspired you to start the company?
"The idea was born out of the need for what we wanted ourselves essentially and what we felt was lacking in the music industry. I was a producer, I've always been into music but it took a while to gain the confidence to take it seriously as a career because I didn't have the right guidance in my earlier years to really pursue it. Eventually I managed to build up the courage to take it seriously and did a BA in Music Technology. After graduating, I was trying to get internships at loads of studios and record labels but wasn't getting much luck so I decided to start my own small studio.
"At first it was just one room running sessions for local artists. I was DJing, promoting and juggling a few hats to fund my own creative career. It was during this period that I realised there was a market for unique studio spaces. Fast forward a few years down the line and I built my first studio complex which had 5 production rooms. I really enjoyed being around artists and producers but it wasn't the most inspiring of places, in a basement and there wasn't any communal space. It was during that time I met my co-founder, Amin and we formed a vision to do something on a bigger scale which also had a community element to it."
"Being any kind of creative can be quite a lonely pursuit with no one to bounce off of, so we thought it would be great to have a space where like-minded individuals can come together in one place, make great music but also be part of a community."
How do you see The Qube developing in the future?
"Our vision is to be the global home for content creators, so if you want to create quality content, you find the Qube. That doesn't just have to be music, we offer podcast and photography studios, we're about to open DJ rooms, rehearsal rooms, as well as green screen content rooms.
"We want to get to a point where there's a Qube in every major creative city in the world. One thing we're really passionate about is championing content creation as a real job. We believe in a world where any creative can make a living from their art, so we provide the facilities, networks and the resources to enable them."
Why is a good community and culture so important to have in a creative workspace?
"I think it's important to have camaraderie in anything you do, there's a certain amount of energy you get from being around other creatives. I feel that you can draw inspiration from the people around you and I think the energy you get from those who are on the same path as you and striving for greatness is second to none. In terms of the music industry, it can be about who you know and it has been quite an insular place for some time where if you don't know the right talent, producers or A&Rs it's very difficult to get in the door. We're trying to democratise that and offer a place where you can meet people to advance your career without signing your life away."
What differentiates you from other studios?
"I think it's definitely feeling part of something bigger and having organic connections with people but also enabling people to create their best possible work. We very much see our job as getting the artist into flow state while giving them the platform to create their most authentic art."
Technically speaking, what makes your studios special?
"The studios were designed by Munro Acoustics who are world class studio acousticians, they designed Abbey Road and many of the most iconic studios. We pride ourselves on premium acoustic treatments, so the studios sound great and they're built to a very high standard. All of our audio equipment is specified to a premium industry standard level so you'll find gear from Neumann, SSL, Dynaudio and Native Instruments. We tried to create a professional offering but at the same time make it affordable and accessible to people who may not normally have access to that quality of studio."
What is the 'Qube Futures' programme all about?
"Qube Futures is all about enabling the next generation of creators, by giving them access to use the studios while helping them to network in order to empower them and help them get to the next level. We've partnered with some really cool brands in order to provide a great package which offers a condensed 4 week period of activities which will allow participants to improve their knowledge of the music industry.
"This will include information about the business side of things as well as technical tricks and tips and inspiration sessions from world class producers and writers. That lasts for the first month and then there will be a 6 month qube membership with monthly mentoring and feedback sessions. The idea is that you're given access to a space, you're given the tools you need to develop your career further and you're introduced to a network of mentors who can help you take your music to the next level."
Why have you targeted the 18-25 year old age group?
"I think that's an age group where you're mature enough to take your craft seriously but you might not have advanced to the point where you're established and making a living from it yet. So I think that time period is really critical in terms of taking the steps to reach next level in your career."
What has the response been like to the programme?
"We've been overwhelmed with responses, we've had hundreds and hundreds of applications with some really strong talent. Judging was very difficult but we're excited about some of the potential."
What do you think some of the biggest barriers are for young people who are trying to launch a career in music?
"A lot of the time the barriers can be financial, socio-economic status, geographic. There are a number of elements that can affect your chances. We're trying to remove those barriers and make sure if you've got talent you're able to give it a shot and are given a platform to do so."
How does the scheme align with the core values of The Qube?
"I think it all comes back to democratising the music industry and handing power back to the creator. We want to provide an alternative to the traditional record label route and allow people to have the network and resources they need to release music and profit from their work without signing an unfair deal and losing their rights.
"We want people to retain control of their artistry but have the benefits people have traditionally got from a label or publisher, in terms of knowing the right people, as well as having the business knowledge and the facilities. We want to provide all the tools needed for someone to be a successful artist or producer while retaining control."
Visit The Qube website to find out more information.
Join the Do Music Yourself community on Discord.