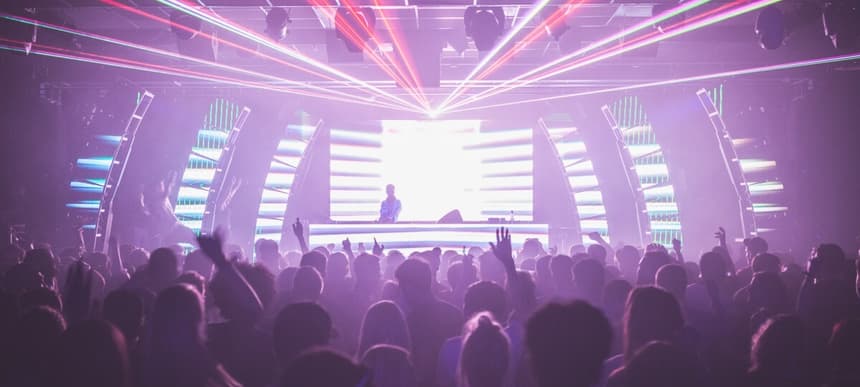 03.12.2015, Words by dummymag
The quizmasters guide to Bugged Out! Weekender
I've attended every Bugged Out Weekender since 2012. What keeps me coming back, besides the fact that one of my best mates organises it and I've got nothing else to do in January? As Official Bugged Out Quizmaster for three years in a row now*, I was asked to run down why, in the words of Clean Bandit, when it comes to Butlins in midwinter, there's nowhere I'd have rather have more Real Love (feat. Jess Glynne) for.
First of all, there's the undeniable thrill of it being January, at the seaside, in Bognor Regis. There's the rest of the country, having burned through Netflix until all there's left to watch are downrated documentaries about prawns, while they desperately scrape the bottom of tins of confectionery only to encounter Bounties, and then there's you, inebriated in a wave pool at Butlins, watching Bicep play rare disco edits. Just outside, unusually massive seagulls, seemingly mutated by leftover chips, hover ominously. Given that daylight stretches for what seems like a maximum of three hours or so, it's actually possible to time your partying in order to experience no daylight at all. It's like that film Let The Right One In, but with additional deleted scenes in which Skream keeps appearing to see who's up for a round of shots. It's a Weirdo's Winter Wonderland, caught windswept between seasonal melancholy and rave euphoria.
The quizmaster quenching his thirst
The Bugged Out Weekender exists as a realm to fulfil your ultimate fantasies, particularly if your ultimate fantasy is getting your own temporary tattoo. Sure, it would be insane to spend every day with 'I'M A BELIEBER' or 'SEXXXY CHICK' stamped on your forearm or forehead, but at Bugged Out, the worst that will happen is somebody might call you "an absolute legend." Besides, whether you're the sort of person who loves banter, or the sort of person who secretly loves banter but still says 'banter' ironically like they're above it, you'll have a grand time at Bugged Out Weekender, the Costa Del Banter.
Butlins Bognor Regis is in fact the, company's flagship resort, which means it's pretty swish all round. Some of the hotel rooms have mood lighting intended to create a fun, interactive time for kids, and an increasingly psychedelic atmosphere for adults. Then there's 'The Beachcomber Inn', a sort of nautically themed Wetherspoons with a door policy. Alternatively, in self-catering, you can save cash and quite easily live on your own cuisine/yoghurt and Dairylea for the weekend.
But Bugged Out is still all about the music. Even when there's none in earshot, people create their own party. In the Waterworld changing rooms, I once witnessed a lad entertaining his fellow swimmers by having a jolly whistle of Todd Terje's Inspector Norse, while cheekily performing a striptease with his towel. As impressive as it was, it was actually indecent exposure, and totally illegal. So don't do that. Not even to Ragysh.
The infamous Bugged Out Weekender pool party
As for 2016, the lineup is as good as ever. I'm particularly looking forward to Armand Van Helden's session with Jackmaster and co. I had the pleasure of interviewing AVH earlier this year, who told me that he insists on moving from New York to Miami for the winter, so obviously he's going to be crazy for Bognor. Not to mention Joy Orbison going B2B with Gerd Janson, which should be a Track ID nirvana of sorts. And then there's 'People Just Do Nothing's' Kurupt FM, who are actually amazing selectors, and perhaps the (intentionally) funniest dance act of all time.
I'm also excited to see The Black Madonna at Bugged Out for the first time. She's a rare, genuinely distinctive DJ, and her approach, informed by the US's vibrant underground gay scene, is about reclaiming the dancefloor as a unifying celebration, regardless of sexuality, gender or race. It's an ethos that's always been shared by Bugged Out itself, although while I'm all for the dancefloor as a place for free expression, it also means that I have to quickly find a new personality other than 'Northern Man Still Confused By Shuffling'.
As for the quiz, it's still percolating in its early form. 'DJs Complaining' will return, of course, as well as 'Backwards Anthems'. There are also vague plan for a round called 'Pets Win Test Pressings', although apparently Butlin's management find the idea "significantly less adorable" than I do. Either way, (DJ) Lemmy Ashton and I have decided to forego any questions or references to Star Wars, as we imagine everyone will be sick to the back teeth of Star Wars by January. To be honest, it's only November, and I zoned out just writing the words Star Wars then. Not that one, the one before, that one was a copy and paste. Star Wars. See?
*Bugged Out Quiz I was cancelled due to marauding football fans wanting to watch Sky Sports instead. Jeff Stelling will not be present in this year's quiz in any capacity.
– John Thorp is a freelance writer based in Berlin and Manchester. Under his DJ alias, John Loveless, he hosts a monthly show on KMAH Radio. You can listen here.
The Bugged Out Weekender 2016 takes place at Butlins, Bognor Regis from January 15th-17th (tickets).