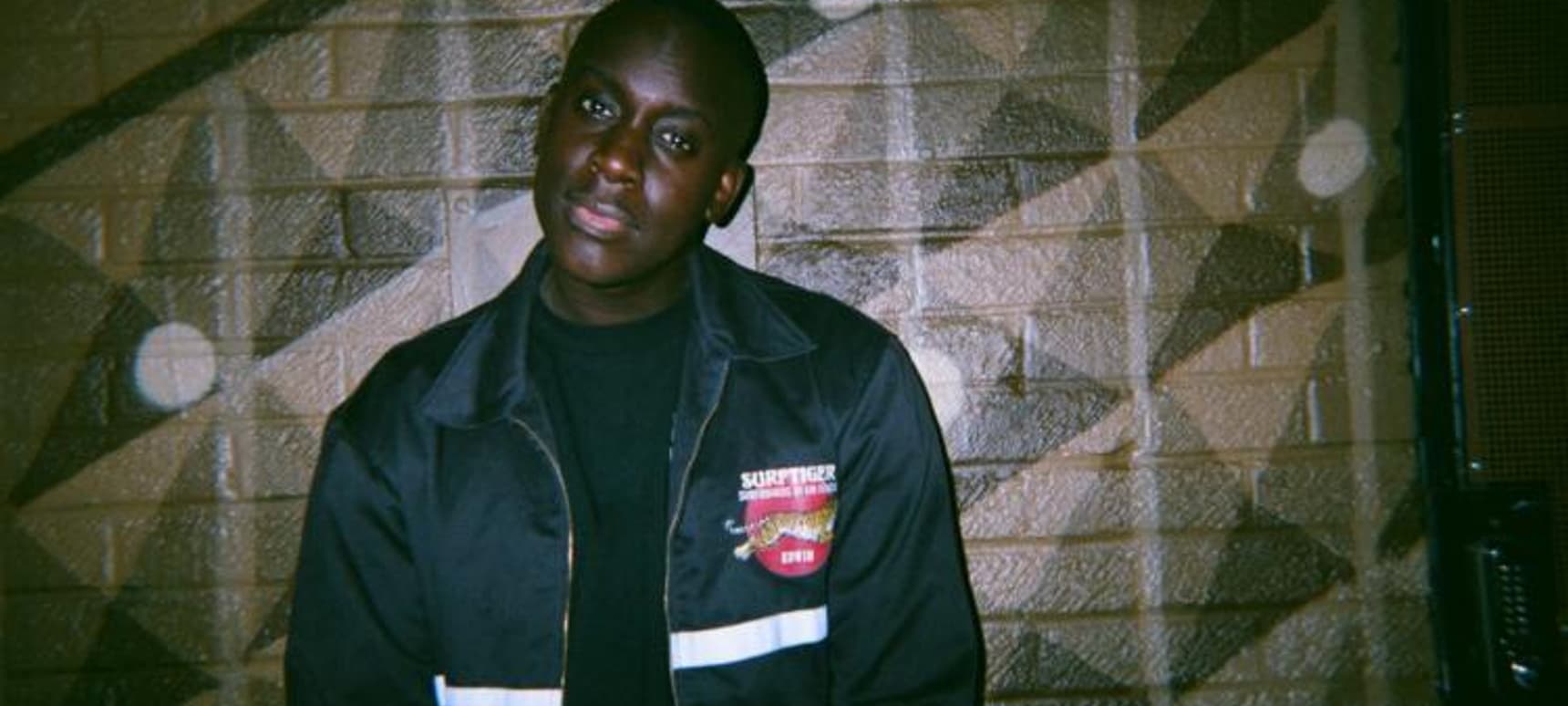 11.10.2018, Words by Nicola Davies
The right kind of noise: Dummy meets Barney Artist
We speak to the Londoner who's looking closer to home for his story
Barney Artist is often labeled as a 'rapper', but his artistic orbit goes far wider than that. To use his own words: "hip-hop, London, vibes… and a little bit of jazz." Not many artists would include their native city in such a short description of their music, but Barney has a glint in his eye when he talks about home: "I love it to pieces. I don't think I'm going to leave."
Having grown up in Forest Gate, Barney is convinced that Londoners have something special about them. "I think we need to have a London passport. I don't want to get political but when Brexit happened, I was like, 'Oh shit! We're really different here.' I just love that it's a real hybrid. I grew up with so many different kinds of people; slang and colloquialisms were just from all over the place."
Barney grew up with close friends (and now successful artists) Tom Misch, Loyle Carner and Alfa Mist, as well as going to the same school as Jay Prince and Tiana Major9. He takes inspiration from society, from home, and most recently from his relationships. After two EPs, 2014's 'Bespoke' and 2016's 'Painting Sounds', his debut album 'Home Is Where The Art Is' dropped in September this year.
Where his EPs were largely societal observations, his full-length goes deep into the end of a long-term relationship with what he deemed the love of his life, also focusing on family with a heightened awareness of his growing younger sisters and what life has in store for them. As a result, the reaction of his family was of great importance: "I played them the title track, which is obviously the most personal one. We all just cried in the middle of my little cousin's birthday, and then they were all dancing."
One track in particular illustrates the darker side of the male psyche, 'LOOK AT YOUR MAN NOW!' with fellow Londoner George The Poet. "I was like, let me look at how everybody is in my family, and I started being really protective of my little sisters." Based on an imagined scenario where Barney lies to a fan about how he feels to get her into bed, it's highly uncomfortable for the listener, and "the most difficult session" for Barney.
It wouldn't have worked without George. "I was like, 'Hi mate, what's going on? I need you to be in a song and I need you to imagine you walking in on me having sex with your little sister.' And he has a sister my age, so that's awkward!" George plays himself, the girl, as well as his mate on the phone: "He's a genius," Barney nods. "He didn't write anything down. Nothing. He was like: In, record, come back out, in, record." Barney describes the whole thing as "horrible but beautiful," an intense but unfortunately relatable insight into the male psyche.
By comparison, 'Rose Thorn' (featuring Dornik) is an intimate track that demands a sensitive ear. The music itself is soft and light-hearted, but the lyrics tell a different story. "I'm really proud of that one because I wanted it to sound really beautiful, like the beauty in love," he says. "That's the thing about love, innit? Love's not pinks and everything, it's blood red. Sonically it's very glittery and lovely. But the words show heartbreak." With lines like: 'I wanna marry you, what do you say? / You said no and then walked away', Barney hints at the song's autobiographical nature: "I'm a little bit worried about performances and not crying on stage. I suppose I have to go back to that place to relive what I'm writing about."
Barney's collaborators tend to be those aforementioned talented friends of his. When asked about them, Barney is predictably self-deprecating: "Imagine doing a jam session and they're playing amazing instruments, and mine's just a clap. Basically, they can't get rid of me." Yet he doesn't only work with his mates, nor does he want to: "There's a lot of misconception. People think that we make music every week, but we would drive each other crazy. I probably work the most with Alfa but even him I have a session with maybe three times a year. Tom, once or twice a year." On future collaborations, he emphasises the importance of a shared understanding: "I like being able to outsource beats and stuff. I think for me it's really important to have a connection with someone. Especially because I'm talking about things that are my actual life, like brutally honest stuff."
From this release onwards, Barney is cementing his spot in the British soundscape, but that doesn't stop him suggesting how the scene could improve. "When I go to UK jazz festivals, everyone is sick because they have to practice and study their craft. In the urban scene, you can get a track onto Spotify, and that blows up. Then you're standing in front of thousands of people, you've never performed in your life, and you're shocking." For Barney, he's done shows with nobody there, and he's all the better for it: "I would never change that because that's where you learn how to perform… My live show is what I'm really proud of. I'm really comfortable, so it's a lot of energy, a lot of dancing. The skanking is important, and then the vulnerability and honesty." As his recent nomination for Live Act of the Year at the Independent Festival Awards might suggest, he must be on to something.
Having collaborated with Mr Jukes, been featured on the coveted COLORS series, and slid into a song onto the FIFA 19 soundtrack, Barney is setting his sights on the next thing. His long-term plan, he claims, is to "make a supergroup with me, Bradley from S Club 7, Simon Webbe from Blue, and Lemar. We're going to be Mandem in Tandem." While in the shorter term, he'd like to perform at festivals with his Uncle Wilson in tow, the man who at 21 years-old helped raise him with his 24-year-old mother.
Planning his next trilogy, Barney is secretive on the next move. But what's clear is that he's articulate, energetic, and has a Mastermind appearance-worthy knowledge of '90s UK pop, all of which contribute to Barney making himself truly at home as an artist.
Listen to 'Home Is Where The Art Is':
Catch Barney live around the UK and Europe this year.