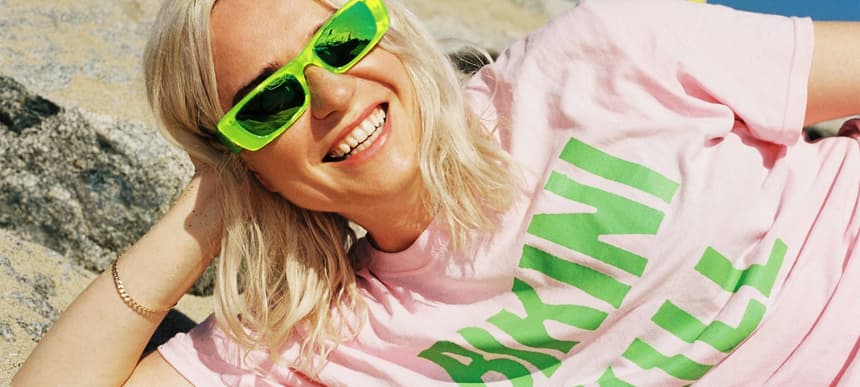 30.06.2022, Words by Billy Ward, Photos by Imogene Barron
The rise and rise of HAAi
Stretching beyond the dance-floor with her debut album 'Baby, We're Ascending', the Australian DJ and producer reveals her unpredictable journey so far
For someone who grew up infatuated with the distorted six-string drone of early nineties' shoegazing bands, finding yourself on stage with The Jesus and Mary Chain to perform their timeless anthem 'Just Like Honey' would be something that could happen in only the wildest of dreams. But for Teneil Throssell, this was years in the making, and another tick in her growing arsenal of accomplished bucket list moments since becoming HAAi.
"It felt like a real full-circle thing," she says, reminiscing on her recent trip to Primavera Sound in Barcelona. "I had played on the Thursday and then woke up on the Friday quite hungover to a message asking if I wanted to jump on for 'Just Like Honey'. Because I woke up quite late, I actually thought that I had missed their set. But it was great for me…it was a nice little cherry on top of a nice cake this year."
And Throssell has had a brilliant 12 months. Touring each corner of the globe with her mind-bending, euphoric live DJ sets, the Aussie-by-way-of-London has risen to heights she never could have imagined when she persuaded her old manager to let her spin Turkish funk and Afrobeat records at a bar she used to work at in East London. Now one of the most sought after selectors and producers in the business, HAAi is enjoying life on the road.
"It's non-stop until God knows when," she explains. "This year is mental, some weeks I have six shows in six different countries, I'm also going to Japan…I think I'm going to every continent basically."
She laughs off any suggestions of fatigue becoming an issue along the way. For Teneil, the unforgiving days and nights synonymous with being a touring musician is when she feels most at home.
"I think when I'm touring so much, that lifestyle really suits having a hyperactive brain, because you can be in so many places and work on different things, and for me, being really, really stimulated makes sense to my life," HAAi notes. "But when you're forced to stop and your brain doesn't, I found that was probably the most challenging thing of everything."
It wasn't until the world was brought to an abrupt stand still during the pandemic that HAAi finally had the time to make sense of her more chaotic tendencies. Having suspected it for a number of years, Throssell was diagnosed with ADHD and welcomed the newly designated medical certificate as an invitation to go beyond the boundaries of experimentalism she was previously operating in when approaching music. 'Baby, We're Ascending' was born out of this rare, albeit forced, period of downtime, HAAi's enigmatic debut album as an electronic artist that both compounds and challenges everything she has achieved as a DJ so far.
"I wanted to make a real point of leaning into the more chaotic side of putting an album together…If there's ever an opportunity to talk about that sort of stuff and for anyone else who's making music or something creative, just don't feel afraid of leaning into that side of your brain," she says. "As shit as that whole pandemic was, I feel really fortunate that I had the time to do that."
HAAi's tendency to find a silver lining in every cloud is an attribute of her open, friendly nature, but it's clear she's glad to have moved on from her lockdown way of life. Even our interview, she says, is a welcomed novelty away from the laggy, often tiresome Zoom calls we've become acclimatised to in an industry getting to grips with post-pandemic life.
It's 11:30am and the sun is beaming down on Dalston's Brunswick East cafe, a quaint spot renowned for its Australian-inspired brunch. HAAi is sporting her trademark black shades with red lenses and ponders over the menu while discussing her upbringing down-under. Growing up in Bunbury, a small port town south of Perth, HAAi had no option but to make her own entertainment as much as possible. Although she always felt drawn to music, her family couldn't afford anything in the way of piano lessons or tutoring. So, fulfilling her duty-bound role as the middle child, HAAi stole a guitar gifted to her older sibling for her 13th birthday and taught herself how to play. "I'm sure she's never forgiven me for it as well," she laughs.
Upon seeing the DJ's spell-blinding, eclectic live sets, you'd be forgiven for thinking her dance music education started way back into her youth, but this wasn't the case. Teneil's first love, and the one which was to act as the launch-pad for her early music career, was guitar-swinging, fuzz pedal-mashing bands.
"I went to a couple of raves when I was younger, but I didn't grow up with dance," she reveals. "I was so much more interested in guitar music because that's what was around me."
Throssell eventually turned her love for indie music into something more tangible, teaming up with fellow Australian resident Ash Moss to form Dark Bells, her most significant music project before re-launching as HAAi. Characterised by dusty, evocative soundscapes and Teneil's lulling vocals, the band decided to gamble on the momentum they were picking up in Sydney and moved to London in the early 2010's in a bid to take the project to the next level. The UK capital started out as the ideal melting pot for the up-and-coming group, and after adding drummer Luke Richardson into the mix, they became regulars on the bustling East London gigging circuit.
"I think when you come from a small town on the other side of the world, everything in the city was so impressive," says HAAi. "Even the shitty freezing cold days, I was just thinking, oh, there's nothing like this in Australia."
However, the group soon disbanded and after putting all of her energy into making Dark Bells work, Throssell was left feeling lost in the same place she had counted on becoming her new musical stomping ground. "When the band ended it was very confidence knocking and it took me a long time to really understand that I could approach making music by myself…I was at an age where I was thinking if it hasn't happened now then it's probably not on the cards anymore."
But where one door shut on her, the city opened up a new one and HAAi jumped in with both feet. Having made a small name for herself as a record enthusiast and formidable crate-digger at her former bar job, the DJ hobbyist was given the opportunity of a life time, a weekly Saturday night residency at Brixton's Phonox nightclub.
"Until that happened I was just playing records because I really loved it," she notes, swirling the ice cubes floating in her glass of juice. "It wasn't until I was offered the residency that I thought, maybe this is an option, you know, it was the first time that I ever had a job in music where I didn't have to fund it by having three other jobs."
Her stint at Phonox proved to be a transformative one, and as each week went by, HAAi began to mould her shows into the breathless, psychedelic live sets we've come to associate with the DJ today. Having previously only worked with her extensive vinyl collection, HAAi learnt her way around a pair of CDJs and gradually came to understand the importance of tapping into the energy of her crowd – the lengthy 6 hour sets at the South West London venue proved crucial to her development early on. But aside from becoming a better DJ technically, HAAi's entrance onto the electronic landscape was the nudge she needed to finally find her calling in London's thriving LGBTQ+ scene.
"It took me a while to fully feel like I found my place in the city," she says. "Finding my place in my Queer community took a really long time…but once I did, I just felt a big sigh of relief."
Coming from the male-dominated world of indie bands, the queerness coursing the veins of dance music aligned with Throssell in a way she had never experienced up until that point. "100%. It's not really something that I saw a lot of when I was like playing in bands…but now that I've been more visible in that way, I feel like I play a lot more for my community than I ever did, which I feel really lucky for."
HAAi's path to becoming a techno DJ would've seemed unimaginable after leaving Sydney in the hope of forging a career in guitar music. But for Throssell, there was more of a link between the two worlds than she ever realised. She laughs about how a spontaneous trip to Berghain transformed her overnight into a techno evangelical. Hearing the deep, dark bass tones seeping through the walls of the techno capital of the world opened her eyes, not only to the psychedelic aspect of the genre, something she expertly taps into during her own DJ sets, but also its close affinity to the music she grew up adoring. "When I was in bands it was like it was us and them, it was the shoegazers or the guitar slingers and then there was the techno kids and we didn't really cross-pollinate. But now that I have a much better understanding of both worlds, I feel like you can really hear the common thread."
The further HAAi immersed herself in the electronic music scene, the more experimental and left-field her own sets became. Soon, her frenetic, high-octane performances began to stray too far from the brand of house and disco preferred by Phonox and after two years of the residency, HAAi and the nightclub agreed to part ways.
"I was like, I'm really going to follow my gut and keep on being as unique as I could," she says. "I don't know if it was serendipity or whatever, but I feel like within that time was when so much changed."
Her debut record 'Baby, We're Ascending' was chiselled from the same unapologetic drive to uncover something totally unrivalled and exciting. Made during a time when nightclubs across the board were closed until further notice, HAAi bottled up the energy of rave and transformed it into something much bigger. Zig-zagging over lacerated breakbeats, classic drum 'n' bass and industrial techno, while simultaneously nodding to her musical past, Throssell transcended the dance-floor without abandoning its essence.
"It was a bit of a risk in a way, the album that I made was so different to anything that I've done before," says HAAi. "It was more music to listen than music to dance to, I think. I was a little nervous about that but I feel like people have really embraced it and been so kind."
As an avid indie band supporter, having the creative input of Mute Records' founder Daniel Miller on the project was a huge boost for the DJ. "He's worked with so many of my favourite artists over the years," she says, referring to his time guiding Depeche Mode and Nick Cave's The Birthday Party, to name a few. Since signing to Mute in 2019, HAAi has been massively thankful for Miller's presence, who encouraged the artist to unleash her vocal potential across the album. "That's how 'Bodies Of Water' and 'Baby, We're Ascending' came out," she adds.
Unlike her previous musical endeavours as HAAi, which were approached mostly as solo missions, Teneil opened up her creative process on the album for one of the first times. Featuring collaborations with friends such as Jon Hopkins, Obi Franky and Kai-Isiah Jamal, the record elevates HAAi as a more well-rounded and complete artist and benefits from the support of a team of non-binary and female talent. "I felt like it was really important to cast my net as wide as I could because there's so many talented, amazing, producers, mixing engineers and studio engineers out there that aren't male, and I really wanted to bring them into the creative circle."
Since dropping the album back in May, Throssell has been going from strength to strength with her live shows while drawing some of the biggest crowds of her career so far. One of the fastest out of the blocks when lockdown ended, the DJ has announced herself on the world stage and is taking it in her stride as if it all comes natural to her. Even then, having your face appear on the side of a skyscraper in Times Square must still count as a 'pinch me' moment – a few years back she hadn't even considered DJing as a viable career.
Now one of the front runners in the electronic scene, HAAi is using her platform to pave the way for a new generation of talent, setting up the Radical New Theory imprint with her girlfriend Alice. "I feel like if we can give people a platform, and without needing anything in return and just wanting to pay forward what I was gifted from the beginning, then I feel very duty bound to do so."
Before she finally tucks into her Australian-style brunch that has been sat getting cold, HAAi reveals what's next in her diary. She wants to take this time to rest up with a huge set at Glastonbury coming up in the days following our interview, shortly before flying back to the US and then Europe for another tour. It's not a lifestyle for the faint hearted, but it's one she's relishing. Despite not treading a typical path on her way to becoming a world-beating electronic DJ and artist, it's hard not to think she was made for this.
'Baby, We're Ascending' is out now on Mute Records, stream it below:
Photography and styling: Imogene Barron (Shot on location in Barcelona exclusively for DMY)
Hair and makeup: Avra Simona
Special thanks to Will Reid
Clothing credits:
Bikini Kill t-shirt
Gucci x Adidas Originals jumpsuit and sneakers, Gucci sunglasses
Gucci suit and shirt
Read next: There Are No Borders To BenjiFlow