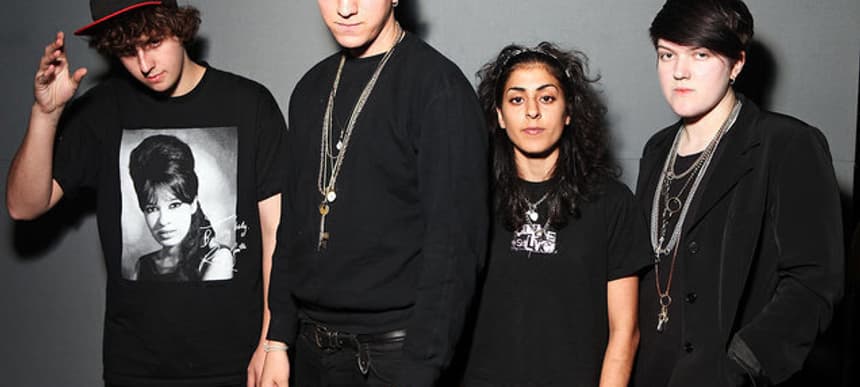 14.07.2009, Words by Ruth Saxelby
The xx: "It started as a joke"
"Michigan! Over here, Michigan!" An old man with a bandaged hand is calling out to Oliver Sim, one of south west London foursome THE XX. He's referring to Oliver's charity shop baseball jacket. He's not mad (well, maybe a little bit), he just wants to know whether Oliver is from Michigan. No? Well, has he been? A smiling shaken head. Well, he must go. It's beautiful in Michigan, hot in the summer and bright white snow in the winter. It seems everyone wants to talk to these four quiet teenagers. They have good eyes, if you know what I mean. There's something about them that is strangely alluring despite the top-to-toe black.
We're on our way to a pub in Ladbroke Grove a couple of days before their gig at Brighton's Loop Festival. It's just round the corner from XL Recordings' office where Young Turks, the label to which THE XX are signed, also resides. Having started the group at school ("Yes, the same one that Hot Chip, Burial and Four Tet went to. No, we never knew that at the time."), to be on the brink of releasing your debut album must feel a little mind blowing. Understandably then, they're a little hesitant at first but very quickly liven up. There's much to be animated about – their truly stunning debut album xx for starters (named because they'll all have turned 20 before the release).
Full of late night dreaming and dawn realisations, it's a curiously private yet inviting record. At its heart are the goosebump-inducing, near-whisper duets of Oliver (vocals/bass) and best friend Romy Madley Croft (vocals/lead guitar), which gently weave throughout the minimal yet highly emotive melodies of Baria Qureshi (guitar/keyboard) and Jamie Smith (beats/production). From the sweetly simple keys of 'VCR' to the R&B chirps of next single 'Basic Space', it melds influences from AALIYAH to THE CURE with elements of shoegaze, R&B and house into a quietly uplifting kind of modern soul.
Earlier in the day they'd been dressed in Gucci and Dior on a photoshoot for a glossy fashion mag. All the attention – not to mention the heavy make-up – felt a little strange, apparently. So right now, a pint and a chat over the pub stereo strains of 'Come On Eileen' is just what's needed.
I first started listening to your music via myspace over a year ago.
Oliver: "We've been working with Young Turks for going on two years. It's all been quite gradual. There's been no pressure. They gave us a place to rehearse, got us gigs. Then about a year ago we decided to start working towards an album."
So they've been grooming you?
Romy: "Yeah (laughter). Not like a moulding hand, more like being given the freedom and a space to be creative."
You've all been friends a long time, at the same school, right?
Oliver: "Yeah. There was a lot of jamming in the music room, quite heavy distortion, nothing serious. Then when we were 16, me and Romy started doing really bad covers. Wham!…"
Romy: "…The Pixies – but with a funky house beat."
I want to hear that covers album after this one.
Romy: "God I don't even own those songs anymore. Somebody does."
Oliver: "I guess it was kind of easier to do more jokey stuff in front of your best friend rather than properly singing. So yeah it started out as kind of a joke and now we have an album."
What I really love about your sound is that everything is given room to breathe. I read you tried working with other producers but decided to self-produce…
Jamie: "We worked with Diplo, Kwes and a few others. We learnt different things from each producer but the results all sounded like a collaboration rather than us. So eventually we just decided to do it with me. It gave us a lot of freedom cos we could just do it in the XL studio. They gave us the keys so I was going in every night."
Oliver: "It was amazing working with all of them. The album wouldn't be what it is if we hadn't."
There's a big night-time thing going on with your album. Listening felt like going from dusk to dawn and back again. Are you night-time people?
Romy: "Well, Jamie hasn't slept yet…"
Since when?
Jamie: "I was up last night doing a remix for the next single. I find it easier to work at night. I did the whole album 9 in the evening till 9 in the morning."
Romy: "I do most of my writing at night."
Oliver: "I'm the same."
Romy: "There's nobody else around, you're not going to get disturbed. It's just more peaceful. You know when you get pushed to that level of being half awake, half asleep? I just come up with more things. It's when I become creative – at night. That's why we use iChat a lot. Easier to do it through the computer at that time."
And you can be in your pajamas.
Romy: "Yeah, exactly."
There's something very special about the way your two voices work together.
Romy: "It's complete chance. It's kind of funny. It's an octave thing, I think."
Jamie: "Their voices are really similar. If you pitch Oliver up or pitch Romy down, their voices sound the same, which I guess is why they sound so good together."
Favourite duets?
Oliver: "Cher and Tina Turner 'Shame, Shame, Shame'. It means a lot to us."
Romy: "It's the best thing ever. Cher comes in and Tina just screams. The first time I showed Oliver, he cried from laughing."
So how do your songs come together?
Oliver: "It's pretty separate when it comes to starting them. Romy does her thing at home and I do mine. What she sings she's written and what I've written I sing."
Romy: "We're best friends so it's not like love songs to one another, it's to an outside subject."
Jamie: "After Romy and Oliver come up with the lyrics and the basic skeleton of the song, we all go into the rehearsal room and try and come up with some ideas – sounds, beats and structure. We try and keep it as simple as possible so we can play it without having backing tracks."
There's a lot of big production and show around at the moment. But your music is much more understated.
Jamie: "It started out as non-intentional but then everyone started saying how much space there was in the songs. We started to notice that and deliberately took out things in the songs that weren't necessary."
Romy: "As people we're not particularly showy. We're still getting used to performing live. It's not something that comes naturally. We're all quite reserved. We might get used to it but I can't see it happening soon."
Then there'll be dancing girls coming on, cartwheels…
Oliver: "Second album, second album…"
And finally, is that the real Courtney Love posting on your myspace page?
Baria: "It really is."
Oliver: "I had a bit of a panic attack about that."
Baria: "It was quite dreamy. That's not the right word but y'know, you never expect it."
Romy: "It was a big thing for me. Courtney Love has listened to our music? Hold on. I used to sit there and listen to 'Doll Parts'. I was a massive fan of The Distillers and Brody Dalle too. And Brody Dalle was a massive fan of Courtney Love and Courtney Love likes us. It was nuts."
Read Dave Haslam's interview with Jamie xx here.