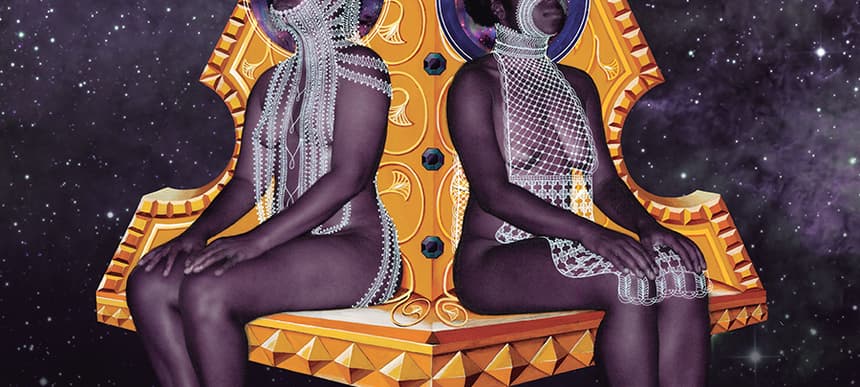 23.02.2015, Words by dummymag
Album of the Week: THEEsatisfaction - 'EarthEE'
'EarthEE' reads almost like a eulogy. On the second album from Seattle-founded, now bi-coastal soul/funk/hip hop duo THEESatisfaction, there's an element of looking back and taking stock of a troubling recent past and a rather unsettling future. Maybe it's not even looking back but looking down – as in, with a distance and sense of perspective – to allow for Stasia Irons and Cat Harris-White to see things for what they are, and express that in kind.
They take jazz, they take soul, take hip hop, Stasia Irons sings to a blunt chime-tone that repeats itself to a glitch in Blandland, with Ishmael Butler of Shabazz Palaces adding, A story loosely based on us / Without no pain and that's the main essence. Nestled in a 13-track listing that floats through its idiosyncratic neo-soul universe, it's a song that flows less in the calm and relaxed sense, and more in a woozy and drunk-on-despair one. It – and 'EarthEE' as a whole – points directly at the problem of appropriation and exploitation of black histories, pays homage to the people that made them, and builds on that heritage creatively while simultaneously gesturing towards a bigger picture.
When we used to give a fuck it was a rad thing / And now it's idgaf to mad things, spits Irons over the urgent electronic current of Planet For Sale. A companion to the equally environmentally conscious title of No GMO, the track anxiously looks to find its footing in the groundless abyss of a scuttling rhythm that's submerged in the echo and delay of a vocal filter: How we destroy the planet / When we didn't plan things.
It's this righteous search for truth that's best expressed in lead single Recognition, where Irons and Harris-White namecheck their creative forebears in the mesmersing motion of an urgent poly drum beat as they chant hypnotically, Your faithfulness, your dedication / But no work goes without recognition. The clattering clip-clop rhythm of Post Black, Anyway comes as an experimental standout. A rogue trumpet trills and dips in and out of the songs groggy dreamscape, as Irons delivers her lyrics in mumbled mono-syllabic bursts based on the short 140-characters of 'Black Twitter'. Its title embeds the fallacy of a post-racial society within a more literal reference to the language of the internet – old world attitudes in a new world order.
That's not to say that the past isn't important to THEESatisfaction. It's just whose past it is that makes all the difference. In building on the cool ebb of the African diaspora, 'EarthEE' makes paying its respects to its inspirations its central aim. That includes the free jazz of John Coltrane, Herbie Hancock, and Sun Ra, and the art and ideas of Neil deGrasse Tyson, Octavia Butler, and Xenobia Bailey.
As its global title suggests, 'EarthEE's themes traverse perspectives from the micro-level to the macro, whether it's in the seductive and embodied swagger of Nature's Candy (I'm hoping to take a bite) or the cosmic flight of Universal Perspective. It's an informed and encompassing portrait of life as we know it, that pays its respects where it's merited and condemns injustice when it's warranted.
8/10
Sub Pop release 'EarthEE' on February 24th 2015 (buy).