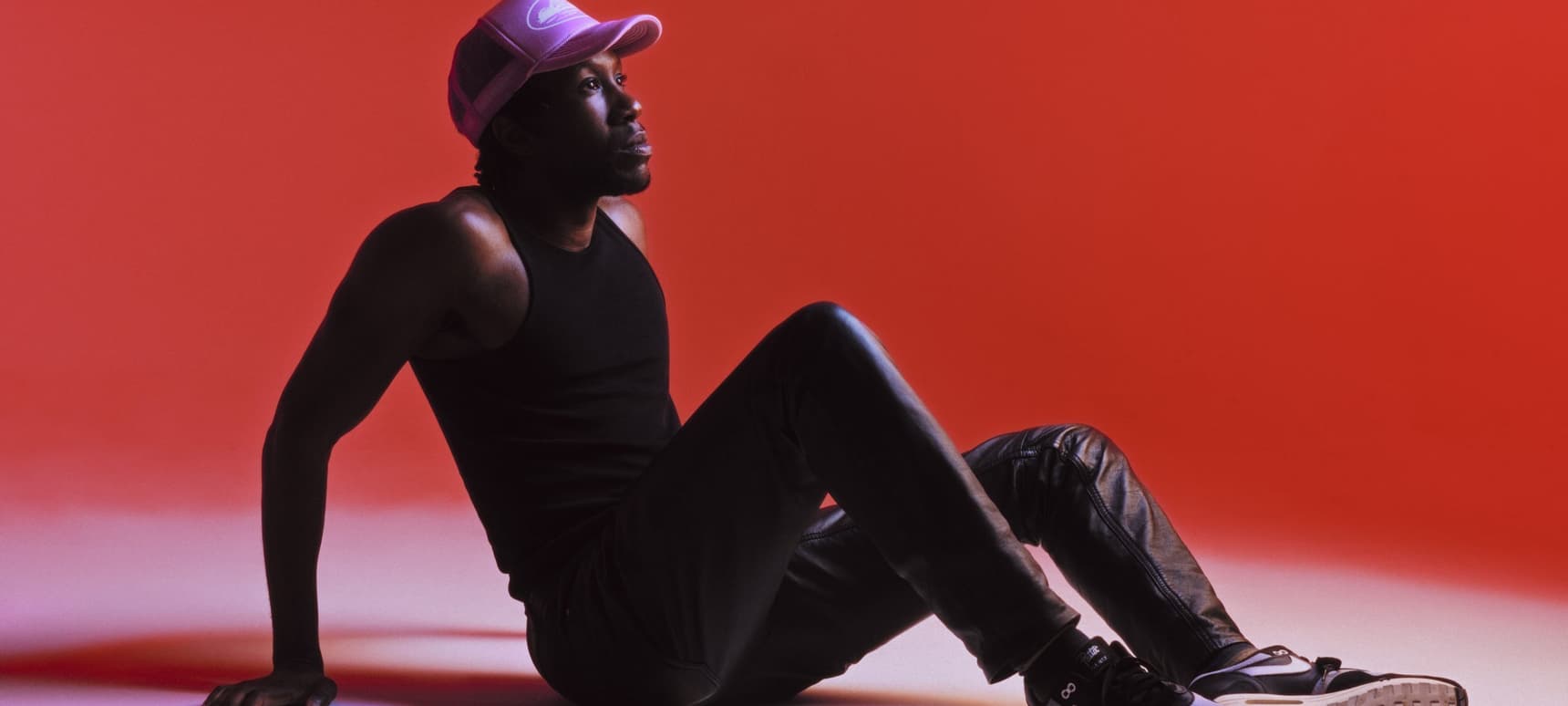 10.02.2022, Words by Nicolas-Tyrell Scott, Photos by Plastic Fruit Studios
There Are No Borders To BenjiFlow
The North Londoner opens up about his influences, his ambitions and the making of his new EP 'The Thrill'
Both alluring and flirtatious, but with an entrenched ghoul to its flair, 'Deep End,' the world's inaugural release from North London's BenjiFlow was shared to Soundcloud in late 2018. A nascent display of his future potential, 'Deep End' is daring in its ability to compartmentalise sounds from three regions simultaneously — West African originated afro-pop, Brazilian samba and the American originated R&B make heightened appearances throughout — before merging them into a crescendo of fluidity and progression. But beyond its sonic brilliance, it acted as a metaphor for BenjiFlow's impending life circumstances.
"I just didn't understand the music business, I didn't understand the mechanics," he shares candidly. Upon the release of 'Deep End', BenjiFlow was ushered into the spotlight as the song reached digital virality. By the end of the year, he'd graced Boiler Room, performing the track as part of the platform's 'ENERGY' series. "It was just me, and my manager [Niyi Folarin], who were two friends doing this." Best friends first, both were passionate about music and the wider industry, however, Folarin, mid-way through a music business course and BenjiFlow, whose expertise lay in the studio, navigated major label conversations unaware of pre-existing formalities or conventions.
As we begin driving through the outskirts of Tottenham in the early evening, the internal hue of BenjiFlow's ultra-violet interiors illuminating the way, his candid approach continues whilst narrating the early conversations with Virgin EMI. The label would routinely consult him on his music and development as an artist, working alongside Niyi. Simultaneously, BenjiFlow consulted another of his friends: Ragz Originale. An esteemed artist in his own right and producer of Skepta's 'Shutdown', as well as wider numbers across the housing album 'Konnichiwa', Originale was able to set the parameters of the business avenues within music, and warn BenjiFlow of potential entrapments. After months of conversation, BenjiFlow put pen to paper in 2019 inking to the EMI subsidiary.
"It felt nice to have a major invest in you as an artist," he admits — but ultimately it was a phased approach which formed part of a longer term vision of artistic freedom, one which he's still ardent about in his late twenties today — he's coy on providing his exact age. Now distributed via DMY Artists, BenjiFlow is a free agent, independent by choice and still developing his sense of artistry.
We're nearing our first stop, the empty roads locomoting Lordship Lane allowing BenjiFlow to cruise through his surroundings with ease; he's observant, but comfortable driving his new car. The vehicle was his first purchase once signed. "I wanted to give myself a piece of luxury," he laughs, acknowledging the materialist sentiments behind his purchase. "The responsible thing would've been to have bought my first house, but I wanted to enjoy it for a moment," he says candidly.
BenjiFlow's confidence is something that he's had to fight for, especially as of late. Despite his early faith in both himself, as well as his talents and craftsmanship, all were tested over the last 24 months as a tumultuous pandemic — one that still hasn't formally ended — plagued the entertainment business. It's an industry that Britain's central government was harsh on also, with Rishi Sunak, Chancellor of the Exchequer telling musicians to "retrain and find jobs elsewhere" in 2020. Practically, the lockdown measures in both England and parts of the United States, fell moments after 'BENERGY', BenjiFlow's inaugural EP's March 13th release. Anointed in zest, soul and a relentless spirit of uniting the sounds of west Africa and South America, 'BENERGY' embodied every emotion, and every desire that he was feeling at the start of 2020.
"I was so ready to promote this project, to perform it," he says, the car now parked up. "I lost everything in that moment, my confidence, my drive. I didn't know what to do." BenjiFlow's pace picks up at this juncture, he's consoling his former demons. Upon release, he was in Los Angeles, both recording and lightly launching the EP. He reveals plans to perform the record across LA, as well as lightly engage with press. "We had it all planned, I'm a global artist, I wanted to perform over there. I want to perform everywhere."
The camaraderie and catharsis of venting to his community of artists was part of what helped Benji's healing across lockdown
From xylophonic, drum-led rumba and calypso infusions, to funk and afro-tinged R&B, 'BENERGY' was a stark reminder that BenjiFlow was more than 'Deep End' – the textured approach to the six songs emphasised the range and autonomy that exists in the peripheries of Britain's contemporary music industry. The project yearned for a live offering BenjiFlow says, but its campaign stalling disgruntled him. There's a darker tone to BenjiFlow's voice now, as he sheds more of his skin there's anger there — both from the loss of 'BENERGY' opportunities, but also due to the dearth in his creative aptitude. "I wasn't inspired anymore. I didn't want to create anymore."
As a product of Mini Kingz — a collective, as well as a record label that also houses Ragz Originale, as well as Oscar #Worldpeace, Rolls and producer E-Whizz — BenjiFlow shares that the camaraderie and catharsis of venting to his community of artists was part of what helped his healing across lockdown. "They pushed me to go even further left when I eventually started recording again," he shrugs, turning his indicators off. But ultimately, finding the love of music again, organically, was the antidote to his ongoing lack of inspiration. "Benji B and Judah Afriyie used to play their favourite tracks on IG live with A-Side, they don't know but they saved my life throughout the pandemic," BenjiFlow admits on our return from collecting food at Juicy Roots. "I'd phone [Ragz Originale] and ask him if he's in the chat, and then we'd get on with our day, with the live in the background." Thanking the trio once more, he acknowledges that musical history is something to be remembered, and engaged with.
Growing up in a British-Jamaican household, and the product of a pastor-focused father, and a hypercritical mother — musically at least — BenjiFlow and his sisters were always going to possess some degree of musical prowess. His sisters are even more obsessed with the artform he loves and are to him "way more nerdy" with the reference tracks, identification of samples and lyricism. "They spend hours analysing everything," he says, while simultaneously continuing our tour de Tottenham. "My mother is even worse, she's always telling me her opinion of my songs and asking me about the choices of words, chord progressions or vocals." Sighing, he's ultimately grateful for their collective input — and instantaneous support — of his career ambitions.
Being so engrossed in music from his family, but also his individualised experiences, has meant that BenjiFlow refuses to be pigeonholed, both in genre-classifications, but also in artistic endeavours. He shies away from being referenced as solely an R&B artist. "I feel like [R&B] has a really long history of being people who can sing, and really sing. I don't feel like R&B defines me or is the biggest influence in my life," he clarifies adamantly. Even as Summer Walker's latest album 'Over It' streams in the background, he reveals that one of his sisters put him "on" to the album recently. Instead, his musical palette is rooted in yesteryear. Pharrell Williams' former rock group N.E.R.D is referenced as a quintessential bedrock of modern day genre-blending. "When [N.E.R.D] made 'Rockstar', it was technically rock, but because they are minorities and Black we all know how that was framed to some, but it was rock and they will be known as rock-infused."
Further afield, BenjiFlow frequents the realms of bossa-nova, looking to one of the genre's forefathers João Gilberto. "Music like his has so much rhythm, so much pace to it. When you hear people who make music like this, your mind gets spun," he says, perking up. Visibly in awe of the Brazilian talent, BenjiFlow eagerly finds 'Aos Pés Da Cruz', which sits on his 2019 Spotify playlist and formed an instrumental part of 'The Thrill', his latest EP's construction. As the subdued light but pensive drum patterns fill the air, EP-tracks 'Mine' and 'The Chill' instantly leap to mind. Both lay foundation in bossa-nova's approach to musicality, in terms of their unorthodox approaches to samba. 'Mine' in particular, BenjiFlow says, unearthed his experimental approaches to vocal stylising.
Beyond its back-of-house tricks, 'The Thrill' thematically, is the experience of love and romance
"There's so many sides that I haven't shown yet, so I wanted to be intentional in being provocative in the approach to production." Pacing himself, whilst still visibly excited about this avenue of the EP, BenjiFlow vocally demonstrates a production breakdown featured at the end of 'Mine'. "I really wanted to produce with my voice on the beat, I wanted people to know that I'm going in here. It's very intentional." On 'One of One' by contrast, he says he deliberately sang flat to convey the emotions of stress and yearning. Overall, beyond its back-of-house tricks, 'The Thrill' thematically, is the experience of love and romance — a topic which BenjiFlow admittedly enjoys ruminating on. "It's what I experience, I love talking about women and the different perspectives we experience. 'The Thrill' is about a few different experiences, it's what I've learned and also what I wanted to tell some previous women I spoke to," he expresses. 'One of One' for example, acts as an ode to a previous interest with insecurity issues.
In his head, BenjiFlow can't dance. He's adamant about this "fact" as our conversation develops. Laughing at himself, he emphasises his desires to go beyond the average artist on British soil. "We're so stagnant sometimes," he begins. "It's all very intentional, showing people the levels before you get to the levels. When we get to that stage, no one can say I've changed or that I can't do a more elevated version, because I've already done it." According to BenjiFlow, the sooner you do something else, the more people can't box you in. Filming both the visuals for 'Go' and 'My Bella' on the same day, he learned both routines in roughly 24 hours, allowing choreographers Fatou Bah and Cece Nama to meld the experiences and realms for him on each song. "We're definitely leaning into freestyled, Caribbean-inspired dance styles," he clarifies.
BenjiFlow gets mistaken for multiple west-African — Nigerian most commonly — regions frequently. He welcomes these comparisons and assumptions due to his afro-pop and afrobeat musical infusions. However, as we remember our Caribbean dishes behind us in the car, he tells me that music from Jamaica, his ancestral home, plays just as an important part in his approach to producing. "It's the bassline man, that's what I'll always love." As of late, the bass sits atop BenjiFlow's favourite instruments list. "It might've been something like the piano before, but now I love heavy basslines. 'The Thrill' is filled with them." Again shuffling through his playlist, he plays the often sampled 'Tenement Yard' by Jacob Miller. "There are powerful, classic [basslines] in reggae, how could I not take from there?" he laughs.
The speed at which BenjiFlow works is admirable. He's also planning a film score concept set to be released later this year. When he's inspired, he can't stop, he says. Even where we're originally driving from is the studio, where Oscar #Worldpeace and Ragz Originale are waiting for their food orders. "We're working on another Mini Kingz tape." He's coy beyond that announcement, but does reveal that the likes of Nippa are recording for it also. As the face of a sometimes coined "alternative" landscape in Britain — one that includes the aforementioned names whenever the conversation enters popular discourse — BenjiFlow doesn't have a gripe with the term, but with perception and framing. "As long as we're just as tall as those mainstream acts and considered just as good, what's the issue?" Ultimately, he has no time to care. Projections are far from his daily concerns, instead he says that he's obsessed with evolution.
What's surprised BenjiFlow the most, however, is that people in lower socio-economic circumstances, many refer to it as the "hood", are beginning to understand him — the people to which he grew up with, played with, went to school with in Tottenham, take no qualms with his off-centre approach to singing, rapping, visuals and production. "I couldn't believe it when one of my boys [from Tottenham] gave me advice," he exclaims. "'The ad libs, I can't catch the ad libs' he told me. He said that my music was versatile." There's a warmness in BenjiFlow's explanation. He says that it's because of the appreciation he has for the journey it's taken to platform multi-layered artists from his own background, and his fight to be understood.
"We can do other things. We can skank, we can dance in our videos. I know some other men have done it before. But I'm showing people that you're able to do even more, that's what my mission is."
BenjiFlow's 'The Thrill' is out now via DMY. Stream the project below or listen with your preferred player here.
All photos by Plastic Fruit Studios, shot at Qube.