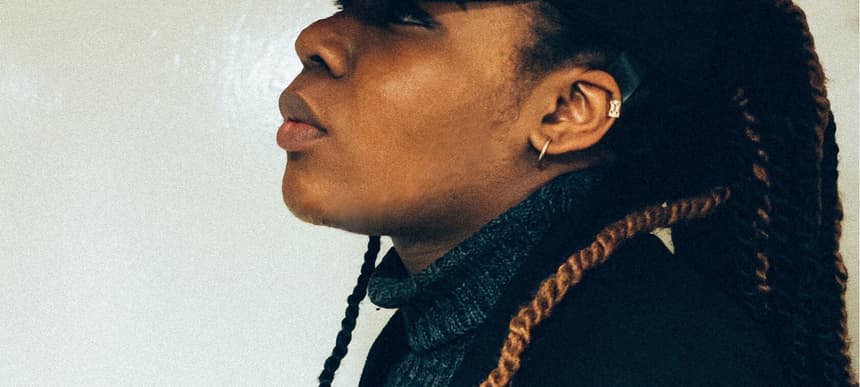 11.11.2021, Words by Maisie Goulsbra
"There is beauty in understanding our power": Lex Amor on the human condition and finding her purpose
"I remember listening to this and thinking 'I wanna rap'"
Instantly recognisable for her voice that submerges into a soothing vocal-fry tonality, alternating between rapping and singing, North-London artist Lex Amor has made an appearance on a Colors Show and a Colors Encore. Her debut project in 2020 – Government Tropicana tells the story of first-generation working-class London and celebrates a collective of cultural norms.
Hot off the heels of her collaborative track with Kojey Radical, Lex has released new single 'Rocks', a track that illustrates the juxtaposition of every day, via moments of what Lex describes as 'demented adherence, and then breakouts – into hope, dreams and liberty.' It comes with a black & white music video directed by Tyrus Hill, and stars Lex, filmed against the gothic backdrop of a church and a confessional.
It's hard to believe that her first headline show took place last month; inside London's Omeara Lex brought reload culture to live music with her five-piece band that she performed with, wheeling-up four of her tunes because her crowd were so gassed. Elation was interspersed with bringing the entire room to tears and then spudding members of the audience. Dummy caught up with Lex to hear how it felt from her side of the stage and to chat about her journey so far.
How was your first headline show?
I've been trying to answer this question ever since, and it's been hard to explain. All I can come up with is that it felt like a really, safe space. There was a lot of love in there, and I didn't feel the pressure that had I anticipated.
It's crazy that was your first headline show because you've got stage presence!
That's testimony to the scene I'm involved in – I've been doing shows since I can't remember, even though this is my first headline show, when I think about my twenties I'm looking back and all I can see is basements and open mic nights and four people in the crowd.
There's such an undercurrent of music and an undercurrent of the scene that bubbles up and doesn't maybe get the credit it deserves. There are so many shows, and so many amazing artists that the masses haven't heard of, but who are sharpening their sword and learning and building.
What were you doing before music?
I studied law at uni and I came out not wanting to do law. I've always done music, but I never had any intention to be part of the music-scape or to make music as an artist until I started doing some poetry bits and started performing at open mic nights. I kind of opened myself up to the possibility but it wasn't until 2016 I think that I put out my first tune.
What prompted you to do your first release?
It took me a very, very long time to get to a point where I was happy with what I could make. Coming into the space so comparatively late, I didn't know how to perform myself, there was a time where I didn't even know how a song was made, I didn't even know the concept of tracks and stems… so the journey to putting out my first song took about three/four years of learning, going to the studio, trying to figure out how to rap and what I wanted to say.
It wasn't a magical moment of realisation, it was just, I made something that I thought was ok, and acceptable for other people to hear, rather than just my best friend! It was a SoundCloud drop. For the first time I had people that I didn't know have an opinion on my life story and my music. That was what kinda shook me. It expands your reach; it expands your perception of the power of your own story; whether you're sharing it or whether it's being felt by people that you don't know from other places. I felt a bit of an affirmation when I released that.
Do you think your background in law helped you contextualise life?
In A levels I did Politics, Philosophy, Sociology and Physics (which was the worst decision of my life). All of those subjects except Physics is literally about the human experience and understanding where your space is. That stage (16/17) informed my politics to this day. It informed how I look at the world, how I place others in the world, how I place myself within the world and what I believe my purpose in the world is.
Who were/are some of your favourite vocalists?
I started listening to Lauryn Hill when I was fifteen which is actually comparatively late, she was bumping and buzzing when I was single digits, but I don't think I engaged at the time. When I was fourteen or fifteen, I remember I had a Walkman phone which to me was one of the best inventions in the history of the world.
Everywhere I went there had to be music on my phone. There's a B section in 'Sweetest Thing' by Lauryn Hill when the song completely shifts to just her voice, and I just remember being so taken aback. It just blew my head off and I was really, really, really listening to Lauryn for a long time, listening to Erykah… just the usual suspects.
Lyrically I think when 'good kid, m.A.A.d city' by Kendrick came out, that blew my head off and still does to this day, but I remember listening to this and thinking 'I wanna rap'.
Do you consider yourself a role-model?
A lot of the concepts that I push are my ideals. I hope to be a fearless human being that combats inequities. That is my hope for myself – that is my wish for myself. In the same way that you enter a prayer with faith and with hope – on stage in performance I enter with the same place. It's my higher self, attempting to convince a lower self that this is what you have in your spirit.
It's my higher self, attempting to convince a lower self that this is what you have in your spirit.
That doesn't mean I'm waking up and I don't have any insecurities. It's not my lived experience, it isn't how I live my life, but on stage there is a need to overwhelmingly be aware of your higher self. There is a need and a responsibility to find a spirit self that can relay a message of hope and power because there is benefit in that; there is beauty in understanding who we are, there is beauty in understanding our power, there is beauty in understanding the role that we have in the world, and the ability we have to manifest our goals. That's what it is, it's literally collective prayer.
When we go home, we have our issues, and we have our pitfalls, but I try my best to get into that space when I'm on stage. We have moments of collectivity when we can literally be our most powerful selves together and it's so important to do that and that's what I try to do.
Do you come from a musical background or is that space that you take with you to perform something you've had to learn yourself?
Hundred percent I don't come from a musical background, but both my parents are obsessed with music. Growing up, on a Saturday I'd wake up to music in my house and from there music was blaring through the house, reverberating.
My mum had us relatively early, so we basically grew up with my mum through her twenties and I just saw how music shaped how she navigated the world and how she filled her silence. I remember fighting with my sister for the remote because all I wanted to watch was the music channels so I'd go from MTV to The Box, and I think back then then it would be Kerrang! That's all I wanted to do; I've been obsessed my whole life.
Odogwu, is an Igbo word, and you're of Nigerian descent, what's your relationship with the language and culture?
Until I was about eighteen, I'd go to Nigeria for like two/three months a year, my mum would take us back, so there's always been a really strong link to Nigeria but also to my Grandparents. We'd go and stay with them for two or three months of the year and the culture anchors me. As I always say, I'm Nigerian, I'm Black Nigerian, I'm Black British and those are two identities that I happily straddle. Depending on where I decide to be or where I decide to move – I am both those things dually, and comfortable in that.
Forced to understand your presence in the world isn't by accident.
When I'm in Nigeria I just remember my lineage. It is a destination I can go to, where I can pick up the soil and know that my ancestors were there. In that anchoring you are forced to understand your presence in the world isn't by accident. There were people that lived lives and navigated spaces so that you could exist. There are so many reasons, so many interactions that had to happen for us to be here, and when I'm able to be somewhere that I can literally touch the soil of my ancestors, I think it just reminds me of that.
When I can't do that, I can speak a language that my ancestors spoke, or my grandparents speak. There's a power in that, there's a power in understanding that you are from somewhere, whether you can touch the soil or not – the base reality of your presence and your existence means that you are from something. You are from people who have had conversations and dreams. The culture and the language recentres me and there's something beautiful about language.
I've tried to explain what Odogwu means so many times in English but it's so hard because it's a word that encompasses so much. The word is like a fist, that's the only way I can describe it – it's a fist of a word – it's a tool rather than a word in itself that's used to hail up somebody of valour, somebody of might.
And that's a symbol of Black Lives Matter…
In terms of what it represents, the fist is known to now represent Black power and the movement. If you look at a fist in itself, it is literally the symbolism of the power. If you pull your hand in a fist, what you can do with your hand is crazy. I think that's what is powerful about words and certain phrases and certain languages – it can do the same thing.
Does the term specifically apply to masculinity?
Odogwu is generally a word of power, in Igbo culture 90% of the time you're saying it to a man but that's because it was a time or a position when the power of the king of a particular village is man. There's another term – Odogwu nwanyi which is the woman version of it, (nwanyi is woman) but Odogwu itself is not a gendered term it's just that generally it is given to a man because of positioning.
I wouldn't say it's described as masculinity or a gendered term. I think it's more about a reclaiming of power as a woman myself and not necessarily needing to call myself a Odogwu Nwanyi as a way to justify myself. I have access to this word as I have access to this feeling of myself, in virtue of just being me, not despite of or because of, just literally because I am me, I'm a woman, I am powerful and here's the word.
How did the Kojey Radical collab come about?
Kojey is my guy, he was doing a camp for his album, and he invited me down, it was in Oxford in a really, really nice studio with sheep and horses and shit! I went there, they had the song up, I think he had the first verses there and I just wrote it and went in and recorded it, and that's the song, that's literally the song. It was a really dope experience, I think I saw a new way of making music by getting out of the city.
New single 'Rocks' is a bit different, is this a new direction that you're going to take?
I just want to experiment a bit more. The whole project isn't going to be autotuned or anything like that, but I like the idea of melody bending and finding different ways to express and make music.
What was the story behind the music video?
I worked with Ty (Tyrus Hill) who I've worked with quite a lot before and he had the vision for the church and gothic scenes. We went in and we did it. In the edit we collaborated a lot just to make sure we were really relaying the message and understanding what it was that we were trying to say. I think it was a good articulation of what we wanted to talk about and what we wanted to represent especially now just because there's so much that is on us, there's so much that we're taking in subconsciously and consciously, and I think we really wanted that to be represented in the video. We took out time to make sure that was accurately what we were displaying and so the edit took a while, but we were happy with how it came out.
What can we expect next?
We just announced tour for next year, so we'll be doing that in April next year as well. I'm aiming to have the next project done out into the world and be intentional about how that comes out and what message is being sent out. I want to give it the best landing.
Lex will play at Pitchfork Music Festival London on Friday at Oslo in Hackney, and has upcoming dates in 2022.
Watch the music video for 'Rocks' below.
19/04/22 – Manchester, Yes
20/04/22 – Bristol, Rough Trade Records
21/04/22 – Birmingham, O2 Academy 3
24/04/22 – London, Village Underground
Read next: "Change comes from having control of the narrative": Honey Dijon on returning dance music to its roots.