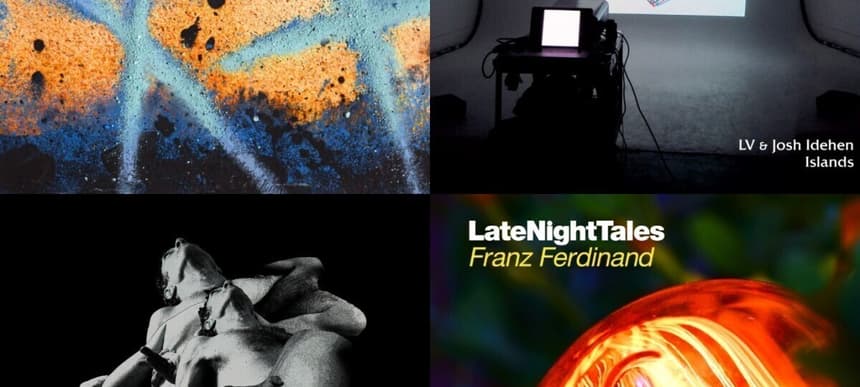 17.09.2014, Words by dummymag
This week's albums: September 15th 2014
We'll be running a new album reviews column alongside our regular Album of the Week reviews, giving you a succinct analysis of some of the records on Dummy's radar every week. This week, we look at records by LV & Joshua Idehen, Vessel, and Franz Ferdinand's contribution to the Late Night Tales series.
Album of the Week: Call Super – 'Suzi Ecto'
"…in a cryptic statement that accompanied the announcement of the album's release, Call Super draws on the image of "veins, organs, and mind". These organic, earthly qualities run throughout the album: although it has its roots in synthesizers and hard drives, 'Suzi Ecto' feels like it's living and breathing… The world that Call Super creates on 'Suzi Ecto' has a subtle ebb and flow – there are no huge peaks or troughs to speak of – and it's remarkably engaging throughout…" Read the full review here.
LV & Joshua Idehen – 'Islands'
UK production outfit LV put out a bright, energetic, and incredibly fun album with Joshua Idehen in 2011 called 'Routes'. Idehen is a British-Nigerian poet who also plays in the band Benin city, while LV's beats are a hi-tech, colourful take on inner city styles – garage, grime, and dubstep mostly (though there's a bit of loungey noodling on Angry Hiss) – with a distinctive sound palette and live percussion that makes them feel alive. The combination of players seems in keeping with the UK's long MC tradition, and fittingly new album 'Islands' finds a home on Keysound Recordings, the London label most fervently committed to the progression of the UK's sound system culture.
Coming three years on from 'Routes', 'Islands' is proof that LV and Idehen still have plenty of ideas between them. It's a much more confident record than 'Routes', casting Idehen as the main player in the setup rather than chopping up and muffling his vocal. It's a harder one, too, with grittier, clubbier tracks like Talk Trim, Imminent, and Double Decker Back Seat being some of the album's highlights. Once again, the atmosphere and subject matter is unique to London and the urban realities of the city – if anything, it feels more powerful today than it did three years ago, with gentrification and development slowly but inevitably steamrolling many of the communities that Idehen's tales focus on.
'Islands' is most rewarding for the way that it builds and explores its world. It's so vivid that it's like you're there, weaving through busy high streets in the summer, getting deeper and darker as the day draws on before the sun comes up on its final, title track. Selim Bulut
7/10
Keysound Recordings released 'Islands' on September 15th 2014 (buy).
Vessel – 'Punish, Honey'
'Critically acclaimed' but not as well known as his cooler Tri Angle counterparts like Evian Christ or How To Dress Well, Vessel – the young Bristolian producer otherwise known as Seb Gainsborough – presented an acute understanding of electronic music at its most detailed and disruptive with his brilliantly propulsive 2012 album 'Order of Noise'. That's probably why, two years later, his second album 'Punish, Honey', with it's anxious, derelict motion, sounds nothing like it.
That's not to suggest that Gainsborough is simply the conduit of cacophonous caprice his name suggests. Because there's still something that's distinctly his own amid the sound of re-purposed scrap metal and gritty metallic howls making up this astute expression of an urbanised existence; tactile and physically constructed from organic recordings transferred to hi-tech.
In attempting to achieve a sense of what it means to be modernised while drawing from outside the simulated sound palette of an electronic aesthetic, the gyratory crank of songs like clear album standout Red Sex crash awkwardly against the sway of Arcadia destroyed in Black Leaves and Fallen Branches. The manic hoot of makeshift flutes made from junk rotate around a cycle chain ring, lurching from the tactility of slightly off-beat opener Febrile. That song lingers dangerously close to becoming quirky before the stink of soot and industry in Kin to Coal tramples any sense of silliness firmly into the mangy darkness of perpetual struggle. If Gainsborough was looking to capture the sense of what is a conflicted, contradictory, inconsistent and ultimately fascinating industrialised identity, he's well and truly succeeded. Steph Kretowicz
8/10
Tri Angle Records released 'Punish, Honey' on the September 15th 2014 (buy).
Various Artists – 'Late Night Tales: Franz Ferdinand'
Long-running compilation series Late Night Tales bring Franz Ferdinand in to curate their 37th compilation. Like most Late Night Tales curators, Franz Ferdinand have a reputation as music fans as much as music makers, having in the past given nods to obscure groups like Scottish post-punk outfit the Fire Engines as much as more 'typical' influences like David Bowie, Roxy Music, and Brian Eno. As such, their collection features an eclectic array of pop, electronica, disco, and psychedelia from around the world and throughout the years.
Surprising to casual Franz Ferdinand listeners will be the inclusion of electronic artists like Oneohtrix Point Never, Boards of Canada, and Justus Köhncke on here, but to my ears the more popular inclusions are the most thrilling. Serge Gainsbourg's Requiem Pour un Con has the sort of groovy sleaze that Franz often aim for. I've only ever known Wings as an Alan Partridge punchline (in terms of Sir Paul's output, it's always been about the far cooler McCartney II for me), but their Nineteen Hundred & Eighty Five is probably the best thing on this mix. As per Late Night Tales tradition, the band performed a cover version for inclusion the mix, opening the collection with a very Franz Ferdinand-y version of Jonathan Halper's Leaving My Old Life Behind.
There are some fairly forgettable moments – do we really need to hear Disco Devil and More Bounce To The Ounce again? – and the idea of buying a chillout CD in 2014 still seems a little weird, but it's hard to pick out any essential faults in this little compilation. Selim Bulut
7/10
Late Night Tales released 'Late Night Tales: Franz Ferdinand' on September 15th 2014 (buy).