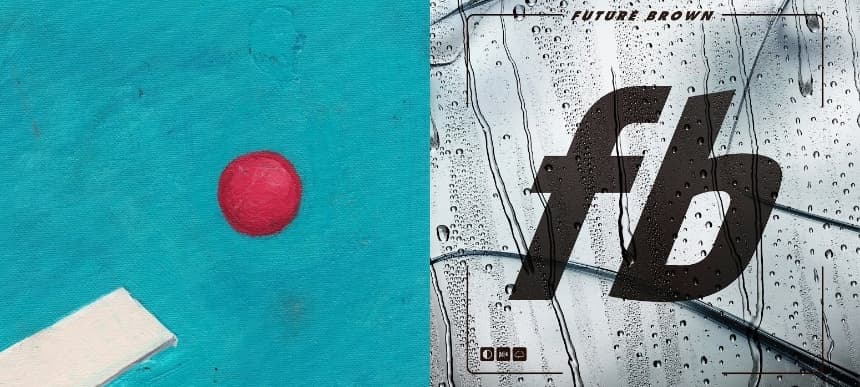 25.02.2015, Words by Sean Murray
This week's albums: February 23rd 2015
Our album reviews column gives you a succinct analysis of the week's releases. This week: Dan Deacon, Dutch Uncles, Future Brown, and more are on the chopping block.
Album of the Week: THEEsatisfaction 'EarthEE'
"['EarthEE'] points directly at the problem of appropriation and exploitation of black histories, pays homage to the people that made them, and builds on that heritage creatively while simultaneously gesturing towards a bigger picture… It's an informed and encompassing portrait of life as we know it, that pays its respects where it's merited and condemns injustice when it's warranted." Read the full review here.
Dan Deacon 'Gliss Riffer'
The last few years have seen Dan Deacon branch out from the experimental, computer-produced music that he made his name on, opening his world out to acoustic instrumentation and orchestration, developing his songwriting, and taking on film scoring projects. 'Gliss Riffer' is touted as a return to familiar territory, produced once again entirely by himself and on a computer, but although the Baltimore-based electro-acoustic musician has rediscovered his old processes, he's obviously learnt new tricks.
'Gliss Riffer' takes the form of a vocal pop record, with Deacon deploying his own voice heavily across the album. These vocals are processed (as on the 'female' vocal of Feel The Lightning), cut to pieces (Meme Generator), or otherwise twisted beyond recognition, a playful effect that disguises the fact that these are very introspective lyrics. That's the general thread that runs through the impressively and immaculately constructed album – beneath its eccentricities is something much deeper and more engaging.
7/10
Domino released 'Gliss Riffer' on February 24th 2015 (buy).
Dutch Uncles 'O Shudder'
Dutch Uncles' last album 'Out Of Touch in the Wild' saw the Manchester group trade the dancefloor etiquette of 'Cadenza' for a more polished "studio sound". While 'O Shudder's predecessor felt more coherent than albums before it, it also took a side-step from the direction many thought the group were heading. Thankfully, on 'O Shudder', Dutch Uncles create a new path that encompasses both courses. On 'O Shudder's 10 songs, Dutch Uncles create new angles that hurl together their take on pop, electronica, and glamour. Jerk to Decided Knowledge, In N Out, and Upsilon; sing along to Be Right Back and opener Babymaking – 'O Shudder' excels at merging their previous output into one. The songs are consistently strong throughout, and though Given Thing slows the pace for the rest of the course, the shift of experimentation for luxury is passable. All in all, Marple's finest are back outside the confines of a neatly defined box. Sean Stanley
8/10
Memphis Industries released 'O Shudder' on February 23rd 2015 (buy).
Future Brown 'Future Brown'
Is Future Brown "music for the world we live in", or is it "music that appeals to the worst habits of generation Tumblr"? Does their self-titled debut album "[defy] linear narratives", or is it bogged down by a "vague art school conceptualism"?
It's sort of neither. 'Future Brown' is an OK album. It's fine. When you boil it down to the music, some songs work, others don't. Future Brown is a 'supergroup' of four previously established, knowledgable, and hard-working DJs/producers: Fatima Al Qadiri, J-Cush, and Daniel Pineda and Asma Maroof of Nguzunguzu. Their music is born out of a love of different modern, international street styles – rap, grime, dancehall, Chicago bop, and so on. If you've ever caught a DJ set from one of the artists involved individually, you'll know that Future Brown know their shit: they play incredible, no-frills club music from all over the world. But simply playing this music will only go so far, and with 'Future Brown' they actively engage with these different musical communities, collaborating with vocalists from otherwise unconnected musical cultures and unifying them with a high definition production aesthetic that sounds distinctively Future Brown.
The real problem with 'Future Brown' is that not all the tracks are very good on a sensory level. But this has nothing to do with, say, Fatima Al Qadiri's conceptual art background – which is really not relevant to the album at all, unless you've decided it is – and more to do with the fact that some of the beats are too busy and some of the vocalists aren't bringing their a-game. Their opening statement, 2013's Wanna Party – appearing now as the album's finale – saw them team up with a then relatively little known Chicago rapper/singer, Tink. Wanna Party is a stone cold banger, and now that Tink has some traction behind her, you'd expect an increased confidence and energy with their second collaboration, Room 302. But it just doesn't heat up. About half the tracks on the album don't really take off despite the production and vocal talent involved.
So 'Future Brown' feels like a bit of a missed opportunity. But so what? You can cherrypick the good songs. I'll still check out the next release on J-Cush's Lit City Trax label, and I'll still catch Nguzunguzu when they're next in town. Life goes on. Selim Bulut
6/10
Warp Records released 'Future Brown' on February 24th 2015 (buy).
John T Gast 'Excerpts'
John T. Gast bares all the hallmarks of a Hype Williams-related project. Noted for working with Inga Copeland, Gast presents as a mere alias obscured by the online noise of absurd images and non-sequiturs in a website. Its drith.co.uk link is the only information offered on the Planet Mu artist page, where a video, then an image, scrolls by, followed by a fragment of text that ends: "Moon's Milk Spills From My Unquiet Skull and Forms a White Rainbow".
'Excerpts' is equally as profound in its absurdity. Like a line of trailer soundtracks, the recordings progress more through a range of moods than songs. There's the slightly tongue-in-cheek sampling of a grunt in Congress and a pounding kickdrum beat that sounds so clear it crunches under an incessant ringing in Claim Your Limbs. White Noise / Noise floats from the album like an image of a slightly strange film noir of the Lynchian variety, while a couple of samples sound familiarly of the Dean Blunt variety – Ceremony and White Noise (Reprise) specifically. This is an album that offers a sense of things unfinished, a glimpse into the score for something bigger. Steph Kretowicz
8/10
Planet Mu released 'Excerpts' on February 23rd 2015 (buy).
Romare 'Projections'
The press release that accompanies Romare's debut looks to frame it as a "great dance music album". The energy harnessed from the samples which featured in his first two EPs, however, isn't what grabs the attention on the record. In both Work Song and Roots, for example, the steady pacing and increased restraint don't quite quite grab you in the same way, and so approaching it as a dance album would overlook its strengths.
Although there are exceptions, it's the tracks drifting down into slower territories which make the most of Romare's much-discussed sound collaging. Motherless Child builds up into a super slow groove, but it's the gentle melancholy found between the vocal and melodic keys that really engages. Similarly, in Prison Blues it's the haze of sleazy chords that draws you into the detail of the interplay between percussion and indecipherable vocals.
While his debut album may not reprise the kind of exciting energy that previous EPs promised, at its best this record creates immersive atmospheres that feel just as unique as moments in those first releases did. The fact that Le Petit Mort manages to close out the album by slowly winding down the tempo as well as the pitch, while always remaining completely captivating, is a great example of what this album does really well. Jake Hulyer
7/10
Ninja Tune released 'Projections' on February 23rd 2015 (buy).