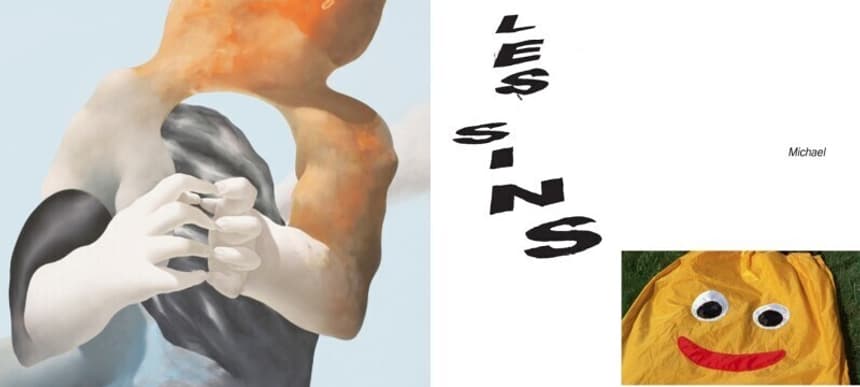 07.11.2014, Words by dummymag
This week's albums: November 3rd 2014
Our album reviews column runs alongside our regular Album of the Week reviews, giving you a succinct analysis of some of the records that are on Dummy's radar that week. This week, we look at new albums by Les Sins, DELS, Ryan Hemsworth, and more.
Album of the Week: Dean Blunt – 'Black Metal'
"…as a highly provoking record presented in a Trojan Horse of beautifully crafted almost-pop melodies, 'Black Metal' asks questions and offers no answers. Sometimes that's the best you can do…" Read the full review here.
Arca – 'Xen'
A drunken amble through a reality that knows no words, London-based Venezuelan Arca (aka Alejandro Ghersi) takes another sideways stumble away from what's expected to produce a fully-formed album. These days, the mark of a good online-literate artist is in finding cohesion amid all the noise, and with 'Xen', gone are the overt references to global divas (across Whitney Houston, Lana Del Rey, and Alanis Morisette) of his NYC days working with other queerified-pop interlocutors like Hood By Air's Shayne Oliver and Mykki Blanco. Instead 'Xen' builds on the flow of last year's '&&&&&' mixtape, adding more untreated classical excerpts and fewer lyrical samples in 15 short tracks that feed into each other like a streamlined self-consuming organism; the sound of a personal algorithm.
That sort of smoothing, or sculpture of existing content, already loaded with its own complex emotional information, comes in the ripples of Slit Thru, as unrecognisable bullets of over-processed vocal fragments scatter its liquid surface. Single standout Thievery quivers within its bodily milieu of monstrously physical (though strangely synthetic) movement, while title track Xen points to its equal parts technological and imaginative source. Here, digitised body modification comes in the wobbly, chattering spiral of disparate elements that crash together and form a single, magnificent whole. Steph Kretowicz
8/10
Mute released 'Xen' on November 3rd 2014 (buy).
DELS – 'Petals Have Fallen'
Post internet wi-fi fo fum / And I'll never go pop, rather die ho hum. I like it when Kieren Gallear aka DELS gets pissy. As a London recording artist who's been carving out a name for himself as a sincere and poetic emcee across album debut 'GOB' in 2011 and the 'Black Salad' EP, it's a swagger that's always there – you just have to listen for it. But when it comes to 'Petals Have Fallen', its lead single RGB blasts beats from Micachu that growl and oscillate under Gallear's rage at trends and the things that don't matter, while on other tracks waxing thoughtful on the things that do.
There's some dark matter here, with Gallear's background as a graphic designer, an education in the shady ins and outs of networked culture comes in handy in the hollow, frenetic synth rhythms of House of Commons. It opens with an RP-inflecting automated voice telling the time "precisely", followed by the rapper's incisive chat on corporatised politics-at-large: You've got something on your nose / It's product placement.
Emerging from that vital cluster of artists and producers around London's East and South East, twice summed up by Micachu and Kwes's 'Kwesachu' mixtapes, 'Petals Have Fallen' too becomes a showcase of some of England's born and bred best. With Kwes executive producing and Bonobo, Blue May, Eli-T, and more contributing beats, and artists like Elan Tamara and Rosie Lowe adding vocals, DELS offers an honest document of a city's precarious systems, along with the people that are there to smash them. That's when the Tirzah-featuring title track to end Petals Have Fallen references the 2011 London riots, offering one final provocation in Spittin' New Wave, the conclusion is pendin'.
7/10
Big Dada released 'Petals Have Fallen' on November 3rd 2014 (buy).
Deptford Goth – 'Songs'
Deptford Goth's new album is called 'Songs', and that's important: the big thing to focus on here is Daniel Woolhouse's songcraft. There's a greater focus on the technical composition, the arrangements are smarter and more considered, and there's a diverse array of sounds and instrumentation on display – choirs (or choral sounds) on Relics, brass (or brass-like sounds) on A Circle, woodwind (or woodwind-esque sounds) on A Shelter, A Weapon – which certainly beats "a few guitars, a couple of synths, a piano, various USB controllers, a laptop and an electronic cigarette", as he told Dummy he used on debut album 'Life After Defo' last year.
It's still very pained and heartfelt and earnest and riddled with self-doubt, but it's also a lot warmer and, at times, even uplifting. Woolhouse has a knack for writing vocal hooks (which I guess comes from growing up with Top 40 R&B) which often come across as mantras, like in A Shelter, A Weapon: You've got a lifetime / Use it as a weapon, baby. Selim Bulut
7/10
37 Adventures released 'Songs' on November 3rd 2014 (buy).
Les Sins – 'Michael'
Chaz Bundick is mostly known for writing alternative pop songs as Toro y Moi, but Les Sins is an outlet for his dancier productions, owing themselves to old house music, breaks, and dusty hip hop production. So far he's put out a couple of 12"s for Jiaolong, the label owned by Dan Snaith – another alternative musician (Caribou) with a club-leaning alter ego (Daphni) – and both have been really good: a little bit square, for sure, but fun and way more adventurous than the vast majority of 'indie guy gone dance' records tend to end up being.
Bundick doesn't quite carry a full album with his material, but 'Michael' is still a fun, breezy listen that's full of personality. It's also full with ideas, reconfiguring styles like French House, garage, and funk pop in Bundick's own style rather than just outright pastiching them (although ocasionally there are just so many ideas that it loses cohesiveness – Call has these monster rave stabs, a half-step rhythm, and for some reason a funk breakdown, and it's just as all-over-the-place as that description suggests). At its best, 'Michael' can deliver the same sort of smiles that other bookish dance groups like Les Rhythmes Digitales, Cassius, Air, and The Avalanches are all capable of, and that's definitely cool with me. Selim Bulut
7/10
Company Records released 'Michael' on November 3rd 2014 (buy).
Ryan Hemsworth – 'Alone For The First Time'
Ryan Hemsworth's production has always had a melancholic tinge to it – sparse, quiet drums punctuating waves of comforting but sad synth melodies. Though 'Guilt Trips' was Hemsworth's debut full-length release, his second album 'Alone For The First Time' feels more like a statement of intent of him as an artist. Where his previous material has been sad in a misty-eyed, distantly nostalgic way, this is him fully embracing 'making music for sleepless nights, laying in bed at 2am, heavily contemplating mistakes and missed opportunities' territory.
Pixelated beats and choral loops underpin breathy, forlorn guest spots from Dawn Golden and Alex G, to name a few, as the former laments I don't want to leave you here, I just want to be your shadow on single Snow In Newark. Highlight Surrounded has DOSS' stamped all over it – her racing throwback drums and whispered vocal snippets gasping dramatically for air over a squealing beat. 'Alone For The First Time' is an emotional journey that sees Hemsworth inviting his listeners into his life through his music more than ever before.
7/10
Last Gang Entertainment released 'Alone For The First Time' on November 4th 2014 (buy).
Various Artists – 'Hyperdub 10.4'
It's been a tumultuous year for Hyperdub. Just before their first anniversary comp, 'Hyperdub 10.1', was released, footwork purveyor DJ Rashad untimely passed, his contribution on the compilation with Gant-Man becoming that bit more profound. As if that wasn't devastating enough, not too long before the release of their final 10th anniversary compilation, The Spaceape lost his life to cancer. However, dealing with these unfortunate, unexpected events has only strengthened the celebratory spirit, with Hyperdub associates playing both of the artist's tracks in sets regularly and giving shout-outs to reinforce their very significant contributions to music rather than to encourage grief.
With their input sorely missed, it's mainstay Burial who heads up both discs of the final compilation, introducing the first with the highly-awaited release of Lambeth, an unreleased song from around the time of 'Untrue', that was played by Benji B on his 1xtra show years ago and ripped to YouTube in terrible quality. A typically metallic rhythm and sinister 8-bit synths guide through the track until it abruptly ends without warning. The rest of the comp is packed with heavier, blocky cuts, a VIP of recent EP highlight Position from Ikonika, a looping, wooden percussive edit of Jessy Lanza's Fuck Diamond by Bambounou and Noyfb, and a blaring cut from Laurel Halo's 2013 EP 'Behind The Green Door', to name a few. 'Hyperdub 10.4' is the perfect culmination of everything the label has achieved in its 10th year and a reminder of why they continue to consistently be one of the strongest UK labels around.
Hyperdub released 'Hyperdub 10.4' on November 3rd 2014 (buy).