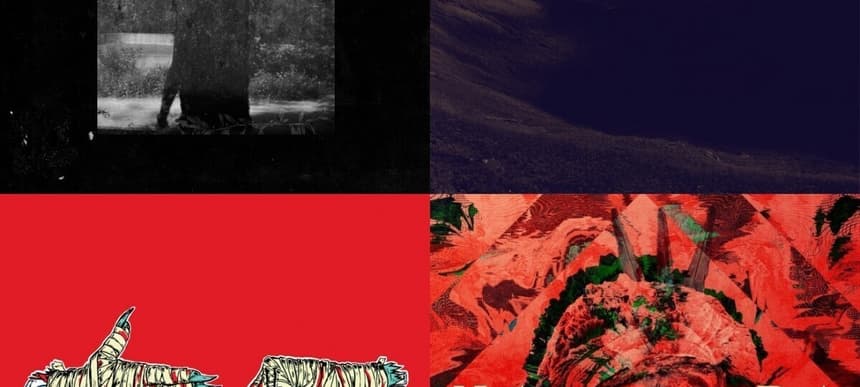 30.10.2014, Words by dummymag
This week's albums: October 27th 2014
Our album reviews column runs alongside our regular Album of the Week reviews, giving you a succinct analysis of some of the records that are on Dummy's radar that week. This week, we look at new albums by P. Morris, Run The Jewels, and We Are Shining.
Album of the Week: Grouper – 'Ruins'
"…a deep and beautiful pathos pervades 'Ruins', as Harris contemplates the notion of a beginning as already implying its ending. That sense of absence pervades in these uncharacteristically sparse, though consonant tracks, meant to be absorbed as a single album, rather than several unrelated tracks… as quickly as the album emerges it disappears, like the memory of star that died long before we saw it…" Read the full review here.
The raw, jagged style of R&B offered up by P. Morris on this EP isn't a world away from the production on a certain record that had been tipped by the bookies to win the Mercury Prize this week. Across its six short, slo-mo instrumentals there's a confident swagger that underpins the juxtaposition of bittersweet melodies and melancholic, pitched down vocals with distorted, clanking percussion.
The theme of heartbreak is extended to the structure of the tracks themselves, where unexpected delays and pauses create the impression that these are compositions which only just about manage to retain an incidental coherence. In Fallen, for example, you have prolonged pauses, which consistently undercut expectation and aid the bitter and frustrated atmosphere of the track. Similarly, throughout Darling, the beat drops out or the chords come back in a half-second before or after you expect them to. Before You Disappear – a coarse, jarringly anthemic ballad – sits as the EP's undoubted focal point, but it's the sense of heartbroken disarray in the carefully loose structure of the tracks around it which really stands out. Jake Hulyer
7/10
Bear Club Music Group released the 'Beloved' EP on October 28th 2014 (buy).
Run The Jewels – 'Run The Jewels 2'
Best friends both in and out of the studio, El-P and Killer Mike's names are inseparable at this point. When their collaborative project Run The Jewels came out last year through Fool's Gold, it seemed like a one-off passion project for the two rappers before they started working on their own material again, but 'Run The Jewels 2', released through Mass Appeal, proves that wrong. The raw aggression of their debut as a duo has been toned down ever so slightly and distilled into a record that's wider in scope.
Single Oh My Darling Don't Cry, however, is them in full not-fucking-around mode – '90s dance-inspired production shining through with clipped female vocal snippets refracting behind their competing verses. The clear focus on the record is the exceptional production – highlight Love Again's instrumental bouncing like a pogo spring as Three 6 Mafia's Gangsta Boo spits the dirtiest bars on here, asserting, Stick your tongue up my ass, you better show me who you fucking with! It's recommended to take a lot of El-P and Mike's verses with a pinch of salt, as historical jokers with lines such as Mike on Lie, Cheat, Steal – I'm fly as a pegasus, that's no embellishment. As confident, clever and self-aware as ever, 'Run The Jewels 2' proves that the duo surely have no intentions of stopping working together any time soon when they're on such a winning streak. Aurora Mitchell
8/10
Mass Appeal released 'Run The Jewels 2' on October 28th 2014 (download).
We Are Shining – 'Kara'
We Are Shining is a pop project by Hyperdub's Morgan Zarate and Acyde. Together they've worked with everyone from FKA twigs to Kanye West, and they released a great single on Young Turks called Hey You! way back in 2012. Their debut album, 'Kara', is a fiery mix of soul, gospel, psychedelic rock, and hip hop, but they approach these influences with a modern production perspective, and they bring a particularly English sensibility to these wordly sounds. It's jam-packed with guest vocalists and collaborators – Eliza Doolitle, Shingai Shoniwa of The Noisettes, Roses Gabor, and Andrea Balency all sing on it, while the song Breaks was written by FKA twigs.
On paper, then, it all sounds like 'Kara' should be massive. The songs sound like little else on the radio, yet they also sound like they could be on the radio – the crashing, Just Blaze-style breaks, gospel organs, and energetic electric guitar licks are all humungous, and there's an instictive knack for hooks at play on songs like the soul-chopped Hot Love, the dusty house of Breaks, and the cosmic funk of Stagedive. It's all a bit like a less beardy version of Goat (that's a compliment). The problem with the album is that it's all just a bit too much: there's rarely a quiet moment, and by the latter half of the album it feels as if the songs – even songs that are otherwise good when taken in isolation, like Whirlwind – are all blurring into one. Selim Bulut
6/10
Marathan Artists released 'Kara' on October 27th 2014 (buy).