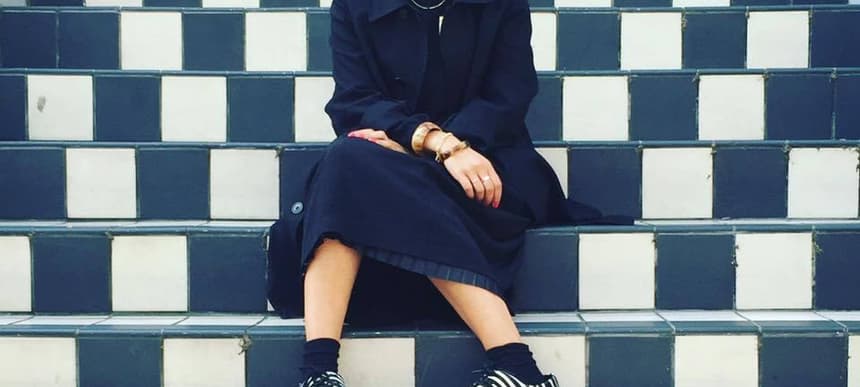 12.10.2015, Words by Aurora Mitchell
Throwing Shade: "There's so much creativity going on in this city"
Throwing Shade has been putting out ghostly, distant glancing tracks for a while now, her softly spoken British tones sitting in the middle of introspective production. As well as putting out releases on labels like Bristol's Happy Skull and No Pain In Pop, she's also a DJ – with a biweekly slot showcasing some of her favourite global sounds on NTS as well as sets at London parties like Tropical Waste.
She's previously brought her live set to both the Tate Modern and Britain and now she'll be playing as part of her night Sound and Vision in collaboration with Tank TV, which will involve some of her brand new music. The night pulls together artists in both the visual and musical sense to the Tank TV quarters. The vision aspect features Rachel Noble who designed the sleeve for Throwing Shade's '19 Jewels' EP as well as Boudicca Collins who designed the artwork for her first ever release. Ahead of Sound and Vision next weekend (October 17), we talk to Nabihah about how the event came together and what you'll be able to expect as well as sharing an exclusive listen of Sim Hutchins' remix of her track 4Drake.
How did you partner up with Tank TV for Sound and Vision?
Throwing Shade: "I'd been to a couple of events in the Tank TV exhibition space on Great Portland Street before, and so when I was thinking about venues, it popped into my head as a potential option. It's a good size, and I like the fact that it's in Central London. More parties need to happen in central! I initially messaged them over Instagram, and then I was put in touch with Jack O'Brien, who curates the Tank TV exhibition space. We met up, I told him my ideas, he was up for it, and so we've been working together over the last couple of months, trying to make it happen."
Where did the idea of the night first come from?
Throwing Shade: "It's been a while since I put on a night, and it felt a bit overdue. However, this time I knew that I wanted to do things slightly differently from a regular club night. I wanted to make it something special, something immersive, something that people would remember. The last two live shows that I've played have been at the Tate Britain and the Tate Modern, respectively, and I've drawn some inspiration from these experiences. I liked the way that the Tate curated these special events, which intertwine music and art, to create a unique context in which to experience it all. With the 'Sound and Vision' party, I want to try and bring these two artistic elements together, but from a more grass roots approach.
There's so much creativity going on in this city, and so many of my friends are doing amazing things, for which I wanted to create a kind of showcase. The party, which is taking place on Sat 17 Oct, falls on the weekend of Frieze Art Fair, and this is also not a coincidence. During Frieze, there are loads of art parties going on, full of super rich millionaire art dealers and buyers, but it's a whole different world from the one that my friends and I know, as young creatives trying to live off our art in London. Perhaps we'll get to that stage in a few years, but for now, I want this party to act as a counterpoint to all of that. This is the real life version!"
Will the sound and vision elements interplay or are they separate?
Throwing Shade: "I want the sound and vision elements to combine to create a special space and feeling, and to immerse the audience. All of the visual and musical artists whom I have asked to be involved in this project, have their own distinct styles, yet I think that they will all fit together nicely. The visual artists are all submitting video art, which will be projected around the space. I think the lighting; the visuals and the music will all weave together in a special way, especially since the venue itself is quite small and intimate. To be honest, this is all pretty experimental and none of us will know what the finished product will be like, until we're all actually there, making it happen! I guess we just have to wait 'til the party and see how it goes."
Rachel Noble is part of the Vision element. She made the artwork for your 19 Jewels EP, how did you guys start working together?
Throwing Shade: "Rachel is a friend of mine, and we first connected because I'd seen some of the visuals she'd made for an online channel, and also some other music artwork she'd done. I really loved her aesthetic and I just knew it would fit together with my sound, so I asked her if she'd be up for doing the artwork for 19 Jewels… And that's how it started. There's also another artist who will be showing work at the party, who has also done artwork for me – Boudicca Collins did the artwork for my first release 'Mystic Places'. These are two examples of the collaborative energy behind the party – we are all friends in London, who make art, and hopefully inspire each other. This party is an opportunity for a bunch of us to come together, and share our work with each other, and a couple hundred more people too!"
What can people expect in terms of vibe and musical atmosphere from Sound and Vision?
Throwing Shade: "The plan is to create a fun and memorable, multi-sensory experience. It won't be your average gig. It won't be your average gallery opening. The music is a mixture of live, new electronic music from myself, Sim Hutchins and Tribe of Colin, and also DJ sets from Deadboy, Reverie, and Angel Food. I guess it will cover quite a wide spectrum of sounds, and I hope people will find it interesting. Above all, we want to have a good party, so fingers crossed for that!"
You're playing live, which I can imagine is a different world to your DJ sets, what does the live set up involve?
Throwing Shade: "Yes my live shows are very different to my DJ sets. For my set-up, I'll be using a mic, loop pedal, a couple of Korg and Roland samplers, a synth, and maybe also a guitar… And there will be lots of plants."
Sound and Vision takes place on the 17th October at Tank.TV (event).