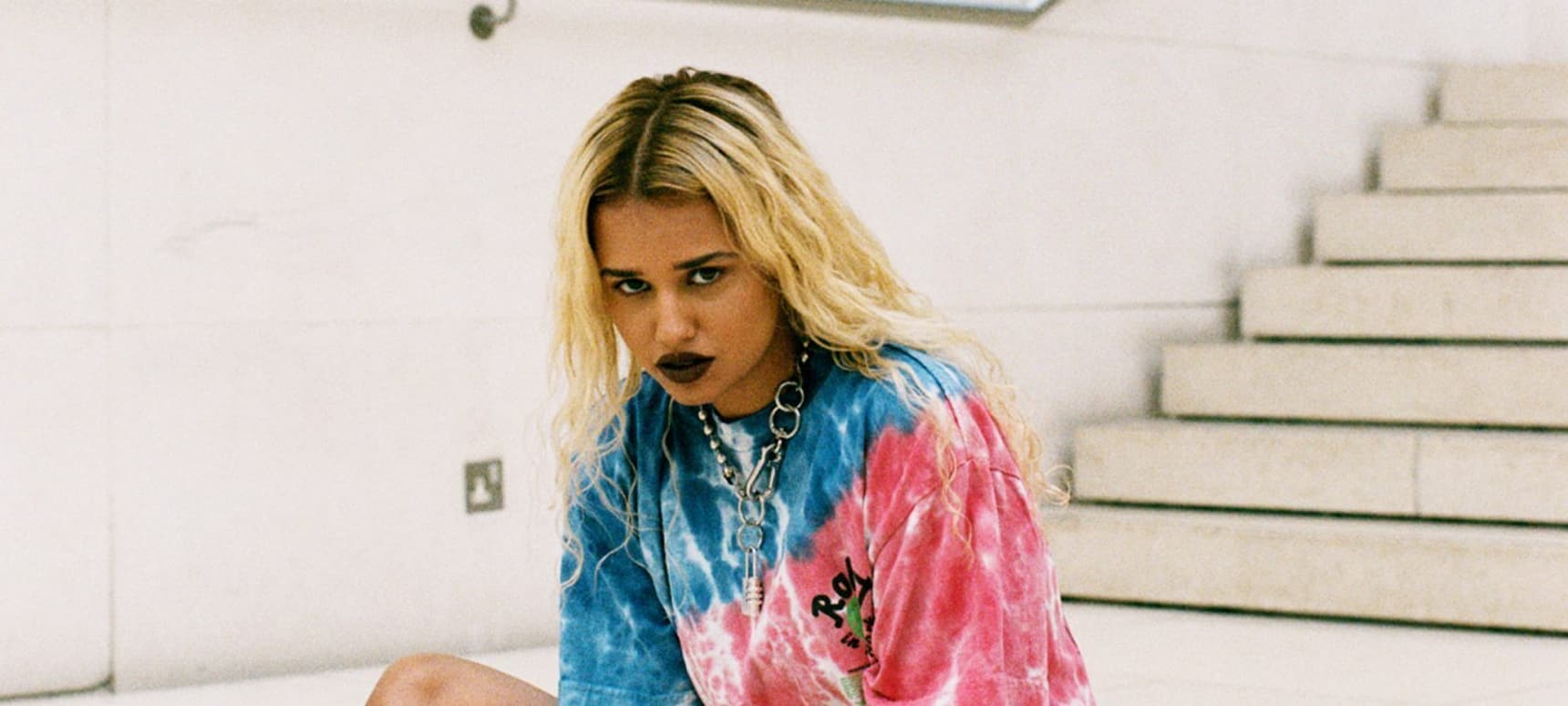 13.12.2019, Words by Felicity Martin, Photos by Matilda Hill-Jenkins
Tommy Genesis is executing her own, rebellious world vision
We meet the pioneering artist at a manga exhibition at the British Museum...
"You're like me," Tommy Genesis says, "you're nice but you're really into dark, freaky shit." We've just come out of a manga exhibition at the British Museum and Genesis is urging me to get a copy of Junji Ito's Uzumaki, a horror manga series about cursed spirals that infect a small Japanese seaside town, turning humans into monsters. "It's amazing – look it up as soon as you get home!"
The Canada-born rapper, producer, director, visual artist, model and manga enthusiast suggested the exhibition while she was in London as part of a European festival run. She's jet lagged and in need of a massage, "from all the headbanging," but despite the sleep deficiency, she's grateful to be here: "Usually I don't have the time to go to museums!" It's a miracle we actually get into the exhibition, as when we get there the tickets are sold out. In a stroke of luck a staff member comes rushing towards us: "Are you Tommy?" before ushering us in. Tommy laughs about this afterwards: "That never happens!"
Walking through the show, Genesis studies the graphic novels carefully, pointing out her favourites. She recently exhibited her visual art for the first time in LA: sketchy, loose charcoal drawings of decapitated female nudes. Although she's produced art and sculpture for some time – before making music, even – she only invited friends to the opening, saying she felt nervous about letting other people see something she'd previously only done privately.
The video for alloy-coated rap cut '100 Bad' sees Genesis holding dollar bills to her crotch, a move directly inspired by Tracey Emin's 2000 photographic self-portrait I've Got It All, where the British artist draws up copper pennies towards her vagina in a two-fingers move to her critics. "In the 'Tommy' video I had [Emin's] My Bed as a reference for the bed that I wanted," Genesis says. "It's weird, you don't see as much performance art that's so mainstream anymore. It's almost like the the line between artist and musician is so blurred, you know what I mean?"
Like Emin, Genesis's work is frequently centred around sex. In a world where proud female sexuality is still criticised, the artist of Swedish and Tamil descent is someone who's unafraid to own, and celebrate, hers. In October she performed at the 2019 PornHub awards, rapping from within a purpose-built cage and kicking the door open with her foot before stepping back inside. Words to describe female anatomy crop up often in her lyrics. She takes pride in how the word "pussy" still has the power to shock people.
"Where I'm happiest is when I'm directing and editing…"
Responsible for her own videos, Genesis takes total control over her own image. "Where I'm happiest is when I'm directing and editing," she says, "I spend hours at the computer editing. Sometimes it'll be days, and it'll feel like, will I ever finish? Will this ever actually be a music video? I feel like if I'm not in charge of all those things, I can't even connect the dots from my vision to the end product. It doesn't matter if you had the concept or the idea if you can't even bring it to life. It takes a lot of sacrifice of your personal life." Recent film God Is Wild, which featured a handful of songs from her self-titled debut album, found Tommy exploring her own visions of heaven and hell. "It's so abstract," she says, "It was a loose concept for the album with these personas of angel, demon, good, bad."
Receiving a religious upbringing, she was christened Genesis Yasmine Mohanraj after the first book of the Old Testament. At her Catholic school aged eleven she formed a girlband named God's Girls. "I'm definitely not religious but I am very spiritual," she says of her relationship with christianity now. "It's something I don't really talk about but for me, it's something I grew up in. Whatever you grow up in always comes back to you, whether you like it or not. I do pray a lot, but I don't really believe in what religion has or – I would say, for my experience, personally, what it has become. There's so many different cultures and beliefs that are beautiful. I didn't fully sync with the religious aspect, but my belief really is, like, to each their own. I don't believe that one thing is right for everyone, ever."
Post-God's Girls, Genesis joined DIY punk bands in college and forming rap duo G3NESIS before putting out experimental rap tape 'World Vision' in 2015, coming to be an affiliate of Atlanta's Awful Records via Father and his tightly-knit crew. After splitting with Awful and signing to Downtown Records, Genesis made a sharp left turn into a more pop-focused sound, with the reggae-tinted 'Lucky' an escape from the murky world of underground rap she'd inhabited previously.
"I know I'm not the stereotypical pop musician, but I think that's why it works…"
"I can't get rid of the pop," she says, "like, I love it. And it's funny, because it's not how I started, and it's not what anyone expected from me. But I genuinely love making pop music. And I know I'm not the stereotypical pop musician, but I think that's why it works, because even though that space is so open, there's still some things that haven't really been done. It's fun bringing the lyricism that I have into pop music. And vice versa, bringing pop sounds into a rap world. That's what I play with."
Her latest bridging of pop and rap is a second collaboration with Charli XCX: 'Bricks', an unapologetic ode to stacking wealth. With blinding fire alarm synths courtesy of PC Music maximalist A.G Cook, 'Bricks' is Charli and Tommy reuniting after Charli jumped on the remix of '100 Bad'. "I usually rap her part in that," Tommy says, "I'm always like 'Shout out Charli!' and then I rap it. And, that girl can… that girl is fast. I was like, you showed me on this song!"
'100 Bad' soundtracked the slo-mo march of the female protagonists in anti-sexist revenge fantasy film Assassination Nation starring ABRA. Like Emin, again, Genesis's work espouses female empowerment. "Glass ceiling to the floor / Slow-motion down the pole," she raps on recent cut 'Cinderelly'. It's the perfect example of the Tommy brand of feminism: governing her sexuality while not being held down by the patriarchy. The last time I'd seen Genesis perform, two years ago at Iceland's Sónar, she paused between each song to discuss feminism with the intent and articulation of a university lecturer.
As with Charli, she seems to make a point of collaborating with women, recently remixing Deb Never's grunge-y 'Same' and tapping Jubilee to rework 'Play With It'. With 'Tommy Genesis' out now, she's already planning her next record, although "I haven't been putting any pressure on it, I've just been making songs." All she'll tell me is that it'll sound different to the debut: "Albums are fun because it's really fun to create a world and give it meaning. I treat it as though it's its own space. And then I can move on from it – I like to zip it up, tie a bow on it and walk away."
Although much of Tommy's music could sit comfortably within the rap/pop landscape, there's often a wildness, a punk spirit that interjects what she does. At its close, 'Tommy' crescendos into blind screaming and thrashing drums while 'Bricks' similarly erupts into white noise, like your phone breaking up just as you need to say something important. It's like she's constantly fucking with you, saying: You think I'm this, but I'm not.
Photography: Matilda Hill-Jenkins.