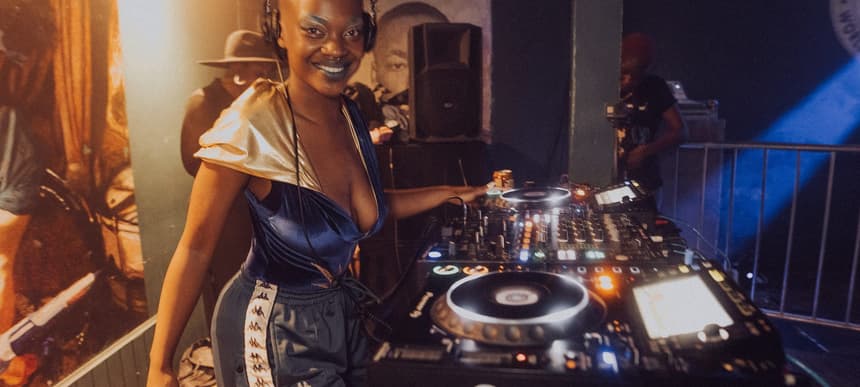 03.06.2022, Words by Billy Ward
Tour de Moon Newcastle gave the city's young creatives the spotlight
Free tickets for the Southampton leg of the tour are available now
Walking around the historic city of Newcastle on the final weekend of May, it's clear something otherworldly has landed in the Toon. Following its grand stop off at Leicester, the multi-city, UK-wide arts festival Tour de Moon has meandered its way north, bringing its sustainable touring convoy along the way.
The festival asks people to imagine new ways of thinking, living and doing – and rallies around the moon as a means to celebrate nightlife and counterculture across the UK and beyond. You can read our interview with the festival founder here to find out more about Tour de Moon's core ethos.
Aside from its space-themed physical manifestations – a cosmic playground made from giant inflatables, immersive state-of-the-art sound baths, film showcases, live music, panel talks and their very own zine, Tour de Moon is focused on reckoning with a colonial past and redistributing wealth to those who need it. The festival has been issuing £1 million worth of bursaries to young creatives across the globe, as well as recognising the importance of youth centres and clubbing venues by investing in their future too.
A trip to 'Moon Experiences' instantly reveals that this festival is unlike any other. Repurposing disused buildings on the outskirts of Newcastle, festival-goers are plunged into a selection of sensory experiences – a psychedelic golf buggy takes earthlings on a theatrical trip around the surface of the moon, while next door, Loss><Gain's Soundbath immerses passers-by in an original 2 hour experience featuring music and compositions from the likes of Samuel Organ, Oliver Coates, Yelfris Valdès and more.
As evening draws in, 'Moon Music' provides a stage for the city's local emerging talent at World Headquarters, Newcastle's inclusive night-club and famed party destination. Rising R&B songstress Georgia May serenades listeners with her golden vocals, before Brazilian singer and multi-instrumentalist Nadedja takes centre stage with her soul-bearing blend of covers and originals.
The Tour de Moon afterparty on Saturday night draws an even bigger crowd as the line up switches gears into dance music and showcases some of the city's most exciting electronic artists. Up-and-coming DJ and producer Anish Kumar jolts the crowd into life with his soulful dance-floor heaters, while Darwin, Westy and Willow criss-cross between broken beat, left field house and ambient techno throughout the evening.
The official launch of Spin City Crew – a brand new crew of Queer DJ's and performers based in the North East of England – stands out as one of the weekend's highlights. Performing together as a collective for the first time, the group's infectious energy makes their ascent to the top of dance music easy to imagine.
Elsewhere, tucked away in a more residential area of the city, 'Moon Cinema' showcases a series of short films selected through an international competition. An eclectic range of styles and themes are explored throughout the day, providing an opportunity for a new generation of talented filmmakers to have their work screened in a cinema setting while raising important issues about youth culture.
But if films aren't really your thing, perhaps a giant NASA-designed inflatable playground might do the trick. That's exactly what 'Moon Games' brings to Tour de Moon – a psychedelic luna landscape showcasing the festival's collaborative efforts with astrophysicists, sports groups and youth organisations.
With its fully sustainable armada of vehicles, 'Moon Convoy' and its subsequent street parade provide even more visual spectacle. Like 'Moon Games', the convoy works around the idea that by creating a physical space for people to come together as a community, new ideas will be born.
It's rare to see a giant squid taking residence in Newcastle's city centre but the convoy seems right at home here, adding to the weekend's proceedings with live music, DJ sets and an initiate show from the 9-piece Moon Arkestra. As a part of this practice-based residency, the Arkestra are looking into the relationships between nation-states, music, political action and displacement.
Overall, Tour de Moon was a welcomed break away from the traditional festival format, bringing something totally unique to the North East for a weekend of radical imagination. With so many different activities to take part in – be it at the cinema, at the nightclub, a parade, or an inflatable playground – there is something for everyone at this festival.
Tour de Moon is travelling to Southampton for 4 days between June 10-13. Free tickets for Tour de Moon Southampton can be claimed here.
For more information on Tour de Moon or to claim your free tickets, visit the festival's website.