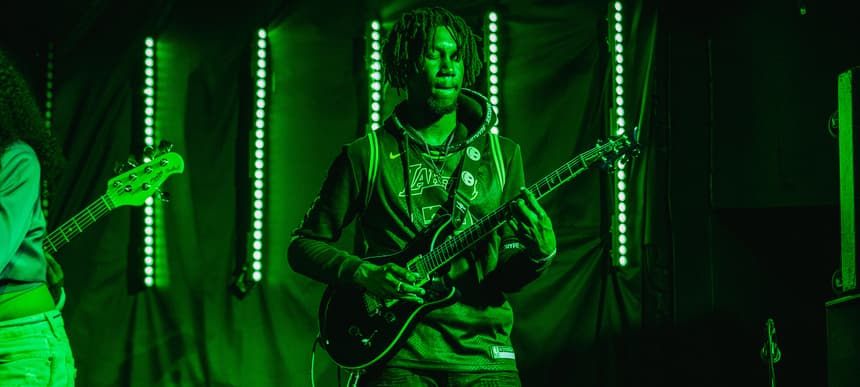 27.05.2022, Words by Billy Ward
Tour de Moon's founder talks Moon Music and the importance of nightlife culture
Tour de Moon's Nelly Ben Hayoun and World Headquarter's Geoffrey Kirkwood give us the lowdown on the festival ahead of its Newcastle stop off
Where the traditional festival experience has gone relatively unchanged for many years now, Tour de Moon is doing things differently. Seeing our 'universal satellite' – the Moon – as a prompt for radical imagination, the touring sustainable convoy invites people to take part in a collective experience that seeks to consider and test different modes of interactions between ourselves, our environment, the moon and the cosmos – all while celebrating nightlife and youth countercultures across the UK and beyond.
One strand of the festival which stands out as a particular highlight for music lovers is Moon Music, a creative and forward-thinking programme aiming to platform emerging artists in different locations across the UK with a blend of live performances and DJ sets. Taking residence at the iconic Newcastle venue World Headquarters this weekend, you can check out our article focusing on some of the best acts taking to the stage across Friday and Saturday here.
Founder of the festival, Nelly Ben Hayoun, believes that nightlife and its associated experiences should be discussed and celebrated as a part of the portfolio of public services, just as healthcare and education are. As well as creating Tour de Moon, Nelly is the founder of NASA's International Space Orchestra and the tuition-free University of the Underground and has worked on large scale projects alongside the likes of Noam Chomsky, Pussy Riot, Massive Attack and Kid Cudi.
With the Moon Music programme getting underway in Newcastle this Friday, we sat down with to the Tour de Moon founder, discussing the importance nightlife culture, how music can encourage new ways of thinking and what fans can expect to see.
How does Moon Music tie in with the festival's core ethos and values?
"Moon Music brings the 'afterparty' to festival proceedings, a selection of the most unique new musical talents merging popular music with recordings of the galaxy, to create a new musical genre. Moon Music brings together Arkestra (9 young musicians and truth seekers on board a mobile convoy across England); Moon Recordings (a series of newly commissioned alien musical genres); and Moonbounce (transmission to the moon, an Earth-Moon-Earth (EME) technology) to club nights. There is also the moon on the dancefloor… 18+
"Moon Music is also a platform to merge popular sounds with space telescopes' recordings of the galaxy, in an attempt to build a new musical genre. It is innovative in its making, with most works being newly commissioned, and developed within STEAM frameworks where space scientists work with musicians and amateur astronomers. It is also an ongoing investigation of the connection between the non-living, the living, and the universe through the use of static and white noise but also sonification. Playing with scales, formats, expertise, and performances, Moon Music is the alien in the room where genres and existing frameworks are being challenged."
What is the Arkestra on the convoy all about?
"Moon Arkestra is composed of 9 interdisciplinary artists and performers. Inspired by artist and musician Sun Ra and his Arkestra, 9 UK based musicians have been selected to join us on our sustainable Moon Convoy crew and tour with Tour de Moon around England as a part of this once in a lifetime mobile educational and learning residency. For 22 days they are joining the Moon Convoy as it moves around the UK. This programme is developed in collaboration with our friends at the free, pluralistic and transnational charity University of the Underground.
"Moon Arkestra are giving classes but also taking part in tutorials with an international teaching team of unconventional thinkers, activists, artists, dreamers of the day and nightlife artists. Moon Arkestra is calling for an investigation into whistleblowing and truth seeking through instrument and language. As a part of this practice-based residency, they are looking into the relationships between nation-states, music, political action and displacement."
Why is it important to re-frame how we think about music and genres?
"In a music industry that is deeply entrenched in the colonial fuckery of the world, embodied in an extractive relationship to art, where the artist and their work is commodified at levels which stifle the radical imagination of the artists but also those who consume music too. We need to take music to a new level, a new reach, music that can't be co-opted or commodified because its spirit is beyond that- this is one of our attempts with Moon Music, to test and experiment."
"Moon Music is here to evoke this type of listening in people. But would also hopefully inspire different ways of thinking, being in the world, and relating to each other. We are after new ways of listening and experimenting."
What is the festival doing to secure the future of the nightlife scene?
"So we have worked with the former nightmayor of Amsterdam Mirik Milan and his agency Vibelab to define principles and booking strategies, we also work with the Nightlife Industries Association to develop our programming plan, legacy plan and location appraisal."
How can music be used as a tool for social change/stimulating radical imagination?
"In so many ways, we have seen how music can change minds and become beacons for so many communities before. For us at Tour de Moon, it is about testing new grounds and new collaborative landscapes, such as Moonbounce for example, so to have different sounds and listening experiences that can hopefully inspire new alternative futures."
Can you explain a bit about the Moonbounce activity?
"As a part of Tour de Moon festival launch on 21st October 2021, they sent an exclusive transmission to the moon through Moonbounce – an Earth-Moon-Earth (EME) technology of a new original mix of the 1980 song ITT (International Thief Thief) by Afrobeat pioneer and political activist Fela Kuti. Bringing this track back into the present to decolonize the moon from extractive, commercial and colonial expansion, Fela Kuti's youngest son Seun Kuti weaves his saxophone into the track."
Artists on the Moon Music programme will be performing at Newcastle's iconic World Headquarters venue this weekend. Not only playing host to an array of the city's finest talent as part of the festival, the venue has been working closely with Tour de Moon to identify local talent, curate the line ups and designate where the bursaries Tour De Moon has set aside for emerging artists should be awarded to. Geoffrey Kirkwood, head of community engagement at World Headquarters, also sat down with us to give his low down on the local Newcastle scene and the positive impact Tour de Moon is already having on the city.
How did the collaboration with Tour de Moon come about?
"Tour de Moon got in touch with us saying they were scouting the region and opened it up to us saying we're trying to get money into the hands of people who need it in areas that don't normally get looked at. We have been helping with the decision making process of who should receive the bursaries. We have 6 DJs and 4 live artists who have been given a sum of money – we've chosen people who have best represented the diverse cross section of creative people in the city and also people who can provide for the identity of the region, people who are of Newcastle and of what we believe to be our cultural scene, so the opportunity to help them has been pretty outstanding."
How did you go about trying to represent the whole creative scene within Newcastle?
"From 6 DJs and 4 live acts its quite hard to represent the full spectrum of an entire city, so what we've done where possible is have a balancing act between the diverse nature of what's on offer and who's going to benefit the most and propel themselves further from that. Theres a mixture of people who we work with regularly at the club and people who have never been anywhere near the venue before, the range of music fits in a lot with the music we'd normally put on there and some is a big departure so it's all very exciting."
What is the current state of the nightlife culture in Newcastle?
"The nightlife offering in Newcastle has always been far and away greater than anything you could dream to expect from a city of this size. The nightlife originally would be very localised and representative of the city but things have changed over the years especially in club culture. What we've found in recent years is there's been a move to this hyper-capitalist version of attracting big names for throwing big parties, which can be a lovely thing but basically you're hiring a brand and you're not doing anything that supports your own city. What you're doing is just taking someone on a tour and taking a share of their money which they're doing all around the world wherever they visit.
"During Covid theres been a lot of crews and communities building it up in the background back to the point where it feels like it used to feel. Headliners are not the main purpose for doing these things and people are just as likely to go out to a party where theres locals playing and maybe with a guest rather than a headliner than they are going to these super events. That shows there's something healthy going on again
"People and venues in a fortunate position as ourselves have to take some element of stewardship if we want to survive in a way thats culturally led as opposed to capital led. That's why something like Tour de Moon coming to the city is an opportunity that we cannot pass up. If somebody comes in and says we have resources that we're going to give to underrepresented people in your city that have authentic voices, then all we can do is support that and continue to accelerate this cultural growth."
To experience Tour de Moon for yourself, sign up for free tickets to Newcastle or Southampton.