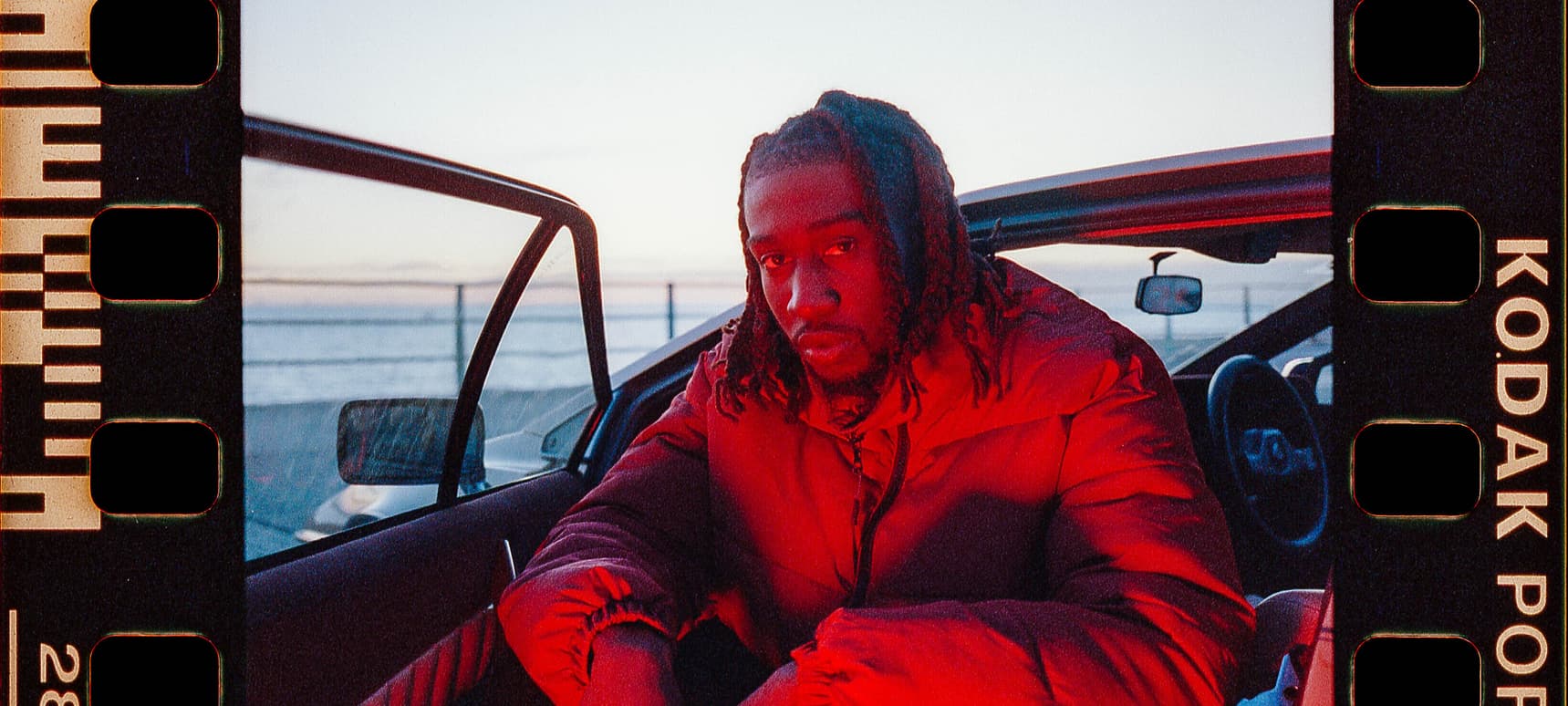 06.03.2019, Words by Felicity Martin
Track by Track: Jay Prince - 'WONDER'
"As a British-born person with Congolese and Angolan heritage, it's a lot trying to figure out where you belong"
East London's Jay Prince began his 2019 on the right foot – dropping his accomplished, seven-track EP 'WONDER', stacked full of his sun-soaked hip-hop sounds. Armed with a fast-paced flow and a knack for picking hyper-glossy, infectious beats, it's also a document that finds Jay Prince's emotion laid bare. Below, the gifted rapper runs us through the creation and deeper meaning behind each track.
'RUN IT DOWN'
"It's inspired by dealing with being alone, figuring out where I stand with myself, closing past chapters in my life that I've had to come to terms with. Letting go of everything and releasing all that energy inside myself going forward being fearless."
'BEAMLIGHT'
"'BEAMLIGHT' was inspired by taking everything on head on, not hiding or shying away from anything, being able to confront everything and the responsibility I owe to myself to continue on a straight path for myself and the people I care about. Not being afraid of the light that shines in us all I feel we're all gifted with purpose we search for and realising that for me its how I felt with this song.
"The visuals for this song were shot in my hometown Canning Town, where I grew up. Growing up in a society of people boxing you into small stereotypes based on your area of upbringing/race etc. This was an approach to break all stereotypes and categorisations that can limit people. I believe that music and art can influence and direct a message in a direction that can inspire others."
'WONDER'
"There came a time where I had to make a decision for myself to be better – pushing myself to the very limit. And being able to rely on myself through everything. Through the good and the bad I'm able to hold myself down even if it means I can't turn back, this was inspired by making those important sacrifices.
"Being back and forth between home and different parts of the world, my surroundings constantly change. I meet a lot of new people, see so many different countries and cultures. Travelling had me asking myself questions about the company I keep around me – the people I want to go on this journey with. It has also taught me how to become stronger, using that strength to get through anything. Through thick and thin I have to be able to provide for myself before providing for others. As a British-born person with Congolese and Angolan heritage, it's a lot trying to figure out where you belong, so you have to create that belonging for yourself. I find that embracing all about yourself is the way to navigate through learning about yourself."
'LUV ME'
"I was in a session with my friends Dominique Sanders and Bradford Tidwell in Los Angeles. This was our first time all working together, so I knew this would be something new for me, which I'm always up for. These are two musicians and people I respect highly so getting in the studio with these guys was an honour.
"'LUV ME' was a song I approached differently from the rest of the songs on the project. I've always believed in experimentation, from sound, writing, and how I want to deliver a message. 'LUV ME' is a story about an exotic dancer and a musician doing what they love, but having to face the perceived stereotypes in what they do but find a common ground in their relationship by accepting each other. It's that feeling of not letting these stereotypes and judgments make you who you are. It's also about loving yourself enough to make those definitions for yourself and living free."
'FLOW'
"'FLOW' was inspired by the flow of things – at times things look really bad, and sometimes they look great. I've made a lot of changes in my life but everything is in sync, everything flows through your experiences, and this song here is me channeling a deeper understanding to the things that are out of my control."
'CLOSER'
"When making any project or piecing my art together I have to really feel and come to an understanding of why I'm saying what I'm saying. I don't take my words lightly. Things got very personal with this record here, tapping into personal experiences with family. Life isn't always easy when creating, it finds its way to help me grow as a person as well as an artist.
"'CLOSER' is the story of the hardships I've had with people I truly love, including myself and overcoming that – when you've got to a point where you realise that fear has held you back. All the things I've struggled with have truly brought me closer to the people I love. Having that patience with yourself is something I've had to learn over time and am still learning today."
'BLESSED NOW'
"'BLESSED NOW' sums up everything on the project – recognising that the bigger picture on this journey is the blessing in itself."
Stream 'Wonder' in full:
Related: Read our interview with Jay Prince's schoolmate, Barney Artist