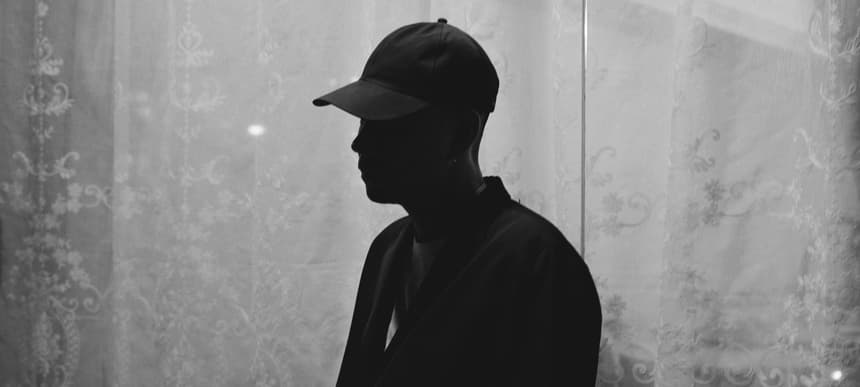 31.10.2022, Words by Billy Ward, Photos by Donovan Novotny
Track by Track: Nosaj Thing - 'Continua'
The Los Angeles producer and artist takes us through his star-studded fifth album
Nosaj Thing – real name Jason W. Chung – is a special kind of artist. The LA-based DJ and producer has made tracks for some of the world's biggest lyricists, from Kendrick Lamar to Kid Cudi and Chance The Rapper. But aside from his collaborative work with an ever-growing list of global superstars, his 16-year-deep solo discography is what sets him apart as a singular talent, navigating the Los Angeles music scene with everything from noise and punk shows to performing with Toro y Moi, The xx and The Weeknd.
Released October 28 via LuckyMe, his fifth album 'Continua' was partly inspired by the challenges life has presented him in recent times, from family health-scares to house break-ins. His choice of guests on the record points to a very well-connected musician, tapping up Julianna Barwick, Panda Bear, serpentwithfeet, Pink Siifu, Toro y Moi, Coby Sey, Sam Gendel, Blonde Redhead's Kazu Makino and Eyedress. Below, Nosaj Thing takes us through each track on 'Continua', delving into the stories, guests and sounds behind each one.
'Continua' ft Duval Timothy
"I play Duval Timothy records a lot at home, and his music was on heavy rotation during the lockdown. I contacted him directly to see if he would be interested in working on some ideas together, and it turned out he was also familiar with my work. That really inspired and motivated me to send him some sketches I'd been working on, and everything he sent back was beyond my expectations. With the goal of reaching a cinematic theme for this record, I felt this song was the right choice as the intro and title-track."
'My Soul or Something' ft Kazu Makino
"It was the obvious choice to bring Kazu back on this album. She is one of my favourite artists and inspiring to be around. She always surprises me with her melodies and ideas."
'Process'
"When Julianna Barwick and I were working on 'Blue Hour,' I had another idea that I felt like needed her touch. One of my favourite things to do in the studio is flip and cut up vocal samples."
'Woodland' ft serpentwithfeet
"serpentwithfeet and I were meeting frequently to work on ideas for his next album. Coincidentally, my friend Stwo was also in contact with him, but hadn't had a proper introduction, so I set up and session with all of us and some real magic happened. 'Woodland' was one of the resulting tracks, and started with Stwo laying down the chords. I'm looking forward to the tunes we worked on for serpents album too."
'Blue Hour' ft Julianna Barwick
"'Blue Hour' is my favourite time of day. It feels calm and the colours I see during this time feel cinematic. Sometimes I imagine it's dawn because they can look similar. This is the first song Julianna wrote full lyrics for. I really love working with her, and I'm excited to share more of our collaborations."
'Grasp' ft Coby Sey, Slauson Malone & Sam Gendel
"With Coby Sey, Slauson Malone, and Sam Gendel all on one track, 'Grasp' is very special to me. I admire them so much, and it's truly incredible how this song came together so naturally. It all started with Jasper (Slauson Malone) pulling up and starting the guitar and bass parts. I programmed the drums and played a few other demos for Sam, and he gravitated towards the one with Jasper. Then I sent over a folder to Coby and he also gravitated towards the same tune, and everything came together."
'We Are (​우​리​는​)' ft HYUKOH
"My mom and I are pretty close and one day she asked if I listen to Hyukoh. I was familiar but didn't do a deep dive. We watched a few videos of them and it locked me in. Several months later I started noticing them more and seeing friends working with them too. So I reached out to Oh Hyuk and was happy to hear he was pretty familiar with my work. I would say this track was one of the most challenging, given the big gap in time zones and just getting to know each other. The song transformed a few times within 12 months and become one of my favourites."
'Condition' ft Toro y Moi
"Chaz (Toro Y Moi) and I met a little over 10 years ago after we both put out our first solo albums. He found the audio/visual experiments I worked on with Adam Guzman, who was my roommate and studying for his masters program at Art Center. Soon after, we all connected and did our first West Coast tour together. We've remained good friends and are still working on new projects. I hope to finish some of our dance project soon. It's called laff trax."
'Look Both Ways' ft Pink Siifu
"I've been working on this instrumental for some time, and this was an idea I started on with Scoop Deville that's gone far beyond my expectations. Pink Siifu and I connected for the first time and I was explaining the concept of this record, showing him a print of the photo on the album art, shot by Eddie Otchere. Siifu started typing up verses on his phone and about 20-30 mins later he said he was ready to track. After the first take, to my surprise he said he was done, but could simply add a few adlibs after. At the end of the session he asked me to cut up his vocals saying look both ways. I've known D-Styles for some time from back in the Low End Theory days, so I shared the song with him and he was down to do some cuts. It means so much to me because I've been a fan of D since I was teenager."
'All Over' ft Panda Bear
"I've been a fan of Animal Collective since the early 2000's. When I got in touch with Noah I mentioned I'd seem them way back when they opened for múm in LA, which was their first show there. Also, when Sung Tongs came out, I had that album on rotation for a month straight. Noah is a true professional, and after I'd sent him a few sketches to choose, he sent me his vocals within a week with his own reverb and adlibs."
'Skyline'
"With the album having primarily guest vocal features, I felt that this tune gives a nice break to the ears, taking you on an instrumental journey. Sam Gendel recorded a few overdubs of sax, then I chopped up the recording to place the phrases."
'Different Life' ft Eyedress
"This song sounded like the last track sonically. Eyedress came over one day and he jammed on his lyrics for about 20 minutes, almost like a mantra. You can hear that energy in his recording. He also played lead synth, it almost sounds like a guitar. The pandemic and lockdown gave me time to focus and really think about what kind of record I wanted to make. A focus I haven't felt since my debut album. It takes some time to acclimatise after being on the road so much. I plan and hope to stay in the studio after this record drops. I feel inspired and most creative when collaborating with artists I admire and respect."
Stream Nosaj Thing's 'Continua' record here.
Read next: Track by Track: Juls – 'Sounds Of My World'