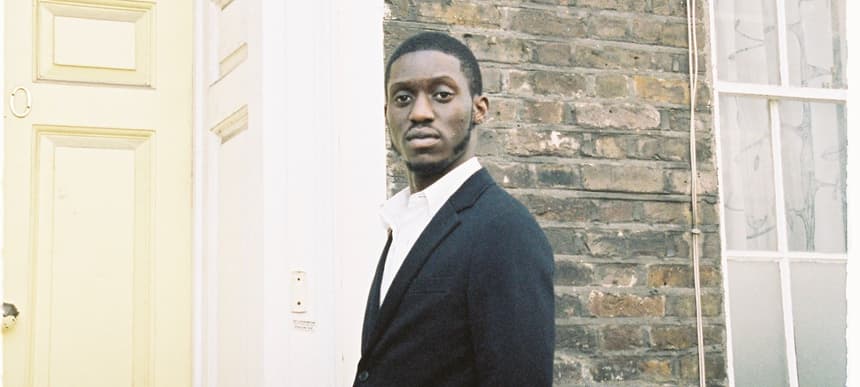 14.03.2023, Words by Billy Ward
Track By Track: Rarelyalways - 'WORK'
The South East Londoner breaks down his full-length debut...
A member of the South London gigging circuit, Rarelyalways' experimental melting pot of trip hop and heavy rock orbits the likes of King Krule, Henry Wu and other musical natives from below the river Thames. Often taking on a dark, mysterious tone across his output, this up-and-coming talent is on course for his biggest and best year yet in 2023.
Released March 10 via Innovative Leisure, his full-length debut 'WORK' is full of dazzling, cavernous and dream-like sonics. Actively blurring the lines between jazz, hip hop, and experimental rock, Rarelyalways toasts a unique and entrancing sound that he can proudly call his own. Below, the self-described "shapeshifter" breaks down his latest body of work, delving into the meanings behind each track and what inspired them. 
URGENT
"Echoes from my camp played the catalyst in the creation process of track no1. The stand-alone email suggesting 'it's time for an album if you want to be considered as a serious artist' motivated me to proceed. Coincidentally, on holiday in Nigeria, I asked an elder to say the following: 'The majority of the work falls in your hands, but you'll find reward/favour' hence titled 'URGENT'. The track begins with me saying 'I'm feeling to jump out the plane before they push me'."
REMOTE
"Everyone can relate; we've all had that tune on repeat. I must admit over-18-years content was always more appealing back then. Mine in secondary was G-unit's 'Good To Me', you could argue it pushed for my key-stage-two anthem. It's basically an instrumental with me adding sly remarks. I begin my rant using Lloyd Banks last sentence "everything you had you lost it".
WORK
"The theme of this track was 'new', you-know, getting rid of anyone or anything redundant that's not serving its function to its best ability. It's no secret, lots of my inspiration came from Bristol (to be more specific the trip-hop genre). The constant use of 'I'm directing' suggests taking the lead on the current scene."
HOLD
"You'll discover the purpose of the interludes on the chance of it being played from cover to cover. The entire track list of the LP reads a sentence; hence why 'HOLD' is right after the leading single 'WORK'. Ironically partially recorded in France, the whole meaning behind track 4 is to exaggerate the verb. As they say i.e. hold fire, on-hold status, having a hold. The plot suggests Rarely is currently away from desk. My guy Joe-neil lead operations during the interval."
FIRE
"The riddim was produced in Lagos 2021. By this stage everyone thought I was crazy, so many invitations to explore the city or host girls but I carried on insisting today belongs to my drum machine. I compare 'FIRE's energy to some sort of mixed spice, like the Yoruba stews accompanied by alternative swallow, but yet, a wonky feel inviting anxiety like those wide pot holes I saw in Ogun state. I'm afraid this is as Afro-beat as it gets on the LP."
HELP DESK
"South-East London drummer Barrell Jones insisted a self-recorded drum sample of his should stay in my possession. That's how life works, on the off-chance it gets flipped one day. He sent me it right after I uploaded an Instagram story of me playing bass guitar. I eventually flipped the beat which served as an ideal punching bag for having to wait for IT Services taking their sweet time. HURRY UP AND GIVE ME ACCESS YOU ******"
AOB
"Any Other Business (AOB) was a question constantly repeated adding value each time. I wanted to create a smoke screen for my personal beliefs. The question was only asked so listeners took a tacit guess assuming I actually care about their worries."

REVIEW
"Insanity quite possible, but whilst recording the verses with CLB engineering I felt like "God brought his best out". I'd like to personify this single as x1 oxygen and x2 hydrogen atoms. The water in the can that's not only preventing premature death but aiding development. It was mandatory to break negative stigmas associated with rap and it became very intentional refraining from effing and blinding."
CC in
"This track is my second feature on the Album. Pioneers such as Westside Gunn really bring out the best in me. Those early Conway way the machine records really got me spitting pain on dope ass beats. You'll find the b-section remains as an unresolved question mark, "tell me what you want". It's clear I needed counselling. Loool 24 bars in and still a mere list of requirements. Sola really opened me up."
Voice note 0142
"A riff I wrote then played with Gray Rimmer, Lucy Lu, Ellis Dupuy, Arthur Bentley inside a cold shed in Ladywell, South East London. We're talking around 2014/15."
LET'S
"Myself and Eyes (producer) went to college together. Taking a reflective stance giving we've known each other for donkies, we both came to the conclusion it wouldn't look good if he doesn't have some ownership on this LP. It's a contested topic, this track was voted to be one of the lead singles. Eyes the producer is also a well established MD, having both played with Jaz Karis I feel he injected certain characteristics of her sound; experimenting with softer tones. In the end we managed to show off a vulnerable side in a provocative way."
MSG
"The intensity an artist like Nany Wilson brings fascinates me and I wanted to replicate a modern version. I visited a Lorenz Okello multi-instrumentalist/producer/pianist/sound technician SLASH, every good adjective I can think linked up. It got written, recorded, mixed then mastered all in a span of 6 hours."
CITY BOY
"Produced by CLB, CITY BOY is very busy but calm Rap track. I tried my best to make it bright and innocent, however, those choir motifs had their own agendas. It's only right I followed the grain. Lord knows why I referred to blue mattress as blue blanket. I'm hundred percent sure I was sober."
1-2-1
"Quick catch-up with someone senior."