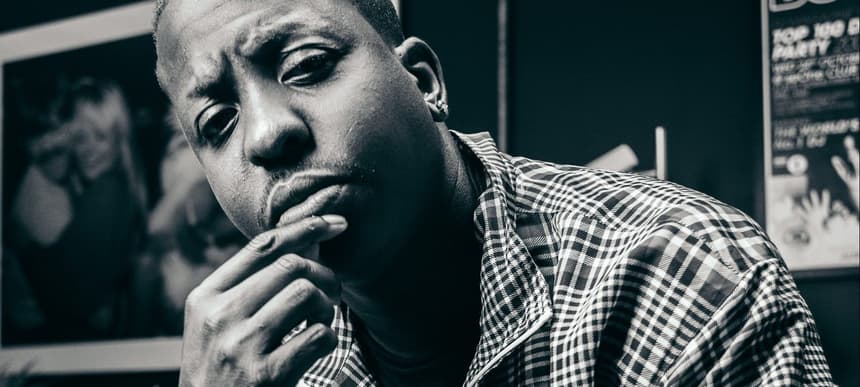 22.02.2022, Words by Billy Ward
Tributes pour in for British music pioneer Jamal Edwards
The visionary SBTV founder transformed the landscape of UK music
In a devastating turn of events, music entrepreneur and SBTV founder Jamal Edwards sadly passed away on Sunday morning aged 31.
Known for bringing grime music to the masses and catapulting a generation of new artists onto the global stage with his YouTube channel – including the likes of Stormzy, Dave and Ed Sheeran – Edwards was awarded an MBE in 2014 for his services to music and used his success to undertake extensive community work, funding youth centres and breaking down taboos about mental health.
In a statement made on ITV's Loose Women, his mother, Brenda Edwards wrote: "It is with the deepest heartache that I confirm that my beautiful son Jamal Edwards passed away yesterday morning after a sudden illness. Myself, his sister Tanisha, and the rest of his family and friends are completely devastated. He was the centre of our world.
"As we come to terms with his passing, we ask for privacy to grieve this unimaginable loss. I would like to thank everyone for their messages of love and support. Jamal was an inspiration to myself and so many. Our love for him lives on, his legacy lives on. Long live Jamal Edwards MBE, MBA, PhD."
Jamal's mission to give people a platform to succeed went far beyond music and his work with SBTV. In 2019, he founded Jamal Edwards Delve (JED), a grassroots youth project providing young people with opportunities and social spaces, adding value to their communities and supporting the development of positive identities.
Speaking about his charity in an interview with Dummy back in December, Jamal said: "One of the big things for me was being told no and being told that you can't do things. Telling my teachers I wanted to be an entrepreneur or cameramen and they're like 'what?' just looking at me dumbfounded. I think that had a big effect on me and I now want to arm young people with all the tools and possible opportunities to get the furthest they can in life. I went through that 'oh, you can't do that and you can't do this' push back and I don't want that for them. It wasn't always like that but growing up and getting a little older I just feel like I have to give back."
"'Be the change you want to see in the world' is one of my favourite quotes and something I'm trying to live by. If we can look at music and culture in the same way, people won't be told 'no you can't do that', they'll chase bigger dreams and be free to express themselves how they want. The arts can be the most powerful vehicle for change and should be respected as such," he added.
: We all die. The goal isn't to live forever, the goal is to create something that will.

— Jamal Edwards MBE, MBA (@jamaledwards) January 25, 2012
Since Jamal died, tributes have poured in detailing his generosity and selflessness when it came to helping the people around him. In a post by the BBC, 27-year-old screenwriter Ameir Brown showed his admiration for Edwards' cultural impact: "I wanted to be a writer and not knowing anyone in the industry, coming from a working class background, seeing that he got a camcorder for his birthday or Christmas and turned it into SBTV; it's that self-made thing that really drove me on."
Former SBTV employee, Aniefiok Ekpoudom, wrote in the Guardian: "I worked at SBTV for about 15 months, stretching from 2016 to 2018, working across editorial and YouTube, searching for my break in a media industry that seemed sealed at the doors. In SBTV I found a space to deepen my craft. I found encouragement, connections and deep friendships that carry on to this day. In that experience I was not alone. There are a string of creatives and photographers, media personalities and directors, who Edwards has given a leg up."
In another article remembering Edwards, NME writer Kyann-Sian Williams, wrote: "It's easy to trace the roots of much about Black British music to Jamal. For this Black girl from west London who was in love with rap music, he was a mastermind."
Social media has also been inundated with posts about the SBTV founder in the days following the news of his death – see some of them below. His life's work will be felt in generations to come.
Just heard the news. Absolutely heartbroken.

Jamal Edwards was a one of a kind. A trailblazer, a pioneer, a beacon, a genius. Sending love and prayers to his family. He will truly be missed.

God Bless you Jamal Edwards 🙏🏾🖤

— mistajam (@mistajam) February 20, 2022
1/2 Today I was on set when I found out the tragic news that my good friend Jamal Edwards had passed away and I'm honestly heartbroken. Jamal was one of the nicest, most down to earth and humble men I've met in this industry. He always gave me time even when no one else would. pic.twitter.com/0ILKrIXtxH

— Adam Deacon (@realadamdeacon) February 20, 2022
there's good souls then there's great souls then there's Jamal Edwards

— Nadia Rose (@nadiarosemusic) February 20, 2022
Jamal Edwards. Fucking legend, RIP 🙏🏿🕊

— UNKNOWN T (@unknwnt9) February 20, 2022
A true pioneer. From the ground up literally. From shooting classic freestyles in ends with me over 12 years ago. To digging into the tape I did with T.I in 2012 & so much more. Ain't even no words to describe how kind. My heart goes out to ur family bro. RIP Jamal Edwards 💔🕊🌹 pic.twitter.com/91QROgd7xY

— Chip (@OfficialChip) February 21, 2022
RIP Jamal Edwards, west london legend status ✊🏽👑💙

— 🥷🏽 (@ajtracey) February 20, 2022
I used to talk to this 15 y/o kid on MSN & we compared notes on cameras in my early Despacam days.

That kid went on to become a giant by the name of Jamal Edwards. He left the door open & 1000s of us ran through it.

Thank you so much Jamal 🕊❤️.

An unquantifiable impact pic.twitter.com/VvBliln05J

— Despa Robinson (@DespaRobinson) February 20, 2022
Saving one life is something to be proud of. Saving multiple is something to be celebrated for.

Here is a man who saved all of our lives whether you were watching his vids or an artist he gave opportunity.

R.I.P Jamal Edwards.

Those good deeds will always follow you. pic.twitter.com/Gc2eIM10DG

— hardy caprio (@HardyCaprio) February 20, 2022
Jamal Edwards was passionate about documenting the culture that surrounded him. his vision to uplift his community is a legacy that will outlive us all. a life cut way too short, but i'm glad an abundance of love was poured into him while he was here. long live Jamal Edwards.

— tobes (@tobikyere) February 20, 2022
"I'm struggling to think of a more important Black British person."

Actor and director Femi Oyeniran pays tribute to music entrepreneur Jamal Edwards, who has died at the age of 31. pic.twitter.com/y6Q18NGZ7l

— Channel 4 News (@Channel4News) February 21, 2022