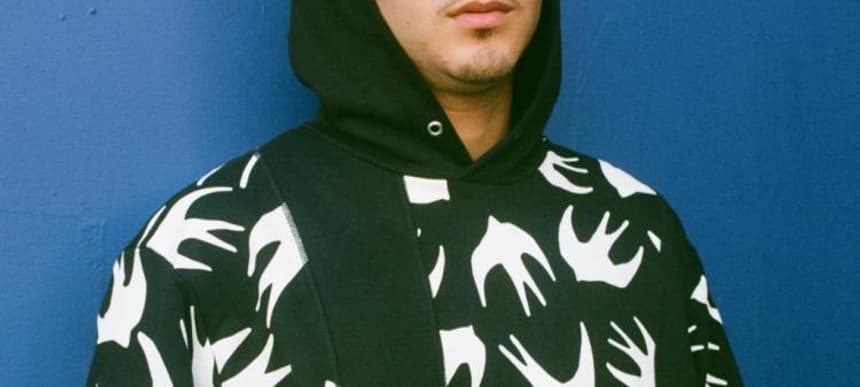 19.11.2018, Words by Felicity Martin, Photos by ELLA DHC
Tyler Durden flex: Dummy meets Col3trane
The nomadic R&B sensation bridging the gap between the US and the UK...
"I'm not saying this as a joke, but I genuinely couldn't believe I had fans," Col3trane says. "Like, I'm a fan of D'Angelo and Nas, but there are people out there that love my music. That's crazy." Not long ago, he was one of those people crushed up against the barrier: "Six or seven years ago I went to Wireless [festival] at like 8 o'clock in the morning so that I could be at the front. Imagining that, me doing that, and doing the shit I'm doing now. I couldn't have imagined that."
We meet in an East London cafe that serves drinks like 'reverse osmosis water', and Cole Basta (with his hood up, in trademark Col3trane style) has just completed a run of shows in Australia and Europe. His highlight was Melbourne: "I was panicking, like, 'Is anyone gonna come to the show?' 'Does anyone know who I am?' It really blew me away, 'cos it's so far away from home." One of his home comforts was missing from his rider, though: he put out a plea on Twitter for anyone going to his European shows to bring him a couple of bottles of British off-licence staple Cherry B, but the sweet red nectar proved tricky to procure beyond the United Kingdom. "I had a couple yesterday so it was all good," he laughs.
The 19-year-old has had a come-up that'd make most aspiring artists green with envy. Dropping debut mixtape 'Tsarina' last year, he quickly followed it up with 'BOOT' – two records that found him evading comparison with their jazz-meets-rap-meets-R&B sound. It's not hyperbole, though, that Cole has been dubbed the UK's answer to Drake, his voice compared to the silky warmth of Frank Ocean or How To Dress Well.
At the risk of sounding like an A&R giving a boardroom presentation, the stats are impressive, and Col3trane has quickly racked up millions of streams for his polished, late-night sound. Jorja Smith and Dua Lipa are fans, and he joined the latter on tour, something he describes as a "movie". Throughout our conversation, Cole says things that otherwise might come across as clichéd if he didn't speak with the wide-eyed excitement of someone still new to the business ("Every show that I do, it's priceless. It's the stuff of dreams").
Born in North West London to an American mother and Egyptian father, Col3trane's cross-cultural upbringing is reflected in the US twang his London accent occasionally reveals, and he often punctuates his sentences with a "Yo!" or a "bro!" "I always say I've grown up in England but in an American house," he explains. "My mum is very American, she grew up in the middle of nowhere in Pennsylvania. There's a lot of Amish people and shit. I've got family on the West Coast and East Coast."
His Golders Green home was musical, and there was "always jazz playing," with Cole getting immersed in a breadth of material from a young age. His stage name is derived from that of pioneering saxophonist John Coltrane, pointing to his love of jazz: "I admire and respect so much of what he was doing. The amount of boundaries he pushed changed the game in jazz for years and years and years to come. It's something I've always wanted to do." That love of the genre has stayed with him, with a thread of its freeform style running through Cole's music.
In typical teenage fashion, Col3trane found himself downloading µTorrent and taking his fingers on a download spree of all the classic hip-hop albums. "For years I was just listening to Nas, Big L, Biggie, Tupac, DMX, all that stuff. I never really listened to English rap music. When I was 13, 14, we didn't have anything like what the scene is like now in the UK. There's so much different shit in the UK. I love it."
The accrued hip-hop collection inspired Cole to start rapping. His stepdad worked in radio and had a "shitty radio mic" Cole would use to record over $1 beats he found on YouTube onto GarageBand. Quickly realising that writing felt special to him, it wasn't until he heard a certain transatlantic pairing that he felt it was something he could take further. "I remember the first UK/America rap collab I heard was the Flatbush Zombies and Skepta, 'Red Eye To Paris' – shout out, my guys. That changed a lot for me." Another pinch-me moment came recently when the Zombies' Erick Arc Elliott reached out to Col3trane: "He hit me up, that was crazy."
Initially recording in his bedroom, the first goal Col3trane set for himself was to make a track in a studio. "Then I made a song in a studio, and I was like, if I can get a song on Spotify that'd be amazing," he says. The goals have got bigger from then on. Though Cole's time in the music industry has been brief, he acknowledges that "it's a lot of bullshit, you know! I'm lucky I have people who believe in me and champion me and respect me as an artist and aren't trying to change me. I always wanted to know, when I was younger – what's it like being in the industry? You can't really explain it until you're in it…"
For an artist still in his teens, navigating an industry as rocky as music might have been chaotic, but he clings onto one chosen bit of advice: "You have to listen to everyone, but don't listen to anyone. You have to listen to people and take on board what they're saying – but at the same time, it's you. You have to be sure about what you're doing."
The visuals he's released with his music see an artist unafraid to experiment. 'Fear And Loathing'/'Britney' came with a trippy double video embodying the deserts and psychedelia present in Hunter S. Thompson's seminal work, while the Cadenza-produced 'Tyler' arrived with a stop-motion, one-take epic. "I've always wanted to do cool shit that's different," he says, embodying the spirit of his jazz idol.
"I've never wanted to stay the same. There's some such to do, there's so much music to make. On my last project that was such a thing for me – like I wanted to make every song sound different," he finishes. "Writing songs just makes me feel powerful. I feel amazing when I write".
Listen to 'BOOT':