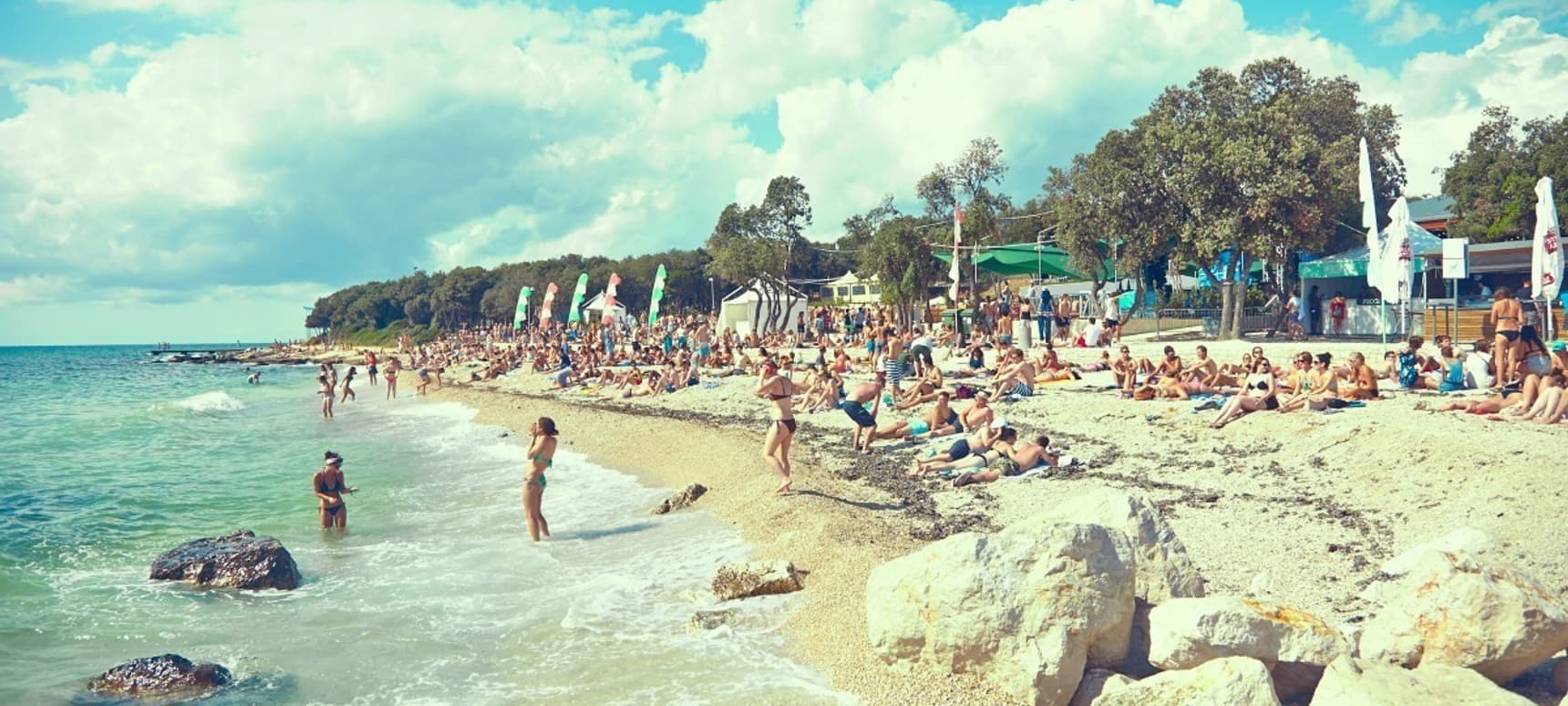 18.09.2013, Words by Aimee Cliff
Unknown festival report
As six thousand British festival-goers set wellie-less feet in Croatia's beautiful, self-contained Amarin holiday resort last week, they were greeted by one sentence, spelt out in spindly free-standing letters painted in the festival's trademark pastel shades: "STEP INTO THE UNKNOWN". It was at this moment that the festival's name, muttered so confusingly to relatives and into search engines, made the most sense – in 2013, a time bloated with music festivals boasting a circuit of increasingly homogenous line-ups, launching a new one seems like a pipe dream. But Unknown, as it turned out, was just crazy enough to work: it was truly something completely new, offering a real sense of identity right from the moment you clapped eyes on its colourful entrance, and clearly the result of the vision of a group of capable, grounded people who are completely devoted to what they do.
The Unknown site itself was a place so picturesque and well-run that I felt no need to leave it for days on end – the attention to detail shown in its production made it clear that it was the handiwork of the teams behind some of the UK's best-loved events, including Field Day, Parklife and Warehouse Project. Scarcely a tree I touched during my week in Rovinj hadn't been prepared for hugging with rainbows of fabric; every wood-carved signpost burst with scrawls of colour; each footpath led you to hammocks, sofas and glowing wooden hideaways, and even the typeface of the resort's permanent signage had been closely matched to the festival's original branding to make the whole thing seamlessly cohesive. Not only was the festival's branding on point, but its planning also clearly took cues from the resort that the festival was built around, putting the Amarin holiday village (and its hard-working, amiable staff) to its best use. The Pool Stage hugged the resort's ice blue pool, the Main Stage spilled over onto the breathtaking natural beach that ran alongside the site, and the Forest Stage – obviously – took you into the heart of the rocky Croatian forest.
On my second day on site I began my festival proper by setting off on the 20 Years of Kompakt boat party. I was gutted to learn in the queue to board that DJ Koze wasn't able to make it to Croatia nor onto the good ship Kompakt – no-shows are inevitable on the festival circuit, but Koze's own zany brand of dance would have been an experience on the lively Adriatic seas.This was soon put out of my mind, through, by a relentlessly bodily three hour set from Michael Mayer soundtracking the dolphins who jumped alongside the boat. I didn't realise at the time how lucky I was to catch the good sailing weather, not knowing that in 24 hours, Four Tet would be tweeting this:
It was while watching Jessie Ware on the Main Stage the following afternoon that we started to notice something going awry – "Oh, you're all getting absolutely soaked down there!" she cooed into the mic, sticking her head out from the sheltered stage to try to feel the rain splatter on her face. "I wish I could come down there with you!" This outburst was characteristic of her whole set, in which the head-back cries of "love" that interspersed her soulful set of romantic songs (including a slowed-down, syrupy Valentine and a smouldering Wildest Moments) were mirrored by her audience's periodic squeals of "I love her!" Ware has matured into one of the warmest, most capable and extremely funny performers you could hope to catch, and though her banter was occasionally veering on the edge of "too much" – particularly when she interrupted songs – it occured to me that her affability made her an ideal addition to this festival specifically. Unknown as a whole thrived on intimacy and camaraderie: it was a festival where the performers could pick out all the faces of their crowd, hear waves lapping in the distance and even, as Ware eventually did, clamber down from the stage to join her audience in the rain.
Unfortunately, though, I didn't get to see this part of the show, because as she broke into Running I (along with a few others) was actually running away, contact lenses waterlogged with rain and beginning to realise the severity of the thunder and lightning quaking closer. I spent the next thirty or so minutes hiding in a tent from a pretty mean storm, and debating whether urban legend has it that tents are the most or least safe places to be during lightning (turns out, you shouldn't really be near any poles).
Rain is a standard festival experience, but it made a larger than average impact on Unknown, whose set-up felt as though it had been exposed as particularly flimsy in the tentative aftermath of the bad weather that evening; it felt like no one – festival organisers and attendees alike – had given any thought to the potential for bad weather (though admittedly it was the worst storm Croatia has apparently seen in years). The stages (particularly the Pool Stage) were basically unable to function in wet weather as none of the dancefloors were covered, so all of them except the Main Stage and Mad Ferret Stage were shut down for a short time following the storm, as the on-site restaurant became flooded with people seeking food and a dry seat, to the point where the staff seemed stretched to their limits of sanity and people spilled out constantly from every exit. The atmosphere was strange for a brief time on Wednesday evening, then, as groups huddled around abandoned tents and eerily silent stages, discussing plans of action and circulating audacious rumours like "the Main Stage has collapsed!" and "Jamie xx fell off his boat party!"
"Unknown as a whole thrived on intimacy and camaraderie: it was a festival where the performers could pick out all the faces of their crowd, hear waves lapping in the distance and even, as Jessie Ware did, clamber down from the stage to join her audience in the rain."
The Unknown organisers bounced back from this bump in the road remarkably promptly and chirpily, given how grim it seemed for an hour or so – after a short silence the stages roared back into life, people salvaged what they could of their clothes and tents and those whose tents were un-salvageable were offered substitute housing in Rovinj. Thanks to the grit of the staff, the party went on, though initially people did have to poke each other in the backs to ask their neighbours "do you know who's playing now?" as the pre-established schedule went briefly out of the window. Phantasy signee Daniel Avery (once known as Stopmakingme) did an incredible job of lifting spirits at the adorable mini-site that formed the Unit 44 Stage, though, gliding above his audience's heads with completely transcendent cuts from his upcoming debut album 'Drone Logic'.
With the tone of smart, befuddling techno set I scooted over to the deep, dark Forest Stage to catch Floating Points, who was blending jazz and soul inflections with the solid haze of electronic ambience and proving himself yet again to be one of the most versatile DJs you can hope to see. He was followed sublimely by James Holden, who (among the sharp glass glimmers of his recent album 'The Inheritors', which offers up new depth every time you hear it) dropped Koreless's epic, classic opener Sun mid-set, just because his sets are so intensely balanced and unrelentingly imaginative that he gets to do that kind of thing.
Fast-forward to the following evening and you'd find the festival's collective mood soaring miles higher as Four Tet blasted the Main Stage with his live set – almost literally, in my case, as I leant back far enough to gawp at Rovinj's blissfully clear night sky while Kieran Hebden drifted from trance-inducing minimalism to a frantic, urgent snippet of upcoming Omar Souleyman material. Back over at Unit 44, Jackmaster smoothly delivered a coolly detached set with moments of intensity – he was occasionally let down by a couple of blips in sound, but it should be noted that this was the only time throughout the entire festival that I noticed any technical hitches on that front. Despite the bad weather and lack of coverage, Unknown had the most consistent sound quality I've encountered at any festival (except maybe at the Moroccan Medina stage, which seemed to be an afterthought of a sound system sitting forlornly in a small clearing between the Pool Stage and the Mad Ferret Stage, mostly playing big, crowd-pleasing tunes at a bewilderingly low volume).
Moderat took to the Main Stage later on the Thursday, but it quickly became apparent that not only was it only Modeselektor onstage, but they didn't seem to be on top form. Taking the mic in uncharacteristically downcast tones after playing out the roaring Bad Kingdom, they told the crowd that Apparat had been injured in a motorcycle accident and so they'd just be DJing as a duo tonight. I love Modeselektor, but when I've seen them at their best their sets have been full of silly, charismatic antics, not to mention their militarily choreographed A/V sets – in this set they seemed to be going through the motions a little, so I found myself drifting away to the Forest Stage to find a buzzing, brainwave-muddling rave unfolding in the hands of Âme.
The most impactful acts at the festival were, without a doubt, those who embraced the intimacy and the intensity of the uniquely small and open-minded crowd that Unknown presented. Django Django, for example, were a surprise favourite of mine, as they darted around the Main Stage on the final night with a fluidity and an openness that made them immensely satisfying to watch – they swapped instruments and voices like cogs in a machine (an image reinforced by their matching outfits), yet never without passion. What's more, they enveloped the audience in that machine with their soaring sound and with their crowd engagement, at one point lowering everyone to the ground and only allowing them to stand with the release of the music. Joy Orbison bookended the same night with a set that equally ensnared the audience's minds with unifying "woah" moments while simultaneously allowing them to roam over exploratory, shape-shifting beats.
"Rap, R&B, pop, electro and amorphous, experimental new waves of the dance underground were underrepresented at Croatian festivals on the whole this year. Unknown is a young enough festival – and draws a varied and curious enough crowd – to be able to pull off the risk of shaking up its line-up."
Those who fell a little more flat were those who just couldn't thrive under that kind of close inspection and high expectation – Julio Bashmore offered no warmth in his Main Stage slot, rattling off a predictable and oddly immobile set that looked lazy in comparison to the dynamism of the acts who had occupied the same space. He was dwarfed in the shadow of Four Tet, for example, who had taken the same stage at the same time the night before. Todd Terje also played a satisfactory but mildly repetitive set, leaving the crowd thirsty for change.
What the curious festival-goers at Unknown embraced most passionately was precisely the element of unknown – the surprises and twists and turns that DJs were able to offer in their sets, the moments that felt like a one-off, a loving secret between performer and audience. The planners would do well to recognise this and emphasise it even more in their scheduling next year – some more variety wouldn't go amiss, as there were several nights where it seemed that house and techno dominated every stage. As has been noted in several other reviews of Croatian festivals this year – such as our own Robert Darnell's take on Outlook and Electronic Beats's deconstruction of Dimensions – rap, R&B, pop, electro and amorphous, experimental new waves of the dance underground remained underrepresented on the Adriatic seafront on the whole this year. Unknown is a young enough festival – and draws a varied and curious enough crowd – to be able to pull off the risk of shaking up its line-up more than any other, and it would be a powerful statement to do so.
Any gripes being picked at here, though, are only musings on what the powers that be could possibly do to move forward into their second year. As it was, Unknown was ridiculously cohesive, beautiful, well-curated, fun and full of refreshing, surprising ideas for a first-time festival. Next year, with a little more weatherproofing and just as much love for their site and their mission, the Unknown team will undoubtedly throw the best party of the summer, and we're looking forward to being first in line to go back.