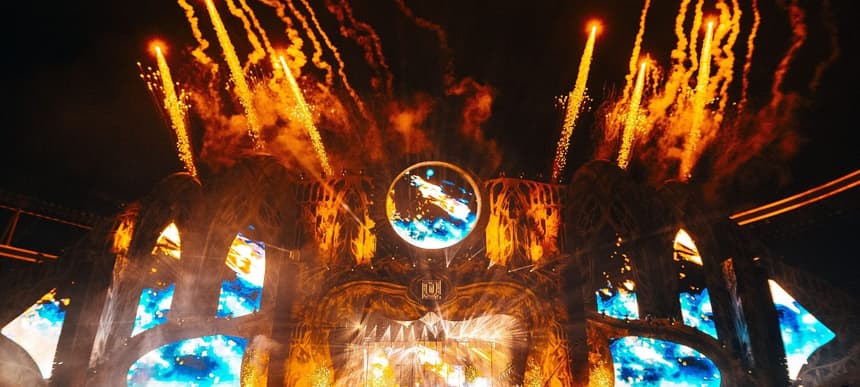 16.09.2021, Words by dummymag, Photos by Sam Nahirny
UNTOLD 2021 was a magical reminder of what we've been missing
With more pyrotechnics and fireworks than you've probably seen in your life, the Romanian festival pulled off a special weekend
Alchemy. Magic. Luna. These are all words that festivals have thrown around in the past to describe the experience they 'promise' you'll have – but UNTOLD is one of the few that pulls it off.
Based in Cluj-Napoca, the vibrant, student-heavy city of North-Western Romania, UNTOLD Festival promises four days of diverse electronic music, a vibrant landscape of neon lights, plus much more visual stimulation. It's hard to remember this isn't some virtual reality mega world.
Despite spending the best part of 30 hours on the festival grounds over the course of four days, it's almost impossible to take it all in. Everywhere you look, there's spontaneous dance parties and carnival parades.
There are seven 'official' stages among the festival site, each with their own rough genre focus, but it seemed there were over ten hidden within the vast festival ground – including one in an old-school tram. UNTOLD's theme is based all around magic and alchemy and it's hard not to get drawn in as you delve through neon lights and hundreds of independent stalls.
Day one of the festival is a perfect example of what to expect. You arrive, pass through a speedy Covid-19 check process, stare in awe for a few minutes, visit the main arena, watch American pop-rap superstar Tyga belt out a bunch of top 10 hits, dance to some techno courtesy of Yaya on the Galaxy stage, and then back to the main arena for an opening ceremony full of more pyrotechnics and fireworks than you've probably seen in your life.
Speaking of the main stage, highlights included a magical genre-blending set from Lost Frequencies, encompassing elements of deep house and techno, plus a sprinkling of pop bangers. Brazilian megastar Alok obliterated our eardrums (in the best way) and prince of EDM Martin Garrix could've moved the tectonic plates with his quantity of heavy basslines.
Other stages include the indoor Galaxy stage, which is a smoke-laden techno-lovers dream: monster sound systems, a dynamic staging setup and an excellent lineup dominated by the some of the best German artists about. Standouts include a 1AM appearance from Paul Kalkbrenner, plus the masked Berlin king himself, Klaptone. For those cautious of Covid, there was a constant monitoring of capacity, including a screen outside telling you how full the festival was. Nice touch.
Just next to the main stage, the Alchemy stage was the spot for the finest dub, reggae, and drum & bass – with the UK representing, strong courtesy of Wilkinson, Chase & Status and Rudimental. Shoutout to Dub FX too, who had half of Cluj in a groove-laden trance.
The official numbers for the 2021 festival was 265,000 attendees from 100+ countries. During a summer where some music lovers still haven't been to a gig, I think it's fair to say it's pretty special what the team at UNTOLD have pulled off. After four days of intense partying and an average of 30,000 steps per day, it was a sad realisation to be heading home and I can't wait for the magic to return next year.
Register for tickets to UNTOLD 2022 here.