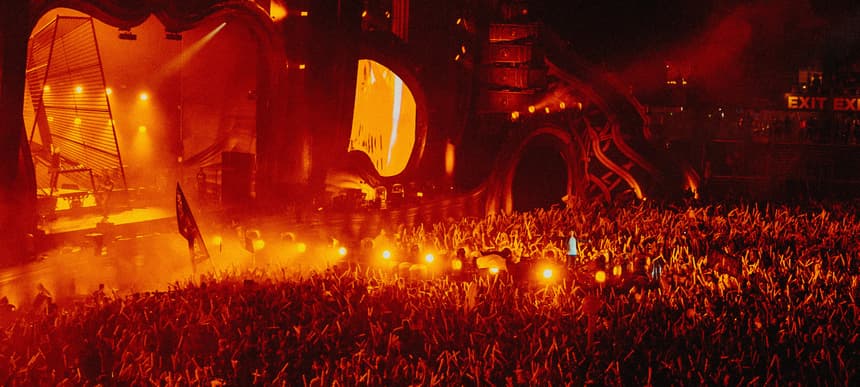 14.08.2019, Words by Gemma Ross, Photos by Sam Nahirny
Untold festival 2019 carved out a magical utopia in the middle of Romania
Set in a location normally populated by neo-goths and Bram Stoker fans, Untold had something for every music fan...
Set in a location that, for 361 days a year, serves as a mecca for neo-goths and Bram Stoker fans, Transylvania, this year's Untold was a haven of magic and macabre for the remaining four days. Here were festivalgoers looking for something less Carling and more unpronounceable, highly flammable Eastern European liquor.
372,000 people paraded through the region's Cluj-Napoca and beyond the walls of Untold's bewitched playground which had been transformed from a gothic metropolis into a city complete with stilt-walking circus performers and steampunk-style stages hidden in the forest.
At a glance, this might seem like your dad's new favourite festival. The line-up finds the likes of Bastille and a series of headliners plucked straight from the '90s. But these unlikely genre pairings combined with the smaller and more eclectic stages making for an exceptional four-day weekender which is well worth the three-hour flight. Armin Van Buuren's appearance came like a Vicar to Sunday Service, and you'd be hard- pressed to find more arms in the air in a Mexican wave at a football match. But while most festival attendees seemed to be there for Buuren, the more techno-inclined made their way to the Galaxy Stage with plenty of time to spare before Solomun's set. The less punctual were greeted with nothing but a closed door and a strict 'one in, one out' policy, forcing them to crawl back to Buuren's all-nighter.
Looking beyond the lengthy parties which continued until seven each morning, an enchanted forest, set as the backdrop for the festival, gave people a justifiable reason to fight the urge to sleep. Just five minutes into a midnight wander, I found myself in a Dracula-themed ball pit, being forced to sing 'You Can Leave Your Hat On' by Joe Cocker. Everything about this festival was a little bizarre; from the outdoor foam parties where people could get their daily wash, to the Durex-sponsored tower that perched with irony behind the only children's playground on site.
Whether you were looking for spiritual re-alignment or an opportunity to strengthen your fist-pumping bicep, the line-up catered to each and every person. Many stages existed on the perimeter of the festival, catering for nicher genres. Monolink was a highlight, simultaneously playing the guitar while handling the decks and singing, all at once. For the Brits who attended this year's festival, a drum 'n' bass stage also set up shop, where mixtures of dub and old school jungle made us feel like we were back in Brixton.
Hundreds of stalls were scattered about the woods, each open until an ungodly hour. From barbers catering to patrons in desperate need of a post-midnight trim, to local craftsmen selling hand-knitted babushka dolls, it was everything you could possibly want at 3am. The forest also boasted an array of illuminated installations which attracted snap-happy drunkards, and a personal favourite: the abandoned bus party. The full-sized bus positioned itself like a well-kept secret, entertaining a small crowd who danced on plastic chairs while hitting their heads on the low-riding ceilings. No pleasure without pain.
At the underground Galaxy stage, Oxia hosted an especially energetic set complete with hypnotic visuals, spurring the crowd into a trance. "I think that I have a special relationship with this country. I've performed here many times, and every single time there was osmosis," Oxia told me in a post-show interview. Discussing his track 'Domino', which proved a huge hit during his performance (and had me putting away my notepad for a hot second), he said "I like inserting a few classics in my set, it brings back a lot of memories for people in the crowd." Word quickly spread about his two-hour performance, as cascades of people flooded down to the dancefloor.
Transylvania is the last place you'd expect to find your mum's favourite bad boy Robbie Williams playing to an audience of almost 100,000. "This is my band, this is my ass, and tonight, your ass is mine," he claimed strangely, before attempting a passable Freddie Mercury at Live Aid rendition. But the best story to come out of his presence at Untold was him being spotted hot-stepping to drum 'n' bass just hours after his headline set.
With all the talk of underground techno, it could be easy to forget about the primary showcase of the weekend's biggest acts: the festival's main stage. Fronted by a warlock's head which acted as mascot of Untold (and hopefully keeper-awayer of evil spirits), the stage towered over a 90,000 capacity football arena. On Sunday night (or Monday morning if you'd managed to outlast the rest) the festival rounded off its five-year anniversary with a bombastic closing ceremony. Thousands of fireworks made Disneyland's display look like a town fête on bonfire night in comparison.
Topping off the weekend in true Untold style, was a whopping eight-hour 'b2b2b' set with Seth Troxler, The Martinez Brothers and Jamie Jones all putting in a shift. It was the end of a four-day bender for most, many people fizzling out post-6am and returning back to civilisation after a much-awaited dance to the trio's (or quartet's) tech-heavy show. Troxler's floor-fillers gave the remainder of the audience enough energy to stay awake until sunrise before stumbling out of the festival and back to normality.
As a continuation of the festival experience, Cluj itself felt like the perfect aid to Untold, which prided itself on themes of magic and dystopia. As I stood in a city I never thought I'd visit, £1.50 beer in hand, I realised just why so many people are beginning to up and leave their usual UK festivals for something a little further afield. What better place to see your favourite acts, all while dodging torrential rain and painfully-expensive drinks?
Check out the photo gallery below.
Find out more about Untold – and register for the 2020 edition – here.