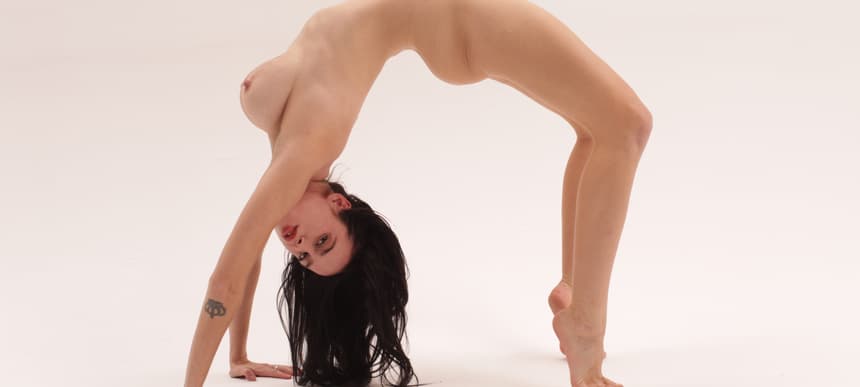 01.05.2019, Words by Felicity Martin
Virgen María's holistic EDM is challenging our notions of sex and religion
The Spanish outsider artist explores hyper-futuristic sounds and the politics of the female body...
Virgen María is sitting on a pair of decks, completely naked, in a Canning Town warehouse, DJing gabber to a strobe-lit crowd. I'm at a Perth Records party that promises to 'destroy your senses', and María is warming up for boundary-testing acts like Tommy Cash, Hannah Diamond and Amnesia Scanner, although her set is the most unusual I see all night.
Fusing trap, Latin rhythms and commercial-sounding EDM with harder strands of dance music, the music Virgen María makes isn't dissimilar to the likes of Arca, Evian Christ, Jesse Kanda, and other electronic experimentalists. Her debut EP, 'G.O.D' – which stands for 'Good Opening Drug' – has just come out, produced closely with elusive anonymous duo perth Daijing of the London label.
Virgen María grew up in Madrid, spending her teenage years partying to hardstyle and reggaeton, and the EP makes use of stadium-sized buildups and abrasive synths that wouldn't feel out of place at Tomorrowland. Counteracting these caustic sounds, she adds ASMR-like whispering, yogic breathing techniques, and elements of religious ceremony. "God is us, God is me," she chants over trap snares on 'Om', while 'Yoga' makes repeated commands to "breathe in, breathe out" before a slamming hardstyle beat crashes in.
It'd be easy to write off the Spanish artist's performance as a joke, or a hypersexualised 'female DJ' act which you'd have hoped society would have moved on from. But when I meet 28-year-old María Forqué in an East London cafe, it's clear that these are far from her motives. Her performance art explores the politicisation of the female body, and – to her – being naked isn't the revolutionary act others might see it as. "Nudity is a thing that is [seen as] very bad in our society," she explains. "No one normally likes to be naked in front of anyone, or wants to see themselves naked. So when they see me, some people feel their rejection. They feel for their own nakedness, they reflect their own trauma on me."
"It's about turning a woman into a sin, you know?"
"We are very brainwashed – it's so unhealthy for society," she continues. "It's about turning a woman into a sin, you know? That's why I started to do naked performance, because they made me feel that having boobs and a vagina was a sin. When we have sex, we create life, and life is God. So what's more elevated and close to God than sex and being united with another person? Everyone should be comfortable naked and everyone should be comfortable of others seeing them naked. It's our natural condition." This is, you'd expect, much easier for someone who conforms to Western ideals of beauty to say – but Forqué has been open about suffering from eating disorders in the past, and to see a woman celebrating her form is – unfortunately – still a radical act.
On her birthday in 2017, Forqué decided to take a naked stroll around the streets of Madrid – a walk which only lasted five minutes after people shouted abuse at her. Though she loves her "beautiful country," Spain is still an inherently conservative place, she explains – a lasting effect of the Francoist dictatorship. "40 years ago, couples couldn't kiss in the streets, if you were gay, you would go to prison. If you were trans you would be killed. A woman who wanted to go out of the country had to have a signed paper from her husband. That harmed a lot of Spain."
Having secured a following on Instagram for her digitally-manipulated pictures that see Forqué contorting her body and pole-dancing, the platform's strict censorship rules mean she keeps getting banned, forced to start her follower count from scratch. Much of her imagery has been designed by close friend Filip Custic, the surrealist designer behind Rosalía's visual identity. This look, coupled with her hyperreal, nude YouTube DJ sets drew the attention of A$AP Rocky, who flew her out to DJ a party at New York fashion week, as well as brands like Fenty, Gucci and Vetements.
She's taken Virgen María on tour as a holograph, a means of exploring the relationship between our digital and physical selves. "It's all about the alter-ego in our virtual world," she says of digital María. "I'm one person in real life and another person in a virtual world. Different types of yourself exist because nowadays it's not only our physical, material self as a human being, we also exist as a virtual being, and some things are as important as real life."
IRL, Forqué sits wearing a baggy grey sweatsuit, sipping oat milk tea with filler-enhanced, glossy lips. One of her fingers has a tiny depiction of a Christian cross next to the word 'FUCK'. She tattooed both on herself when she was 16 ("I went through a punk phase," she laughs). Even her iPhone case is on-brand: embellished with a sticker of the Virgin Mary. She's not Catholic, she explains, but embraces the positive ideals all religions exude. "The message of every religion is the same," she says, "love yourself, love, respect everyone, know that you are a son or a daughter of God – so you are a God. We are all one, the earth and the universe, together."
Pulling tropes from Christianity, Hinduism, Buddhism and other forms of spirituality into her sound, along with the kind of sexual moaning that you certainly wouldn't hear during mass, Virgen María's music mimics the meditative quality that many religions hold at their core. "I'm not like Buddha or Jesus Christ," she says, "I'm just a person that is very interested in the development of my soul, and in human existence and how big we are and how small we make ourselves."
"What are we building in a society where the values are: 'I have more money than you', 'Fuck your bitch'?"
Where EDM and harder forms of dance music might go hand in hand with drug-taking, Forqué designs her music to be an alternative to mind-altering substances. "I don't like drugs, so we wanted to create a music that was the drug – that opens you, but in a healthy way." That positivity extends to the explicit messages her music portrays: "There's a lot of bad language in music, a lot of hate – 'I have more money than you', like, what values are those? What are we building in a society where the values are: 'I have more money than you', 'Fuck your bitch'?"
In an era of increasing censorship surrounding sexual imagery, with the UK porn block set to come in this year and the failure of the #freethenipple movement, Forqué is rightly challenging archaic conversations around sex. It might be easy for a casual observer to misunderstand her concept, although she urges: "It's not a character, it's a part of me, which I express through art and music. But in my day to day, I don't walk around naked. I'm more normal," she laughs.
Virgen María's 'G.O.D' EP is out now via Perth Records – listen to it here.