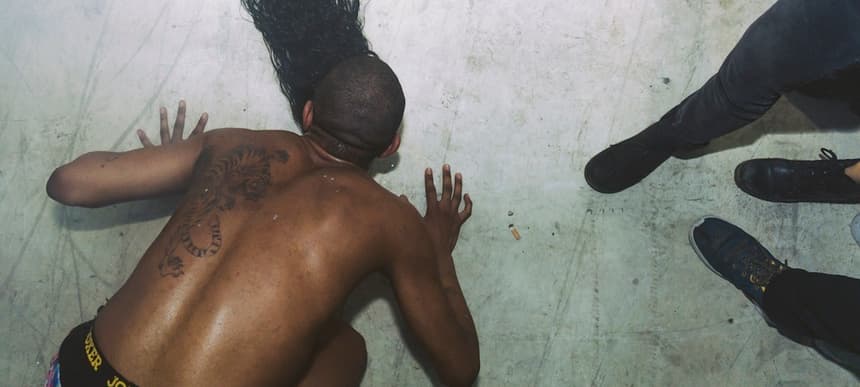 15.08.2014, Words by dummymag
Wastelands festival report, 09/08/2014
Click on any of the photos above to launch the gallery.
Wastelands festival is the brainchild of Subbacultcha!, an underground music and culture platform based in Belgium and the Netherlands. Since starting three years ago, the festival has brought alternative and experimental artists like John Maus, Maria Minerva, and Huerco S. to Belgian student city Ghent, and this year's edition boasted a lineup that included Mykki Blanco, patten, Palmistry, and Amen Dunes alongside local Belgian groups.
Subbacultcha! is an important hub of activity for Europe's small underground music community, promoting concerts and parties throughout the year, often bringing artists from the UK and North America over for the first time, as well as publishing a monthly magazine featuring many of the artists playing. This made Wastelands feel less like a traditional festival and more like an annual get together of the artists, promoters, writers, and fans who've worked on, played at, or attended Subbacultcha! shows.
Upon arriving into Ghent, our driver, Ewout, explained that he was a volunteer at the festival, shepherding artists around for the day. This became a recurring theme throughout the day: most of the people putting on the event were working for the love, juggling their duties alongside real lives and day jobs.
The festival site was located at 019, a venue in Ghent's docklands split between a warehouse venue and an open air stage outside, with a food van selling local vegan delicacies and plenty of Club-Mate going around. The crowd, made up mostly of stylish, enthusiastic Belgians, were mostly from the city, but many had travelled in Brussels and Antwerp – and a few had come from even further afield. 019 has a really DIY feel to it, a blank space which allowed promoters to do pretty much whatever they pleased. Sadly, the venue is going the way of the developers, being demolished to make room for some luxury apartments in a few years time – proof that these changes aren't unique to cities like London and New York.
Having arrived at the site too late to catch locals Weird Dust, I headed upstairs to the green room to grab a beer, only to be met by a dude cutting up blue plastic bin liners and haphazardly sticking them back together with red tape. Another guy is wearing a grubby suit jacket with Beetlejuice stripes, while an older man has lipstick smeared over his face. This is Gary Wilson and his excellently named backing band, the Blind Dates, who are the first band I catch. Wilson himself is a fascinating musician: he released a home-recorded album of what you might describe as experimental lounge music in 1977, only to disappear a few years later after failing to meet much success. His records gained a cult following in the intervening years, and eventually he was found, his albums were repressed, and he gained a new audience, and he continues to record and tour today. Coming on stage looking like rejected prom dates from hell, the Blind Dates burst into You Keep On Looking before Wilson, walking through the crowd, climbed up to take the mic, only to fall to the floor and sing the rest of the song from there. As loose as shambolic as it seemed, Wilson and the Blind Dates are an insanely tight band, musically, moving through would-be hits like Groovy Girls (Make Love At The Beach) and 6.4=Make Out with fervour.
Inside the warehouse, local talent Slobster warmed up the crowd with futuristic club tracks in an Nguzunguzu style. The next artist to play in this space would be Palmistry. We've been raving about the South London musician, producer, and singer for ages now, but every time we've caught him play live in the city, his sets have been marred by muddy sound and an uncommitted crowd, but tonight things seem a lot smoother. Admittedly, the first few songs seem to bewilder the crowd: being either instrumental, like Lil Gem, or featuring pre-recorded guest vocalists, like Ascensión (featured on Dummy's recent compilation), the crowd seemed unsure of what the hell he was actually doing. But once he picked up the microphone, things fell into place. Palmistry's music uses reggaeton and dancehall rhythms, but his outsider take on those styles sounds so much softer than what you'd typically expect from them. Songs like last year's Catch and new single Protector SE5 are blueprints for a modern pop music informed by international styles, and they sound even more euphoric tonight.
Outside, Mykki Blanco's riotous show made a complete contrast to the slack sounds of Amen Dunes who played before. Before the set, I'd heard Mykki asking her tour DJ, Larry B, to play each song on loop: "I wanna be out of breath after each song." And out of breath she was, tearing through stupidly massive tracks both old (Wavvy) and new (She Gutta) while pogoing around the stage with a scorching energy, illuminated by neon strip lights, ripping off layers of clothing. The crowd responded in kind, but Blanco was only really interested in one thing: "Where's the afterparty?"
The energy level made another shift back inside to see patten. Having only caught him play DJ/re-edit sets in the past – at Field Day, as well as at our Dummy AGM last year – I was eager to see patten's live show. As it turned out, the two were remarkably similar in their attitude – they just used different raw materials. Where a DJ/re-edit set sees the Warp Records artist chopping and changing other people's songs, here he did the same to his guitar lines, live vocals, and sample banks, using a slew of controllers, pedals, and effects units to create an ambient soundscape that you could practically feel. Invisible grooves seemed to form in the air before stumbling over themselves and falling into full-on noise, while tracks like Towards infinite shores from last year's 'EOLIAN INSTATE' EP were the easiest to get heads nodding and feet moving.
A local DJ closed the festival afterparty, playing a mixture of Dance Mania-styled ghetto house, steel-pumping 138bpm techno, some Jeff Mills, classic material from R&S Records (we're in Belgium, after all), and even a bit of trance at the end. It's to the credit of the promoters that a festival could go from a psych rock band to a rapper-cum-performance-art project to an abstract sound collagist to a bleeding ear techno DJ and make it seem cohesive. Subbacultcha! were the binding agent here: when you've got an enthusiastic, committed group of people booking the music that they believe in, you can be sure your audience will be receptive to anything.