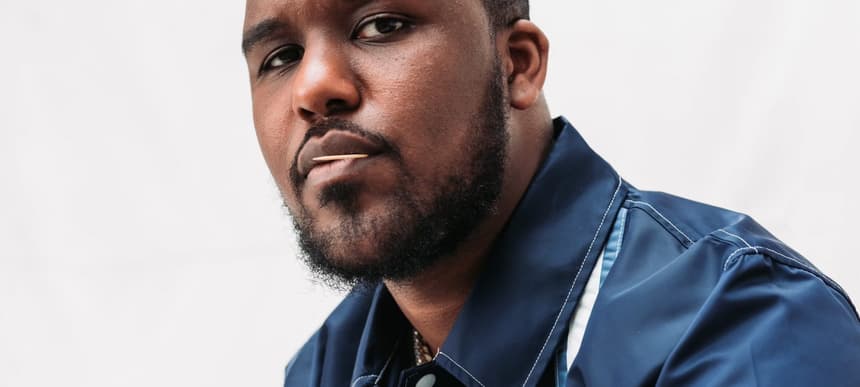 13.10.2022, Words by Billy Ward
Welcome to Lewisham: Novelist is paving the way for a new generation of talent in his manor
Ahead of his headline show at The Albany, we sat down with the rapper to discuss his borough, the grime scene and why accolades will never outweigh the music...
Labelled the "new face of grime" during his explosive come up, Novelist has done it all in his relatively short but decorated career so far. Rising through the ranks of pirate radio before making seismic waves with his early road-rap freestyles, the Lewisham MC and producer is widely regarded as one of the main protagonists behind the mid-2010's grime revival and has consistently stayed ahead of the curve.
His bedroom-produced, self-released debut album 'Novelist Guy' was nominated for the prestigious Mercury prize following its release in 2018, a feat few artists come close to during their careers and one that can certainly bare a certain weight of expectation on such a young artist's shoulders. But for Novelist, the accolades will never come close to the satisfaction he gets from developing his craft. Despite the commercial attention grime music has gone on to receive, the rapper has always remained faithful to his own path and has continued to break boundaries with his experimental music. Now standing tall on the platform he has built for himself piece by piece, Novelist is using his influence to inspire a new generation of talent from his area.
Following news of Lewisham's successful bid for the Mayor's London Borough of Culture 2022 Award,  the grime MC is headlining a special gig at the Albany alongside a handpicked line-up of friends and guests. In the run-up to the night, we met Novelist at the venue to discuss his role in the campaign, growing up in Lewisham, the mid-2010's grime resurgence, accolades and much more.
You've got your headline show at The Albany on October 14. What are your thoughts on the venue? 
"You know what's crazy I'll tell you a little secret. One of the first beats I made was in here. We was about eight years old, nine, ten? So the Albany's been a part of my journey from the jump. So it's funny to be back here doing this at this age you know what I mean. But lets talk aesthetically now…I love the aesthetic of the venue. Have you seen inside there when it's a club? It's proper nice in there man."
Lewisham recently won the Mayor's London Borough of Culture 2022 award. We understand you were involved in supporting the bid…
"I had a lot of influence on how to approach it, and the key points and the key factors that we should present about our borough. The point isn't to pitch it as if we should win the Borough of Culture for this or for that, the point is we are the borough of culture. If you look at every aspect of what's going on in Lewisham and how it's always been musically… the greatness that's come out of here and just a willingness from the youth to be creative and all the different cultures that we have in the borough. I wanted to showcase that and just basically demonstrate why we are that already."
What impact has Lewisham had on the grime scene?
"The flows, definitely the flows. The flows that come out of Lewisham and south are just different. When you look at a P Money. Look at a Novelist. All types of guys, so many names. We brought a lot to the genre."
Do you think Lewisham is finally getting the recognition it's deserved for a long time?
"It's only right that the funding has been given in order to expand on what we already have.  You see when you go to a field that's been prepared, the soil is good and rich. That's the kind of field you can plant seeds. Lewisham is that to me."
In an interview Dummy recently did with Kenny Allstar, he described growing up in Lewisham as "a crabs in the bucket mentality". If you wanted to pave a way in music there wasn't many people to look towards…
"I didn't have people I could call on, there wasn't any community schemes that could lead you into having a career and make money. There might have been some summer camp kind of vibes. But now we've got whole facilities where people can hone in on what their skillset is and get better at whatever it is that they want to do. There's actual practical opportunities more so than just some mayor coming in and saying a couple of things to make us celebrate for the moment and then there's no change. Now there's actually things going on."
What did music do for you personally growing up? 
"What music gave me was direction and purpose. I'm a 100%-er. And I don't say this to be controversial, I'm not someone who's ever shied away from confrontation. I'm from a turbulent environment. I really could see myself being a different person if I didn't have music initially as my foundation to focus on and do. I could've been a wild arse dude because it was wild times."
How did your rapping and producing story begin? What did you get into first?  
"I'm more of a producer than anything, really. That's what I always tell people. Obviously, a lot of people know me for the bars and that. But my uncle showed me how to use Fruityloops and all of those things when I was about seven, eight years old. And you know what's funny, I didn't really realise how much of a great skillset it was until I started to get older. But that really was the foundation of me."
You're regarded as a trailblazer of the mid-2010's grime revival, what role would you say you played to develop the genre during that time?  
"I was orchestrating a lot for everyone. Making people meet each other. A lot of guys didn't know each other, they met each other because of me. So it was kind of fun being that guy who can go to anyone's ends in the name of music. Just make two man link up and then two years down the line they're bredrins making money with each other. To me that was the joy of doing what I was doing. It wasn't about getting paid or trying to get famous, it was just the mandem linking up and creating a movement. Yeah, that's what's fun, the movement."
What changed for you when your debut album 'Novelist Guy' got nominated for a Mercury Award…did it change the path of your career or would you say that you've still tried to keep it all the same?
"Every monumental moment begets a change of some sort, but to me no. The reason why is because it's never going to change for me. That's why I make music, I want to outdo myself musically. Like the feeling of making a song in a way that you didn't even imagine you could do. And then listening back like rah that's me. An accolade cant give you that. It's impossible."
You haven't shied away from involving yourself in political matters over the years. You also formally held the title of Deputy Young Mayor of Lewisham, so has it always been something you're passionate about? 
"I'm not passionate about politics. I'm not passionate about being involved in political matters. I'm passionate about people. And the catalyst to change sometimes is touching on topics that the gentleman considers a political thing. I consider it life because before politics, life was. So if I address something in life that now suddenly falls into the category of politics, then so be it. But to me. I'm talking to people. That's what it's about. So any time I've been in a position of power, whether it's from the influence of me speaking or from some kind of governmental standpoint, like when I was Deputy Young Mayor, it was only for the sake of doing good for my fellow man. You know, being an artist is like having a megaphone, when you speak you're heard. So I'm actually way more powerful than the politicians in that sense, because I can influence the minds in a way that they can't do."
Tickets for 'Novelist Presents: Welcome To Lewisham' headline show at The Albany can be purchased HERE.
Stream Novelist's '4 THA HOMIEZ' album below:
Read next: "You'll need rubber gloves, shin pads, and anti-bacterial wipes": in conversation with Big Narstie