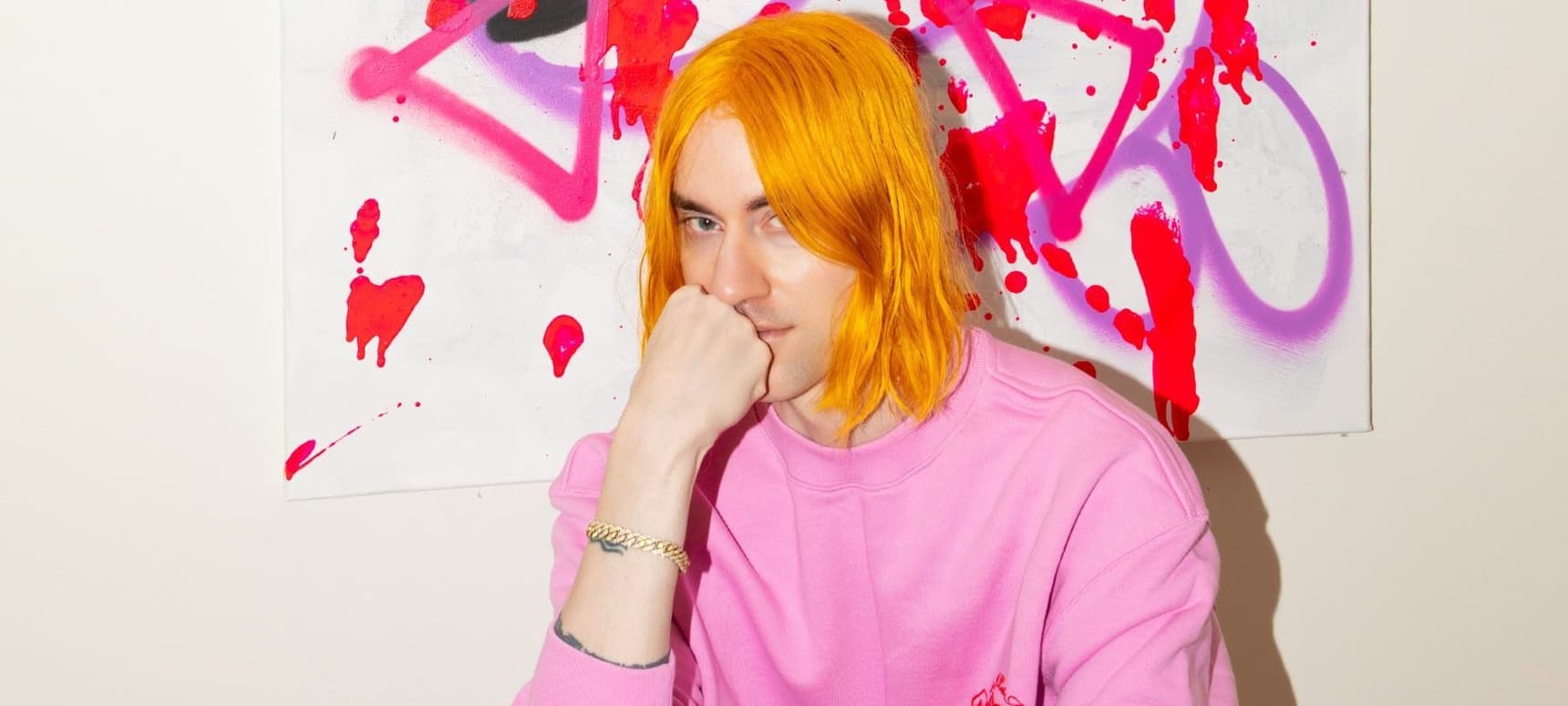 21.11.2022, Words by Billy Ward
"We're basically infant in the digital world": Entering Jimmy Edgar's matrix
We sat down with the Detroit-hailing producer to discuss his latest album 'LIQUIDS HEAVEN'
With over 20 plus years in the game, Detroit native Jimmy Edgar approaches all of his creative endeavours with the intention to push the envelope further each time. His work in the visual arts has established Jimmy as an in-demand director, photographer, and multimedia artist, but the prolific creative is most widely known for his contributions to the music world.
The producer has continually chased bleeding styles of electronica over the course of his career, leading to early releases on Warp before coming to start his own Ultramajic imprint, collaborating on left field productions with the likes of Vince Staples, Hudson Mohawke, DAWN and many more.
"I'm always striving towards a reaction of subtle provocation," he explains to me over video call from his LA home. "I want to hit this mid point where it's challenging, a bit funny, some people don't like it, some people do like it, some people might not even think it's music at all."
Back in 2021, Edgar released his 14-track LP 'Cheetah Bend' via Innovative Leisure, an eclectic mix of hyperpop-tinged productions that leaned heavily on collaboration, bringing a new featured artist to nearly every song.
"I was really happy with it and proud of it but it was also very challenging to listen to," Jimmy reflects. He tells me his new record 'LIQUIDS HEAVEN' is "a lot more relaxed in some sense," piecing together a psychedelic canvas of future R&B, euphoric bass, tear-the-club-up rap and mutant noise. As referenced in the record's title, the idea of liquid as a material is heavily prevalent throughout the project, rearing its conceptual head both sonically and visually.
"The whole album started with asking myself if liquid was a sentient being what would it want to do? What would it want to sound like? How would it want to be viewed?," he continues, "and that's what the sculpture on the cover is referencing, it's kind of like a playground or a heaven for liquid to be itself and to be able to flow through and do what it wants to do. There's a lot of that metaphor in the music, whether it comes from the generative processes I use to create the sounds or just things sounding bubbly."
'LIQUID HEAVEN's gestation spawned from Edgar's explorations of "material" in the digital world, and is part of his broader ambition to change belief and intention in the digital realm. "I find this amazing how we are as humans moving towards dematerialised evolution and lifestyle," says Jimmy, "this includes digital currencies, digital media and ownership in the digital world."
"I think there are many advantages to it but we're basically infant in the digital world," he adds, "we still don't really know the effects of what social media is doing to us, people are not understanding that they have anxiety because they're looking at their phone stuck in a dopamine loop."
The producer's exploration into phases of matter and [im]materiality in the digital realm was first showcased over summer as part of his OXYGEN exhibition, a series of 13 conceptual sculptures unpacking the portrayal of ideas as evaporated forms of physical creations, and how they might materialise into reality.
"I really had to contemplate my practice, understand my interest and put everything in context related to materiality and immateriality," he states. "How it relates to music is also fascinating to me because I've taken this view of music being an immaterial way to make sculptures. This is super present in my music and my new album as well."
Born in August of 1983, Edgar didn't talk much until the age of 5 and was diagnosed with autism during his childhood. He tells me about his early years and how he really gravitated towards music and art, becoming obsessed with the local Detroit radio stations where he would record everything he loved hearing on a dual tape player. "You could hear Autechre, DJ Assault, Kraftwerk, Dopplereffekt, Aphex Twin every single weekend," Edgar lists some of his main musical influences growing up. "When I first started making music my intention was to make it and release it and I wanted to be on Warp records and work with all the best electronic people."
"Have you ever seen these videos where they put sand on a plate and then they play a sound wave into it and the sand would split apart?" Jimmy quizzes my patchy knowledge of cymatics, the study of visible sound and vibration often used to explain the power of manifestation. "Now imagine your body was vibrating and your environment was that plate, I call it the law of resonation. I think that once you resonate with certain things reality has a way of bringing in an energy to fit into those vibrations to resonate with them."
Of all the people in the music world to talk about powers of manifestation with, Jimmy has got to be up there with some of the most interesting. At the age of 18, Edgar famously signed with the influential Warp Records after finding the label's address online and sending them his demos, achieving the seemingly far-fetched goal he had set himself during the earliest days of his producing journey.
"This was one of my first experiences of developing my belief that you can create your own reality," says Jimmy. "It was something that I sought out to do."
Since then, Jimmy has continued to innovate and experiment with each new project cementing himself as one of the most unique minds in both the music and conceptual art worlds. His new album 'LIQUIDS HEAVEN' is the latest labour of love in a story that is bound to carry on surprising.
Stream 'LIQUIDS HEAVEN' below: