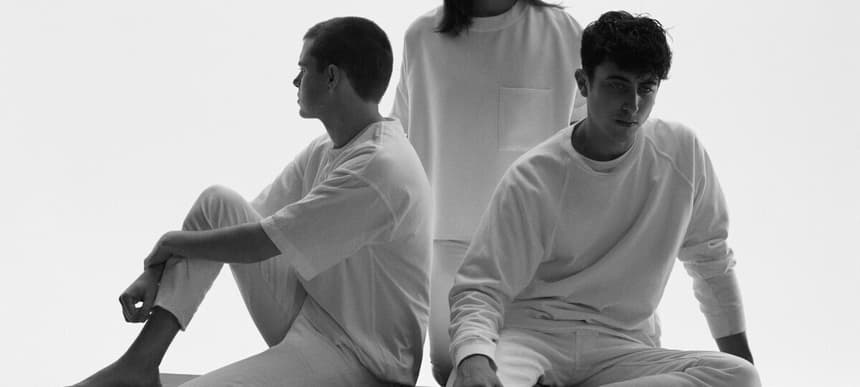 09.07.2015, Words by dummymag
Wet interview: "Are you a miserable person?"
Before speaking with Kelly Zutrau (singer-songwriter) of Wet, I head to the trio's Soundcloud page to listen to their debut self-titled EP, only to find the music missing and a note: Hi, if you're looking for music sorry, but our label made us take it down because they aren't making any money off of you on here :/
There's a link to their music on Spotify, and so I follow it and listen to their debut track Don't Wanna Be Your Girl. Unexpectedly, a male shout of 'Yeah!' jumps out from the speakers and interrupts my revision: I realise I'm listening to a live session, not the studio recording. The flawlessness of their live show has fooled and embarrassed me, which I later confess.
Wet have strength in abundance, and as a team, their shared intent is to hit you with uplifting and beautiful music. If their debut album 'Don't You' is anything like lead single Deadwater and their Spotify session, then expect more of the same precise pop that plays games with your heart. Columbia is keeping the release under wraps, but the sampler I'm given supplements Kelly's reflections on love and loss and is surrounded by fluid production and shimmering guitar melodies. Producer/multi-instrumentalist Joe Valle and guitarist Marty Sulkow handle these sounds and make up the tripartite of best friends who met at university in New York and have since lived and breathed together, literally and metaphorically.
In preparation, I wanted to speak to Kelly about Wet's background and their music and give her an opportunity to talk about the album, tentatively scheduled for release in late 2015. But, my discoveries have taken me on a different path – the proposed changes to Soundcloud and the effect on artists like Wet is too hard to ignore. When Kelly answers my call, pleasantries are exchanged, and she sounds spirited despite her busy day. "We just did a live session in a church, a couple of interviews and a photo shoot," she says, before commenting how beautiful St. John's Church in East London is. Based in New York, Wet are in the country for a one-week promotional trip, but though it isn't their first visit to the U.K., they're to return soon. "We're gonna come back and live here for a month," she says. "The plan is to play a bunch of shows in London and have more of a presence, which sounds fun."
I broach the topic lightly with Kelly and talk about how we both consume music (she laughs when I tell her about my preparation). She is affable and direct, so I sense that she will be forthcoming. I ask about her experience of signing to a major label, as well as her response to their music being pulled from Soundcloud. "We've had a good experience so far and Columbia has treated us well," she says, "It's the first time there's been a total bummer, but it's out of our control. We begged and pleaded because half of the people listening to our music are listening on Soundcloud. For a band that is at such an early place in their career, it's scary because that could stop your momentum."
Kelly's frankness conveys their disappointment, but she doesn't sound angry or critical. She laughs when I read back the note, and I ask if Columbia have read it and if so, if it pissed them off. "No because they've taken down all their artist's work. We haven't had a chance to make them any money yet because we haven't put our album out – we'll see if that makes them some money." At this point she pauses for breath before continuing. "To be honest, it seems like no one is making any money unless you're huge. It just seems crazy to me to take Soundcloud away from artists that are not huge – and may never be huge – but they could have a career. It's detrimental, and there should be a free way to listen to music."
The conversation turns to some light relief when we talk about their website URL – www.kanyewet.biz – and I ask if it's an homage, parody or both. "It's just a little joke. If anything, it's us making fun of ourselves." We wonder if Kanye is aware of Wet, but they certainly have Kylie Jenner's attention, after she apparently "gushed" about Don't Wanna Be Your Girl via Instagram. "That was crazy," Kelly says. "There have been a few little things like that which have come out of the blue. It's always kind of surprising, but it's usually that song."
At this point, it seems right to ask Kelly what I initially wanted to talk about, and so the conversation turns.
The lyrics in your music touch on some devastating themes – just how personal are these songs to you?
Kelly Zutrau: "Everything released so far is directly about things I've experienced in my life. People keep asking, 'Are you a miserable person?' because a lot of them are a little sad. When I'm going through something difficult in my life, that's when I want to make art and when I feel like I have stuff I need to say, that's just part of my process. When I'm feeling good I'm usually not writing songs [Laughs], I'm enjoying my life.
"The things that I want to write about are not always just breakups. I'm interested in how people deal with loss; how I deal with loss; how I communicate about loss, and how people connect about a loss. Maybe that's the whole point for me: trying to communicate, and feel that human connection is real – that's what gets you through the breakups, a little bit [Laughs]."
"Everything released so far is directly about things I've experienced in my life. People keep asking, 'Are you a miserable person?' because a lot of them are a little sad." – Kelly Zutrau, Wet
Have Joe and Marty been through the same experiences?
Kelly Zutrau: "They identify with what I've been through and they've been there during [it] because we've been such close friends for a long time. They've been through these dramas, or they've seen it happen and been very close to it. I think they think of it [the music] as creating a platform for me to express this stuff, and they react to it – Joe with the production and Marty with the guitar and the instrumentation. I think I'm the most emotional one in the group – but they are too."
The album was written and recorded in the solitude of a rented house in Western Massachusetts. How were the sessions? Intense? Cathartic?
Kelly Zutrau: "Definitely both. There were times when writing and recording the album was torture. We felt there was a lot of pressure, and we didn't know what we were going to do or how to get to the next step. But then there were times when it would come together, and it would be peaceful and we could enjoy the beautiful place we were living in and feel calm for the first time because we were making progress.
"It can be alienating and stressful when you have a label. There's money on the table and all of a sudden things are serious; you haven't made an album before, and you have no idea, and there are expectations. You want it to be good and to believe in what you're doing will have some integrity, but you're trying to please so many people. You have to grow thick skin pretty quickly, but it's so disorientating because you have to detach from yourself in a way."
In most of your press shots, you're dressed in white, signifying purity and innocence. Is this a representation of your music?
Kelly Zutrau: "It's subtlety. We're interested in presenting ourselves as neutral and not boxing ourselves in before people get a chance to hear what we've done."
In a way, you could argue that the pictures are presenting a canvas perhaps?
Kelly Zutrau: "If you let people make up their stories and project whatever they want to project on you, I think it ends up being much more powerful. I don't want to get too specific. I just feel that it's better if people can go into our music openly and can connect in a way that feels right. Once you start getting picked apart, that can be very damaging. You might not be able to recover, and that's terrifying."
"It can be alienating and stressful when you have a label. There's money on the table and all of a sudden things are serious." – Kelly Zutrau, Wet
Not many artists are as conscious as that idea. Maybe that allows a sense of intimacy with your music?
Kelly Zutrau: "There's room in the future to change and maybe give away a bit more character, but I just want to leave a lot of room for as many possible options in the future."
What does the album sound like and what can people expect from it?
Kelly Zutrau: "It's different from the EP, but it's a natural progression. Lyrically it's very direct, honest, and taken from experience. I think it's a little more mature in some ways. There are themes of losing relationships, love songs, hopeful moments, and it goes in and out of the past, present and the future. The production and instrumentation aren't as minimal as before – some songs feature violin, cello, upright bass. Compared to the EP, there are moments where the album is packed and more dynamic while I think the previous work was easier to digest."
Could you have achieved this without a major label deal?
Kelly Zutrau: "It was something we pushed for and, to be honest; it wasn't even that expensive. We had some friends work on it, including Patrick Wimberly [of Chairlift]. He's become a friend of ours, and he arranged some of the strings on the album. That's something the label questioned: that it was different from the EP, but we felt so strongly about it, and I'm glad we pushed for it. I don't care if the songs sound cheesy; it makes some of the tracks cinematic. I also don't care if it's over the top, I think it's really good."
National Anthem/Columbia Records released Wet's latest single Deadwater on April 22nd 2015 (buy).