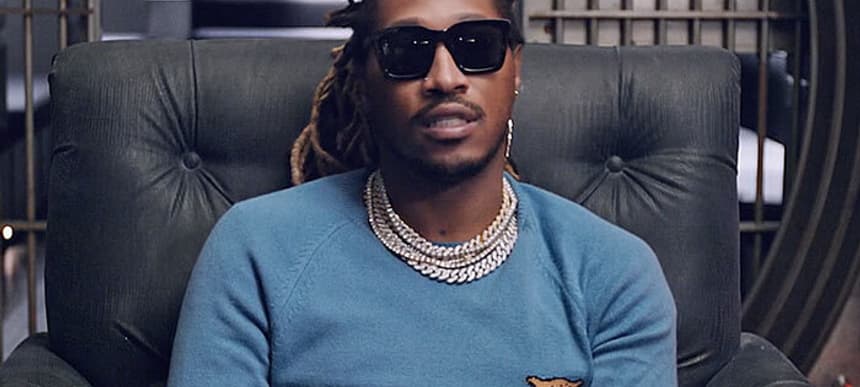 15.01.2019, Words by Felicity Martin
What we learned at Future's album launch and documentary screening last night
The Atlanta rap icon threw a special screening and Q&A at a London hotel...
Last night Future hosted a screening of his documentary 'The WIZRD' with a Q&A at The May Fair Hotel in London. Artists including Wizkid, Mabel and Stefflon Don were in attendance, and Dummy went down to watch the Atlanta rapper launch the highly-anticipated film as well as his forthcoming seventh studio album of the same name.
The Apple Music exclusive film, seven years in the making, follows the rapper over three of his tours: Purple Reign, Nobody Safe and Summer Sixteen. It tracks his origins in Georgia and early career as member of The Dungeon Family, interspersed with crisp footage of him shooting hoops with Young Thug, in the studio with Drake, and relaxing on a yacht.
The Marcus A. Clarke-directed documentary comprises interviews with DJ Khaled, Metro Boomin, Organized Noize's Rico Wade, and Andrè 3000, as well as Future himself. Below are five things we learned from the screening event, as we wait patiently for the album to drop this Friday…
Future's explanation of his "Gucci flip flops" line is perfect
Of the now-infamous lyrics in 'Thought It Was A Drought' ("I just fucked your bitch in some Gucci flip flops"), Future said: "I remember really having some Gucci flip flops on and I was, goddamn, I was, you know what I mean? I was smashing a bitch at the penthouse right by the door with my Gucci flip flops on. And this ain't no disrespect, I really lived that moment and then went right to the studio." The 'DS2' track's producer, Metro Boomin, recounts the experience when Future came into the studio, donning the footwear, before immediately recording the hit.
Andrè 3000 is a paid up member of the Future Hive
"Me and my son, we like Future fanatics, man," the Outkast rapper says in the documentary, describing one of his father-son listening sessions. "And we sit and we listen to it and I said 'Man, Future makes the most negative inspirational music ever."
The film is dedicated to Future's friend and former engineer Seth Firkins, who passed in 2017
Future spoke about finding out longtime collaborator and close friend Seth had died, saying, "it wasn't real to me. To this day, it still don't feel real. All my vocals still say 'Seth vocals'. The same chair he used to sit in, that's where I sit and record. I spent more time with him than my family, I spent more time with him than my kids. I spent more time with him than anybody in the world." Firkins is interviewed in the documentary, and describes his collaborator as "the next Michael Jackson".
Future rates Giggs
In a Q&A with DJ Semtex post-documentary screening, Future was asked which members of London's music scene he was a fan of, citing Giggs. The Atlanta icon also mentioned he liked UK drill, naming Headie One as a possible future collaborator. Watch this space…
Baby Future has inherited his father's musicality
There's some adorable footage of baby Future freestyling into a pretend microphone backstage, using a similar structure and melody as his dad. Heartwarmingly, Future starts ad-libbing while his son takes centre stage.
Watch the documentary in full on Apple Music
'The WIZRD' tracklist:
1. Never Stop
2. Jumpin On A Jet
3. Rocket Ship
4. Temptation
5. Crushed Up
6. F&N
7. Call the Coroner
8. Talk Shit Like A Preacher
9. Promise U That
10. Stick To The Models
11. Overdose
12. Krazy But True
13. Servin Killa Kam
14. Baptize
15. Unicorn Purp f. Young Thug & Gunna
16. Goin Dummi
17. First Off ft. Travis Scott
18. Faceshot
19. Ain't Coming Back
20. Tricks On Me
Future's 'The WIZRD' drops this Friday 18th January.