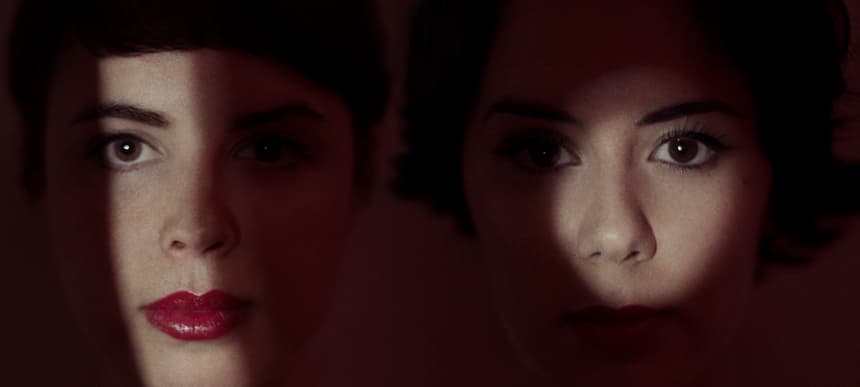 17.04.2015, Words by dummymag
Wyles & Simpson: good vibes, friendly people, dark spaces, tunes
We've spent the last few years working on our debut album, which has just been released into the ether! It's an exciting time as well as an unknown one. We really hope people dig our LP, but what will be will be. For people who would like to tag our music with a genre, we'd describe our sound as electronic soul… We've crafted the songs and honed our production to focus on a less-is-more aesthetic, allowing space for a duet of vocals and keys. We love Debussy's quote: 'Music is the space between the notes.'
When making a record you inevitably have to commit to a definitive version of tracks, which is not always an easy process. Every one of our songs has seen many a manifestation with umpteen ideas along the way. It feels totally liberating to take a track, which has been lovingly crafted, and start deconstructing it for a remix.
As soon as we finished our album we started remixing our first single, Light & Dark – released at the end of 2014 alongside a guest remix by pal Doc Daneeka. The beauty of re-working songs is creating a completely different spin… Like chapters in a story, songs are revisited and reimagined to continue a narrative.
The original version of Stormy Skies is about life and death (It shall end the sun shall go down, beauty but melancholy at the same time) and determination through times of adversity (Stormy skies won't put me off, stormy skies won't let me down). It's a fairly brooding song! With the remix we wanted to turn this concept inside out and step up the energy. Our aim was to alter the perspective of the original to make it appeal to a new audience where the original perhaps doesn't naturally resonate, such as a club.
We both love to dance. Heading out and hearing a mixture of classics and new gems you haven't heard before on a great sound system can be an unmatchable experience. Before moving to London, we lived in Manchester and relished the city's underground club nights; nights where the music is eclectic and knows no bounds. We were regulars at Friends & Family, Eyes Down, Electric Chair, and Keep It Unreal (to name but a few), they were/are purely about good vibes, friendly people, dark spaces, and tunes.
Disco of the '70s and early '80s is a great source of inspiration for us. Musically it's dynamic, richly layered and atmospheric, an intoxicating concoction of elements. Euphoric string arrangements sit alongside proud and at times melancholic staccato vocals… Jesse Gould's Out Of Work, Melba Moore's You Came Into My Life and Patrice Rushen's Haven't You Heard are three favourites.
There are lots of layers to our music, which we're keen to reveal and explore. Whether that be extending arrangements for string sections or other ensembles (Holly is classically trained and recorded all of the string parts on the album) performing in concert halls, interesting spaces, or club environments where the PA systems are specially set for electronic music we don't yet know… Anything and everything that genuinely excites us so we can keep on breathing new life into our current songs and presenting the music in different ways.
We want our live shows to develop both sonically and aesthetically over time and our hope is to collaborate with likeminded people. Sometimes a performance will be more extrovert, as we're armoured in a club environment with an undisputed sound system (like when we performed at KOKO, London), and other times it will be more intimate, unamplified in a church.
We feel excited about the future – writing more material, remixing our own songs and other artists, collaborating with other creatives as producers and arrangers… this is just the beginning.
MTA Records released 'Wyles & Simpson' on March 23rd 2015 (buy).
Wyles & Simpson play Oslo in Hackney, London on April 18th 2015 (buy tickets).