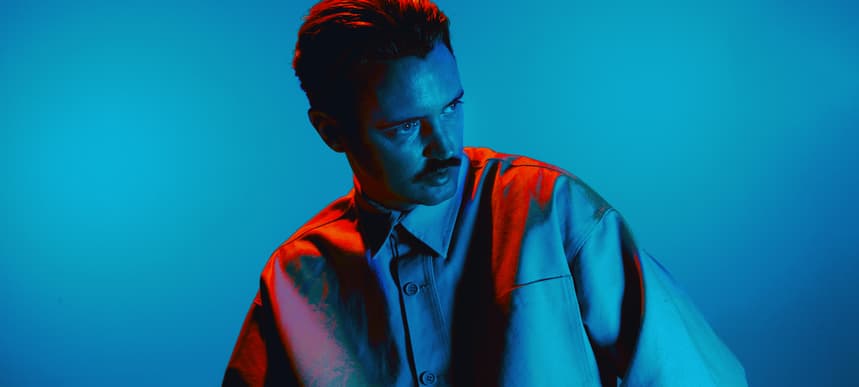 30.11.2022, Words by Billy Ward
DMY Mix 001 | Dance System
"This is not one to put on with your morning cup of coffee..."
After racking up 640+ exclusive Dummy mixes over the years, it's time to press reset. The whole company is embarking on a brand new chapter since re-branding to DMY so we're winding back the counter and starting from the beginning. We're immensely proud of our backlog of mixes and they'll remain available on this new site for the virtual crate diggers out there but we're also excited for what's next. 
Kicking off our brand new series with mix 001, we've got UK dance heavyweight James Connolly aka Dance System to turn in an hour of non-stop face melters. Since establishing cult UK dance imprint Night Slugs with Bok Bok and hanging up his L-Vis 1990 moniker, Connolly has used this current alias as a vehicle for some of the funnest party tunes about, gearing his music specifically towards having the best time possible. 
"This mix is peak time Dance System; 3am when the party is bubbling nicely and it just needs ramping up a few notches," says the Brighton-hailing DJ and producer. "It's high energy with some crazy twisted moments to properly fuck with people's heads. There's a bunch of exclusive tracks from me in there, and a whole load of classics from my crates. This is not one to put on with your morning cup of coffee."
Dance System - This is Business Ft Mike james
Mike Mind - Acid Machine
Sharpside - Space Cruising (Wehbba Remake)
MMM - Nous Sommes
Kenlou - What A Sensation (Sensational Beats) 
Jamie Unknown - The Drumz (Dance System Remix)
CZR, Undergrounddiscofunk - Bad Enough
Sound Stream - Julies Theme
Ciapet -TikTok (Apocalypse Now Mix)
Paul Johnson - Soft Spot
Dance System - Against Us
Green Velvet - Cuz Of U (Praise Mix)
Funky Tronic - Exciter
Daft Punk - Rock n' Roll
Dance System - Slammer
DJ Mehdi - Signitune (Thomas Bangalter Edit)
Armand Van Helden - Necessary Evil
Dance System - Wet n' Wild
The Sharp Boys - Bronx 
Stretch & Vern - Im Alive (Dance System Edit)
The Bucketheads - The Bomb (World Mix)
Dance System - Work It ft DJ Deeon