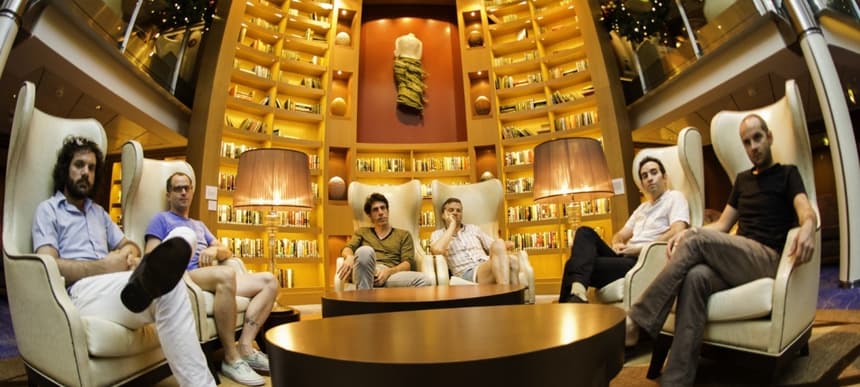 01.08.2013, Words by Sandra Song
Dummy Mix 175 // !!! (Chk Chk Chk)
California dance-punk sextet !!! (Chk Chk Chk) have almost two decades of exclamatory excitement under their belts. Formed in 1996, they were a key part of the dance/indie crossover wave that had an undeniable and lasting affect on the UK club scene – birthing Erol Alkan's legendary Trash club in London and predating a million genre-blurring MP3s. Packing beats that would make even Gloria Gaynor get down, !!! are back in the UK capital next week to headline the inaugural Visions Festival in London Fields. To celebrate the occasion, the band made a heady, groove-filled mix for us featuring a select bunch of Dummy favourites from Lee Gamble to Jam City, and a revamped Clark Sisters classic to a taste of DJ Sneak's upfront house. Listen on the left or download it via our Soundcloud.
Hey !!!, what's going on?
!!!: Chillin' out. Bumpin' my iTunes and answering interviews. Just another day in the life of a lead singer in the middle of an album cycle.
Could you tell us a bit about your mix? Favourite track(s) on the mix? What's got your hips shaking?
!!!: It was born on the road earlier this summer, tempered in the Arizona sun. It's an unlikely gang of tunes that sounded especially good together on that June day. There's a freedom in recorded mixes; I'm able to present tunes that I normally wouldn't play out when I DJ – tunes that maybe wouldn't work on the dancefloor – and to mix in ways that are a bit more adventurous. This mix starts out a bit introspectively with a tech/ambient piece by Lee Gamble called Plos 97, which quickly gives way to my favorite track on Jam City's 'Classical Curves' album. Shneeblee, from Super Flu's last release, brings the first bit of real (and very German) sunshine. I don't drop the real burners until the second half, starting with Joey Negro's edit of the Clark Sisters' Everything's Gonna Be Alright, which I found on the recently released 'Overdose of the Holy Ghost' gospel compilation (highly recommended). I've been dying for an opportunity to showcase DJ Pierre's superbly well-paced remix of Dance Dance; so here you go. I chose a current favorite of mine, Andrea Oliva's remix of Wickedy Sounds to wrap things up.
You guys are headlining the inaugural Visions Festival next week. Are you excited to catch anyone live?
!!!: All of them. I wanna see all of them. I like all the good bands. No really, I do. Anyone who's giving 110%, I wanna see. Anyone not, can go fuck themselves though.
Your performances are pretty infamous. What dance moves are you planning on breaking out for this crowd?
!!!: Oh just the usual ones. Would it really be fair of me to save special moves for London and not do them in say Spain or something? Look, we give 110% every show, you're not gonna be disappointed with the moves whether I do them in other countries or not.
What are you spinning lately? Got a go-to party jam?
!!!: Bipp by Sophie is my jam for the summer, We Still In This Bitch by B.O.B. (ft. T.I. and Juicy J), Make That Ass Clap by Remo The Hitmaker (ft. Joe Budden). I heard How Many Drinks by Miguel coming out of a car last night and it sounded exquisite.
What do you have planned for the future?
!!!: I don't make plans.
Tracklist
Lee Gamble – Plos 97
Jam City – Hyatt Park Nights Pt. 1
Super Flu – Shneeblee
The Clark Sisters – Everything's Gonna Be Alright (Joey Negro Edit)
Danell Dixon – Dance Dance (DJ Pierre's Wild Pitch Mix)
DJ Sneak – Wickedy Sounds (Andrea Oliva Mix)
!!! will headline Visions Festival on Saturday 10th August (tickets and full details).