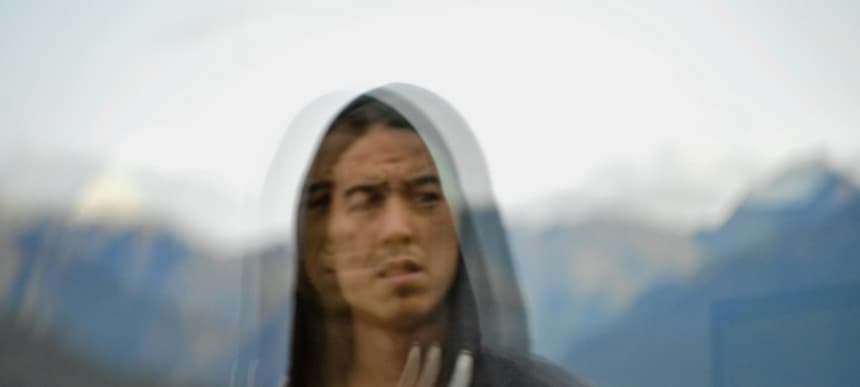 04.09.2013, Words by Aimee Cliff
Dummy Mix 180 // Kyson
Brand new Friends of Friends signee Kyson is from sunny Australia, but currently spends his days in the intense cultural hub of Berlin, where he's made his debut album 'The Water's Way' (due out on the 24th of this month). The first two cuts revealed from that record, Missing Things and How Long, reveal the effects of that geographical move – full of bright vocals distilled over languishing beats, his music has the glimmer and sparkle of more bombastic Australian contemporaries like Flume, but it's as though those high-energy beats have been simmered down to their essential ingredients, sifted through for the gems and left to warm in the sunshine. What surprises about Kyson's music primarily is its subtlety; the longer you listen, the more its gentle flourishes and intricacies reveal themselves, with so much more going on than first meets the ear (and yet crucially never too much).
We're so carried away by the sumptuous current of 'The Water's Way' that we couldn't resist hosting this equally blissful mix from the deft-handed producer – titled The Average Daily Progression, the 45 minute recording encompasses Jai Paul, Evenings, Nosaj Thing and Baths and is, in Kyson's words, "thinking-in-the-dark sort of music". We couldn't have put it better ourselves. Stream it above or download it here, and read our chat with the up-and-coming beatmaker below.
Hi, Kyson! Where are you now and what's the view like?
Kyson: "Hey! I'm in my apartment in Berlin. The view is not that great – I'm looking out into the innenhof (courtyard in German) where the crazy old lady every apartment building has is taking care of her morning ritual of cleaning and making sure everything in the garden is in order."
Where is this mix going to take us?
"Hopefully to a nice relaxed place. Lately I have been listening to music mostly alone at night or to wind down, this mix is a reflection of that time. Thinking-in-the-dark sort of music."
If you had to pick a favourite track in there what would it be?
"If I had to pick a favorite it would be the Manitoba track Dundas,Ontario. I have really been getting into the old Caribou stuff lately and he's definitely an artist I admire a lot, that track gets me thinking about things."
You're Australian but living in Berlin – did the move have an influence on your sound at all?
"Yeah absolutely, I mean I still had the same basic ideas and goals with what I want to do with music but it changed the way I work – a lot! I became more serious in a way and wanted to work harder. When there are a lot of people around you doing the same thing, it's great for that. Pushing each other and bouncing off ideas is one thing that really helped me while being here. Before coming to Berlin I wasn't really showing anyone the Kyson stuff or collaborating with anyone, it sort of opened me up to that and that altered my sound in many ways."
You're releasing your debut LP on Friends Of Friends later this month – how did that relationship come about?
"I met Leeor from Friends of Friends believe it or not over the internet earlier this year. He heard the record and was really stoked on it, so we got chatting on Skype and that was that. I'm really excited to be part of the family over there and am excited to see where the future takes us, hopefully I'll be getting over to the US soon to hang out."
What can we expect from the album?
"You can expect a somewhat different Kyson to previous releases. Each track represents a specific moment over the past 4 or so years of travelling and experiencing the different cultures, sounds, smells and people I encountered. More experimentation without the computer I guess. I finally bought some new gear before writing the album so there is a bunch of synths, weird percussion from Istanbul and India, field recordings from my hometown beaches in Australia and sounds from the places that have inspired me. Lots of ideas came from me just letting go on these machines and you get these weird and wonderful moments you cant create any other way."
"That's what the album is about – the tiny moments in time that alter our lives and future forever in massive ways without us realizing."
Tracklist:
Beacon – Late November
Bon Iver – Wash (Mountain Range remix)
Seams – Nachtmusik
Evenings – Lately
Thrupence – Parlay
Jai Paul – Jasmine
Rhye – Woman
Baths – Inter
Lullatone – Little Things Swimming Under a Microscope
Hammock – The House Where We Grew Up
Nosaj Thing – Home
Tycho – Human Condition
Fink – Warm Shadow
Manitoba – Dundas, Ontario
Luke Abbott – A Short Distance
Nosaj Thing- Phase III
Cokiyu and You – Haku
Friends of Friends will release 'The Water's Way' ont he 24th September 2013.