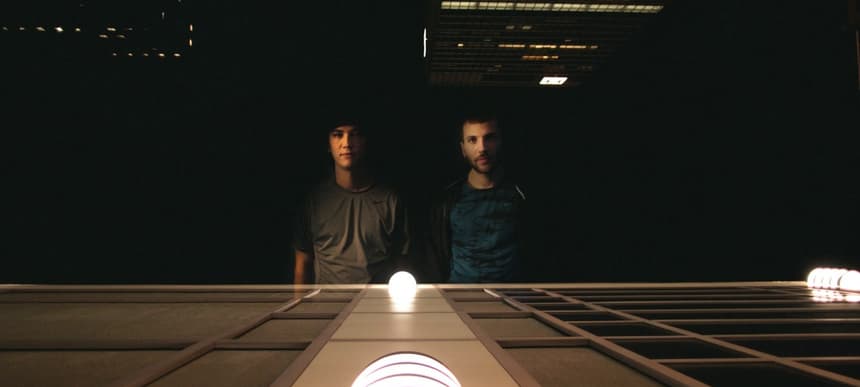 14.11.2013, Words by Aimee Cliff
Dummy Mix 189 // Teengirl Fantasy
Teengirl Fantasy have been in an experimental mood since the release of their 2012 album, 'Tracer'. Getting their heads down in the studio for some intense synth wig-outs, the duo – known as Logan Takahashi and Nick Weiss to their nearest and dearest – recently announced that they would be putting out an instrumental EP in November.
To celebrate the news, the pair have put together a Dummy Mix that follows a thread through all those wig-outs in the form of exclusive new recordings and dubs, interwoven with brightly burning snippets of what they've been listening to, from Durban to Physical Therapy. It's a pumping, euphoric listen full of moments of bodily, rave-y intensity cut through with lightness and humour.
To put the mix into a little context for you, Takahashi and Weiss say: "This is a mix showing where our heads have been at in 2013. It is mostly comprised of exclusive TGF dubs and edits and recordings from studio experiments this past year".
Stream the thrilling mix in the player above, download it here, and read the tracklist and our chat with the pair from last month (first published here) on their new EP, 'Nun', below.
What were the main inspirations for this EP?
Nick: "I think these tracks come from a sort of over-attention to detail. Digital resolution is the focus: degraded digital textures and low-bit sounds juxtaposed with more High Definition stuff. They are meant to be maximal but still clear, we carved out space so that you notice all the little things exploding around you. Aesthetically, we took some visual references from Atari Teenage Riot's Revolution Action video and Ken Ishii's Extra video by Morimoto (who co-animated Akira)."
Logan: "This past year we mainly just wanted to work on some new ideas outside of the context of making an album. After spending a year completing 'Tracer' I think we wanted to get back into a process of focusing on tracks as tracks for a bit. So this EP is kind of just, like, zooming in and presenting specific musical ideas without thinking too much about a larger thematic picture yet."
Why did you decide to keep it instrumental?
Nick: "It felt complete that way. [I'm] not saying that these tracks couldn't be voiced in the future, but I think they work just fine as instrumentals, since they have so many elements already."
Logan: "This, and the fact that we used sampling again, kind of brings these tracks a little closer to some of our older stuff in terms of approach. To me this goes along with us just wanting to focus on writing and to keep the collaboration between us two for now. When we work with a vocalist we'll usually have the instrumentals mostly completed by the time they hear it anyway, and those tracks come from sessions like these."
The track Eric from the new EP is pretty bananas. Have you been exploring higher tempos a lot in your new music?
Nick: "I think it's more that we have been reaching far outside of 120-130bpm house tempo. We've been exploring really fast tempos as well as really slow tempos – when you get to the extremes, you find that they are the same thing due to the overlap halftime creates."
Logan: "I like the idea of having all this insane stuff built around something kind of opposite and pleasant. Having these two extremes at once kind of creates this demented, uneasy, blissful feeling in the track, which I like."
What else have you been listening to/enjoying recently?
Nick: "Doris Norton, Suzanne Ciani, Kelela, FKA Twigs, Kaito, Lady Gaga and R. Kelly's new song."
Logan: "Older stuff like Ray Keith, Source Direct, and Lennie De Ice, and newer stuff like Durban, DJ Rashad, Jam City, Kelela, Huerco S., and OPN."
Are you working on a follow-up to 'Tracer'?
Nick: "Yes. Got a lot of ideas, but it could really go anywhere at this point."
Logan: "Right now we're focusing on getting out another handful of tracks kind of in a similar way as these early next year. There's a freedom in being able to work on ideas individually without the goal of trying to make them this whole big piece. I think sometimes it's better to do that with hindsight after all your pieces are there to look at and choose from, which is what we're working towards now."
Tracklist
1. Teengirl Fantasy vs Mz Bratt – Nun Beat Selecta
2. Teengirl Fantasy – Star Rise
3. L.A.M. – Hostile Bacteria
4. Atmarko Bear – This Time
5. Durban – Extaceee 2k13
6. Suzanne Ciani – The Second Wave: Sirens (TGF edit)
7. Doris Norton – Precognition
8. D Double E – Bad 2 Tha Bone
9. Teengirl Fantasy – Eric
10. Source Direct – Shimmer
11. King Felix – Spring 01
12. Teengirl Fantasy vs Dj Fofuxo & Dj Pausas – Platinum Tarracho Excelentt
13. Ray Keith – Dread Master
14. Teengirl Fantasy – Ton Base
15. Teengirl Fantasy – Sheep
16. Physical Therapy – That Horn Track
17. Bobmo – Sonic Soul (Teengirl Fantasy Remix)
18. Binary Finary – 1999 (TGF Club Edit)
This Is Music will release 'NUN' on November 25th. Teengirl Fantasy played at London's Corsica Studios with James Ferraro and Gardland this week; see photos from that here.