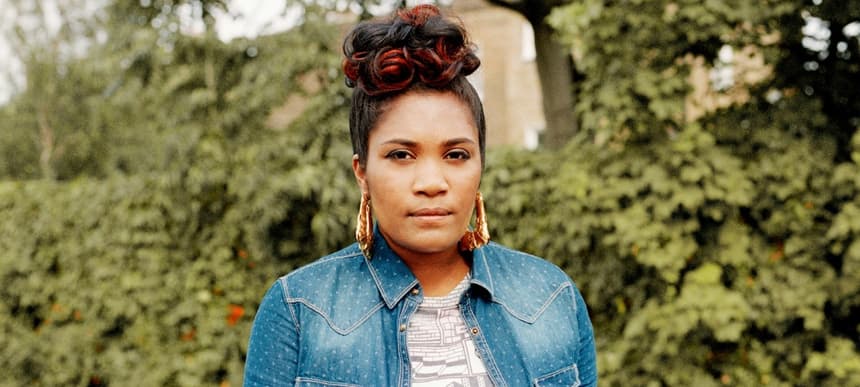 29.01.2014, Words by dummymag
Dummy Mix 196 // Cooly G
It's no exaggeration to say that 'Playin Me', Cooly G's 2012 full-length debut for Hyperdub, was one of the finest and most relistenable debut albums to have emerged in the past few years: a vocal pop record more than anything else, 'Playin Me' carried echoes of the funky of Cooly G's early releases, heart-on-sleeve R&B, deep house, and the most emotional Coldplay cover you'll ever hear. In terms of new, original material, she's been pretty quiet since then, releasing only the odd remix here and there, but earlier this week she broke her silence with a new, three-track EP for Hyperdub called 'Hold Me'.
'Hold Me' is another new turn for the multi-faceted producer, comprising three weighty, dancefloor-focused tracks. Title track Hold Me is a deep, dark roller with fragments of Cooly's vocals reverberating around the space, Molly is a driving, percussive club track with a squelching synth line, and Oi Dirty! a manic collaboration with labelmate and general good egg Scratcha DVA. Her mix for Dummy today is the natural extension of the EP, a straight-up DJ mix full of upront house rhythms and tracks from the 'Hold Me' EP.
Later this year will see Cooly G release the follow-up to 'Playin Me', which she described in a recent interview with THUMP as "very sexy, trap-ish, R&B-ish, rock-ish… there's a lot of heavy metal guitars in it. Proper punchy shit going on. Proper melodies, melodies that'll get stuck in your head." Colour us intrigued.
Stream the mix here at Dummy, head over to Soundcloud to download it, and read a short Q&A with Cooly below.
Hey Cooly G! Whatcha up to?
Cooly G: "Hey! I'm up to a lot right now, it's so unbelievable what I'm doing. All I can say is: watch out, it's going down."
What can listeners expect from this mix?
Cooly G: "Expect the unexpected."
Especially compared to your debut album, your new EP is a super heavy, super dancefloor affair. Why do you think it ended up so club-focused?
Cooly G: "I dunno, really. It was simply a different vibe that I was on, and I guess I should have all these (air quotation) "club-focused" tunes out before I hit you with my whole new sound and new live show. So damn excited."
A while back I read that you were writing a book, which sounded amazing. Is that still on the cards?
Cooly G: "If a publisher wants in and it's a good deal then yes, the people will get it."
Finally, will we ever see a proper release of your mum's house track?
Cooly G: "If people want it then yes, we can sort that out, not a problem! It was purely jokes because she loved the sounds coming out the Prophet 12."
Hyperdub released 'Hold Me' on January 27th 2014.