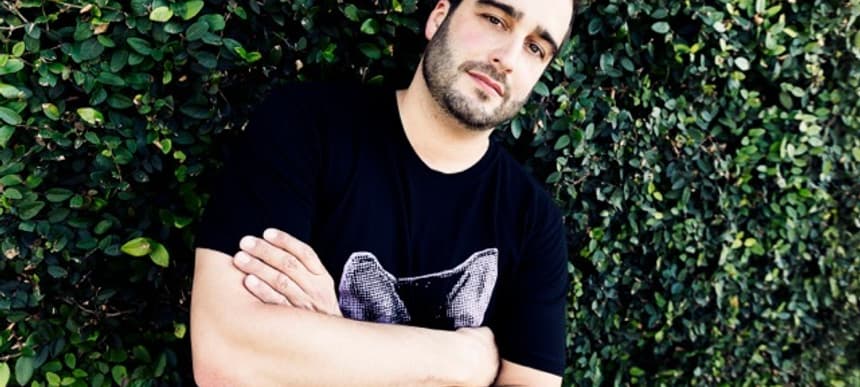 06.02.2014, Words by dummymag
Dummy Mix 197 // Todd Edwards
Todd Edwards shouldn't need much of an introduction, but we'll give you one anyway.
Originally hailing from New Jersey, Edwards started releasing garage house records in the early 1990s marked by his distinctive, cut-and-paste vocal reconstructions. Today, those are some of the most recognisable sounds in club music, while his production technique proved to be a major catalyst for the initial explosion of UK garage. He's also the voice of Daft Punk's Face To Face (and its co-producer) and, more recenty, Fragments Of Time. Now based in Los Angeles (he moved out there following his work with Daft Punk on 'Random Access Memories'), Edwards was up on-stage at the GRAMMYs barely over a week ago.
Needless to say, you could happily describe Todd Edwards as a legend, but such a term doesn't do justice to the fact that, 20 years on, Edwards is still at the top of his game. His mix for Dummy is a case in point: the selections are upfront, the mixing deft and dextrous.
Edwards will be in the UK playing in Room One at Fabric tomorrow (February 7th) for Fabriclive, alongside Jackmaster, SCNTST, and Moxie, so he put together a quick mix for Dummy ahead of that, focusing on his new city's house scene. We're immensely proud to be hosting this: have a listen on the Dummy player, and head over to our Soundcloud page to download it.
Hi, Todd! How are you?
Todd Edwards: "I'm great – I just had the best week of my life!"
What do you have in store for us with this mix?
Todd Edwards: "From living in LA, I've been drawn to its house scene. The energy here is having a significant impact on my DJ sets and my productions. In this mix, I've chosen a selection of tracks and producers that inspire me."
I heard you met Stevie Wonder at the Grammys recently…
Todd Edwards: "Well… technically, I didn't really meet him. At the Daft Punk afterparty he walked by, and in my raised blood-alcohol levels I got overly excited and yelled pretty much in Mr. Wonder's ear "You were amazing tonight!" Thankfully, I don't think he knew it was me."
One of my favourite Todd Edwards stories of recent came on your birthday, when you shared that you had full ownership of your music for the first time. If you had one other music industry tip to pass on to young musicians, what would it be?
Todd Edwards: "My tip is this: if anyone ever makes you feel that you can't make it without them, chances are you don't need them. Don't let any scare tactic make you feel like 'this' is your only chance. It's not. I've been here for 20 years. There are unlimited opportunities. Make sure you have a good team around you, a manager that encourages you and believes in your work, booking agents, and a good lawyer. You might not be able to do it all at first, but work towards that goal."
You also said that you'd have a new album out this year. Can you give us a hint as to what to expect?
Todd Edwards: "I am writing an album of songs that will cross different genres of music. Some of it will be dance, but expect more. It will be an album with real instruments – can you guess who encouraged that idea? Lastly, I am happy to say that Peter Franco, who is like a brother to me, will be co-producing the album. I'm in very good hands."
Tracklist:
01. Luke Vibert – Double Dipped Acid
02. Sanfuentes – For Those About To Jack
03. NOTV – Like I Should
04. Waze & Odyssey – Everything (You're Made Of)
05. John Newman – Losing Sleep (Bitr8 & Elrose remix)
06. Simion – Jack Ur Body
07. Todd Edwards – Steal Your Heart
08. James Del Barco – Your Body
09. Lee Jeffrey – Freaky Hat On The Hill
10. Crown Duels – Dance
11. Coeo – Do It
12. Crown Duels – The One
13. Golf Clap – Dream Trippin (Low Steppa remix)
14. Velcro – City Of Angels
Todd Edwards will play at Fabriclive on February 7th 2014 – for more information and tickets, head here.