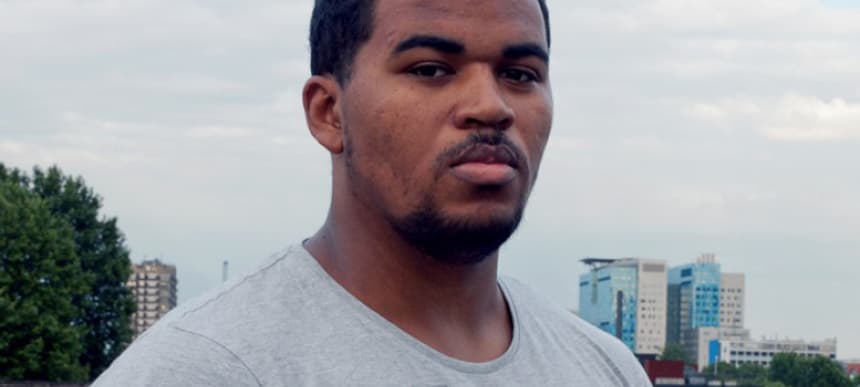 19.02.2014, Words by Anthony Walker
Dummy Mix 199 // Mr. Mitch
Mr. Mitch isn't a newcomer to grime – you can find his name listed in the production credits for Skepta's third studio album 'Doin' It Again', various independent mixtapes and Bristol MC Buggsy's local hit Bris Ting – but he has really come into his own over the past two or so years, his natural open-minded approach coinciding nicely with the development of the new experimental and largely instrumental side of the genre.
He is right there in the middle of things, one of the founders of the Boxed clubnight (which celebrates its first birthday in early March) and running his own label Gobstopper Records, which, apart from releasing music from Mr. Mitch himself and from garage pro Moony, is best known for housing Bloom's razor sharp eski track Quartz in 2012. Most recently, he has zoned his style into a ambient minimalism that is a far cry from some of his earlier, more bombastic beats, but shows the same interests in colour and contrast.
The defining examples of his new style are a volume of 'Peace Edits' made at the end of last year (six classic grime instrumentals reduced to their core elements) and his latest EP, 'The Room Where I Belong', out on Gobstopper this Friday (February 21st). To those two you can now add this mix, an exclusive 30 minutes of crisp grime featuring tracks from Dot Rotten, Crayzee Banditt, Murlo, Visionist and more. Stream the mix here, with a Q&A with Mr. Mitch and the tracklist below.
I recently saw you tweet something about how people looked at you funny when you told them you made "instrumental grime" back in 2009/2010. How do you think perceptions have changed over the past few years?
Mr. Mitch: "I think perceptions have changed massively in the last few years. Whenever I would say to people in 2009 that I was making instrumental grime they would say "but you're making the instrumentals for MCs though, yeah?" It's taken a few years, but now it just seems like the norm. At the time when Elijah & Skilliam first got on Rinse, there were a few of us with the same way of thinking, and their show championed those producers. Now, the instrumental grime sound has expanded enough that there are different strands of the sound being developed, making the genre much broader."
Your EP is mainly ambient and melodic with very minimal percussion, a style that is characteristic a lot of the new grime music supported by nights like Boxed and labels like your own Gobstopper, Coyote and Keysound. Without a clear tempo or an MC to vocal these productions, what is there in them for you that makes them grime?
Mr. Mitch: "For me, grime has always been an experimental and progressive genre. Taking elements of what came before it, pushing those boundaries to create something new. The basic grime aesthetic in term of some of the sounds used is still there – e.g. a lot of square waves – but so is the experimentation, and I think the sound will continue to change as long as there are producers willing to experiment."
Your music has always varied in the past, but you seem to have a very clear idea of what you want to do with this EP. Is the name 'The Room Where I Belong' about you settling on a definable sound?
Mr. Mitch: "Over the years I've taken inspiration from many different genres and tried to adapt those ideas into new forms. I think all of that experimentation came to fruition when I created the 'Peace Dubs' last year. I threw away the rule book in terms of what makes a track 'grime' by deconstructing some of the classics. Slowing down the tempo, removing a lot of the aggression. It really helped me to move forward in my original work and create a sound that I truly felt comfortable making, hence the EP title."
Your mix goes between older and newer tunes/producers, which I suppose reiterates your point about grime always having been diverse. Is doing something like putting a Dot Rotten beat on before a Visionist one a natural instinct or are you trying to draw clear links between different strands of the genre?
Mr. Mitch: "It's a bit of both really, I feel like those tunes just naturally fit together, their raw essence is the same. Visionist quite often states how much he has been influenced by Dot's productions and even though the beats actually sound quite different, they fit together perfectly."
Finally, you've got a remix of an Alpines single in there – which might be the first time I've ever heard you work with a non-grime tune. Does that process effect how you think about the your own solo music?
Mr. Mitch: "It's the kind of music I've been wanting to work on for a while, to be honest. I have a large collection of music that I have made with singers in mind and I've even started writing lyrics for some of them myself. Doing remixes for tracks like that just lets me explore exactly how I can adapt my sound to vocal work. I did a remix for a Norwegian singer called Hanne Kolsto a couple years back that got a really good response, so I might do some more work with her in the future."
Tracklist:
01. Slackk – Hope You Got A
02. Strict Face – Fountains
03. Mr. Mitch – It Takes Hold Of You
04. Rabit – More Memories
05. Chemist – Shivas Legion
06. Dot Rotten – Grab You
07. Visionist – Lost Time
08. The Phantom – Complex City
09. Chemist & Strict Face – Outer Hounds
10. Murlo – Heat Stroke
11. Moleskin – The Docks
12. Dark0 – Mako March
13. Alpines – Oasis (Mr. Mitch Remix)
14. Visionist – More Pain
15. Mr. Mitch – Tree
16. Mr. Mitch – Pipe Dreams
17. Crayzee Banditt – Looney
Gobstopper Records release 'The Room Where I Belong' on February 21st 2014.