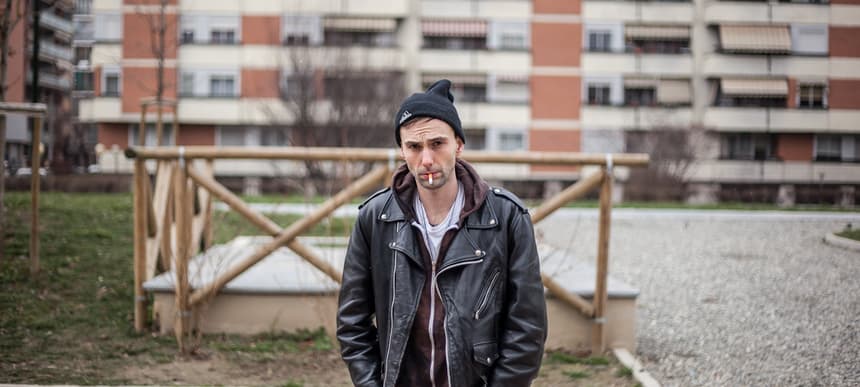 05.03.2014, Words by dummymag
Dummy Mix 201 // Vaghe Stelle
Pronounced vag-he ste-lay, Vaghe Stelle is the alias of Turin-based Italian artist Daniele Mana who has been releasing slabs of thick, leftfield techno-ish tracks for a short bit now both under his chosen name and as one third of One Circle. Mana uses battered old analogue synthesizers and vocal samples contorted in on themselves to tease out weird, rough sounds, but he's not one of the million hardware jammers that seem to be out there nowadays – though he often creates noisy, druggy grooves, he also crafts emotional, melodic pieces.
Last month, he released his debut album, 'Sweet Sixteen', through UK label Astro:Dynamics. For his Dummy Mix, Mana has put together a set of all-original material from the Vaghe Stelle archives. Take a listen here, and read a super brief Q&A with Mana below.
Hello Vaghe Stelle. How are you?
Vaghe Stelle: "Ei Dummy people, the sun is shining here today."
Can you tell Dummy's fine readers what is going on in this mix?
Vaghe Stelle: "Sure. I played some of my tunes live in studio – some of them are released, and some have never left my bedroom."
We've got the pronunciation down, but what does "Vaghe Stelle" actually mean?
Vaghe Stelle: "A proper pronunciation is important. Literally, it means 'vague stars'. It comes from one of my favourite movies, Vaghe stelle dell'orsa. For the international audience, it was renamed Sandra, so you can even call me Sandra, if you want."
What's happening with One Circle right now?
Vaghe Stelle: "We're working on a new release that will come out this spring on Gang of Ducks."
Have you ever seen the film Sweet Sixteen?
Vaghe Stelle: "Yes I did! Even if I'm more into this."
Astro:Dynamics released 'Sweet Sixteen' on February 17th 2014.