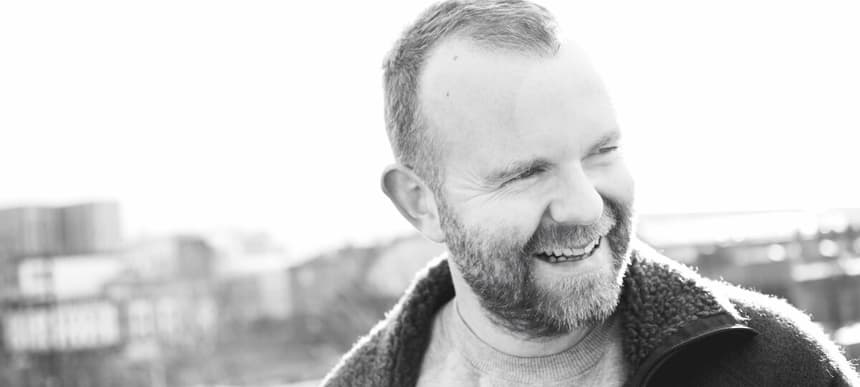 07.05.2014, Words by dummymag
Dummy Mix 209 // Mark E
Mark Evetts – Mark E – has spent about a decade putting out slo-mo dance music, from chopped 'n' screwed disco edits to chugging deep house tracks, but his newest album 'Product of Industry' sees the Birmingham producer entering previously unexplored territories, pushing his own style in new directions. For the first time, Evetts has started recording with analogue equipment, something that gives the record a sturdier quality than anything he's released before.
It also has a tighter conceptual focus than his previous records. Its title alludes to his home city, scarred by the decimation of the UK industry during the 1970s, but it also references Evetts himself: Evetts is a product of industry, having only become a musician and DJ full-time after losing his job during the financial crisis. While it would be easy to find a certain assembly-line quality to the music on the album, it's not a harsh or mechanical listen, but a warm, emotive one. And for all those references to the past, it's actually a fairly futuristic-sounding album, made up of strange sounds and anonymous voices sourced from field recordings.
For our latest Dummy Mix, Mark E has put together a solid, slow-building hour of crackly house and deep disco that, in its own way, acts as an extension of the record.
Was there anything you felt you should have done differently with this latest album? Any new avenues you wanted to explore?
Mark E: "After I'd finished 'Stonebreaker', I certainly didn't come out of it thinking that I was disappointed with what I'd created. Having said that, my technique has definitely changed. The way I produce tracks is very different now, so I think that certainly makes this latest release quite different. I've got a lot more analogue equipment now, so rather than it being a case of 'the difficult second album', it was more an opportunity for me to try something new."
'Stonebreaker' was 100% digital. Why did you decide to start introducing analogue elements and how have you found it working with different instruments?
Mark E: "I've been amassing all sorts of bits and bobs for a while now – analogue synthesisers, old drum machines – and I suppose I wanted to see what I could make with it all. I think it sounds so much richer and in-depth in terms of sound. Listening back on it, I think some of the early stuff I was making perhaps sounded a bit thin or a bit tinny, whereas using analogue instruments you just get so much more character out of them."
There seems to be quite a big focus on your history and the history of the Midlands with this latest album – it's quite industrial sounding in places – do you think using older instruments played a part in shaping that focus?
Mark E: "I suppose the look back was oddly part of a natural progression for me. To start from the beginning using older instruments gave me the opportunity I needed to build on what I'd learnt so far. If I think about the types of music I've been buying and loving since I was a teenager, a lot of them use the same types of machinery, so I wanted to capture some of that in this latest work.
"The album was made using a Juno 106 an Alesis HR-16 and also a Roland JD 800 amongst others – I'm still trying things out when it comes to some of the older equipment, but I think it's great being able to use something that's a bit older to create an album which still sounds really modern. It lets me keep a foot in both camps, so to speak – a bit of old and a bit of new. It's been a fun learning curve."
What's your creative process like when it comes to starting a new album?
Mark E: "I've been quite lucky really, I've never had to worry about writer's block. I suppose my creative process is quite straightforward, if I hear a sound that I like I make a mental note of it. It comes quite naturally. I think the more you work on something the easier it is to keep going, to keep creating new things."
Do you feel that this album engages in social issues?
Mark E: "I don't think it engages with social issues necessarily – that was not my aim with this. The title 'PRODUCT of INDUSTRY' is a reference to how I came to start making music – through losing my job due to the current financial climate – and the area I grew up in which saw the birth of the industrial revolution. It's a nod to my past. The music itself is not produced as an attempt to convey a social statement, as that's not how I work. I produce off the cuff, of that moment, wherever I feel the album needed to go that day. I don't expect anyone who also lost their job to empathise with it or find their predicament eased by listening to it, although maybe if they like deep house they might."
Is there an overarching narrative that runs through the album?
Mark E: "The narrative is a flowing piece of dance music which I hope people can take as much from listening to it at home as much as hearing it in a club. I think it's subtle and varied enough to allow you to hear new things with every listen whilst still be able to get completely lost in its relentnessness on the dance floor. I'm trying to carve my own little niche within leftfield dance music, something different, something new, maybe abstract in places but definitely something with soul and honesty."
Did you consciously focus on instrumentals and synthesisers to draw attention to the relationship we have with machines nowadays?
Mark E: "In a word, no. I employ the use of music making equipment – drum machines, synths, computers – to make music I like and hopefully music that others will like too. These are the tools I like to work with, they're the ones I've saved for and purchased to further my love of music and making music. There's nothing deeper than that really. What I will say is that since using hardware like drum machines and synths, rather than relying just on software, the human connection is much more tangible. Using a mouse or MIDI controllers just clicking away is no substitute, you lose so much. I think my music has taken a giant leap forward, which I hope people will recognise with this album."
Spectral Sound released 'Product of Industry' on April 28th 2014 (buy).