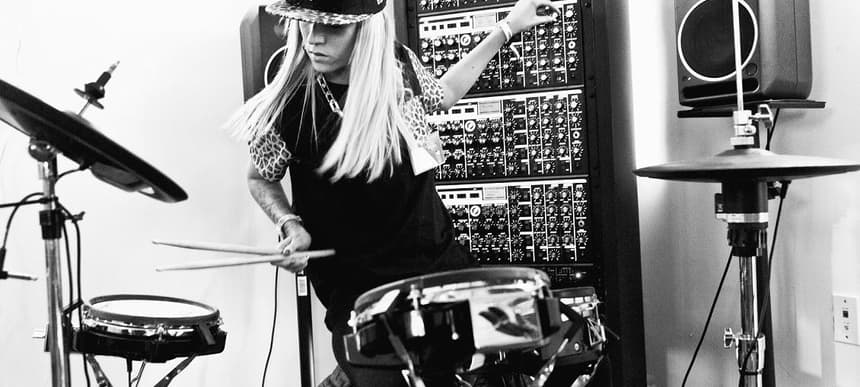 14.05.2014, Words by dummymag
Dummy Mix 210 // Flava D
This week's Dummy Mix comes fresh from Flava D, one of the most impressive producers currently working in the vibrant grime, garage, and bassline interzone. First associated to Wiley's fledging Eskibeat imprint, she broke out last year with Butterz and has most recently teamed up with DJ Champion's Formula Records to release the 'In The Dance' EP – a three track demonstration of a more minimal side to her productions that takes an economical scalpel to her already-intuitive grasp of melody and rhythm.
As prolific as she is exciting, this mix is solely made up of recent Flava D music, and covers her latest bassline and house excursions with Formula, as well as a VIP version of an older grime track, soft-edged UKG wonders, and a couple of excellent R&B remixes. Stream and download it, with a short Q&A with Flava D and the mix tracklist below.
Alright Flava D! How are you doing?
Flava D: "Hey! I'm good thanks. Just keeping myself busy with plenty of music projects."
Tell us about your new EP on Formula Records.
Flava D: "Well, the day that I made In The Dance, the first person I sent it to was Champion. I was more after his opinion of the tune actually, as I hadn't made a lot of material around the 130bpm mark until then. He liked it, so I sent him a couple other bits and that's when he asked if I would like to release an EP on his label, and it all went from there. Regular chats with me voice noting him clips of random tunes I was working on at the time and that's how we found New Era & Groggy. Then we had our chosen three!"
Could you also tell our readers a little about your mix?
Flava D: "Yes, my mix consists of all new music produced by myself, ranging from some mellow 2-step sounds, building up the pace and gradually hitting harder throughout the mix with some grittier basslines."
Since it is all your own productions, could you give us a few other artists you're into at the moment?
Flava D: "I'm really loving the work DJ Q is doing right now, he's really mastered his own style. As well as my buddy Royal-T. Both are making some great stuff keeping that authentic UKG sound whilst adding their own modern touch to it. I'm also a massive fan of Chris Lorenzo. There's so much character and detail in his work."
Tracklist:
01. Flava D – More Love
02. Flava D & Royal T – On My Mind (Part 3)
03. Flava D – New Era
04. Flava D – On & On (Remix)
05. Flava D – In the Dance
06. Flava D – Blurred Lights
07. Flava D – Back For More (Remix)
08. Flava D – Groggy
09. Flava D & Royal T – On My Mind (Part 1)
10. Flava D – All They Do Is Hate
11, Flava D – Rock the Boat (Remix)
12. Flava D – Changed My Way
13. Flava D – Sickman VIP
Formula Records released 'In the Dance' EP on 12th May 2014 (buy).