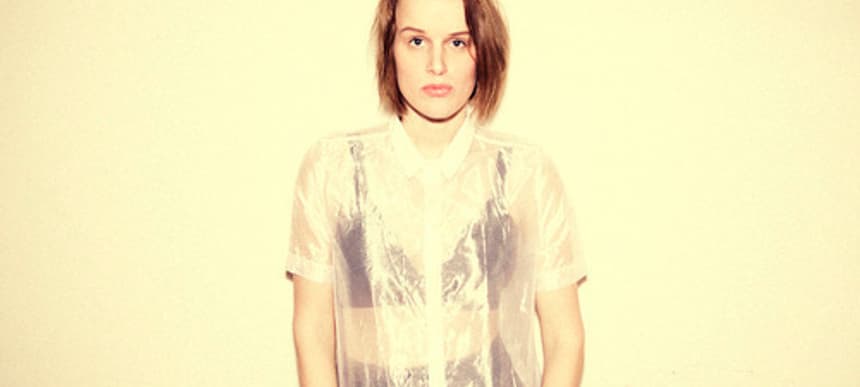 21.05.2014, Words by dummymag
Dummy Mix 211 // Maria Minerva
Maria Minerva has just released her new album 'Histrionic', continuing her close ties to LA's Not Not Fun, with the label recently describing her as "their favorite comedienne/diva/artstar". The Estonian musician is often tagged as an "underground" artist, in part due to the scatty lo-fi smog and buried layers of sweetly vocal that characterised 2011's 'Tallinn At Dawn' tape and beyond. But as Steph Kretowicz describes in her Dummy review of 'Histrionic', Maria Minerva is building up a sturdy body of work: this latest release takes her "emotional self-exposure' and crafts it into something empowering and substantial.
For Maria Minerva's contribution to the Dummy Mix series, she's collaborated with her mate Marko Krunic, who recently directed the video for Galaxy. The finished piece arrived with the following from Marko and Maria: "we would like to present u with a mix where immigration troubles, driving school nightmares and fantasies of papua new guinea come together in imperfect harmony."
There's no tracklist on this one, which makes sense in a way: the forty-minute trip is one more suited to just "going with" and seeing where your mind ends up. As Maria lets on in some answers below, there is a loose New York connection (where she relocated from London a few years back). Along with Black Dice and Eric Copeland, there's Pharmakon's Crawling On Bruised Knees, which still obliterates all in its path with the same force as it did on 'Ache' this time last year.
Hello Maria! What can you see out of your window right now?
Maria Minerva: "Trashcans, people going through my trash. Welcome to Brooklyn!"
Is this mix an extension of the ideas and influences for 'Histrionic'?
Maria Minerva: "Nope, not really. It is just selection of stuff that I like. Sometimes a mix is just a mix."
You've told us that this piece is in part inspired by 'fantasies of Papa New Guinea'. What might feature in a fantasy day in Papa New Guinea for you?
Maria Minerva: "This is actually an inside joke [between Maria and Marko]. We have the same taste in music so we figured it out together. I wanted something weird, also a bit NY-centric. But basically he is obsessed with Papua New Guinea, the last two times I have seen him he keeps talking about it for hours and retelling some BBC documentaries where white people go to hang with the natives. I am definiely interested in remote places like that, but more than that I am fascinated with my friend's fascination and this need for a more innocent, technology/money-free life."
You shared an unreleased track/bootleg last year called Café Nihilism 2013, which had some wicked lyrics on it. Will that ever be getting released more officially?
Maria Minerva: "Nope! That song was actually one of those I made for my album and then dropped. Just felt it didn't fit in but I still like it and I'm glad you like it too. 'I see all the lonely people, looking at the other lonely people, I lose my sense of self in this heat, I surrender to the misery beat..' LOL, deep stuff!"
There are some funny, if slightly unsettling, sounds of people munching on food early in this mix. What was the last great meal you ate, and why?
Maria Minerva: "Last night I ate about 77 serving sizes of tortilla chips with guacamole. I don't get the serving size thing, just makes me feel guilty, but hey, it was 2am and it felt fucking amazing."
Not Not Fun released 'Histrionic' on April 29th 2014 (buy).