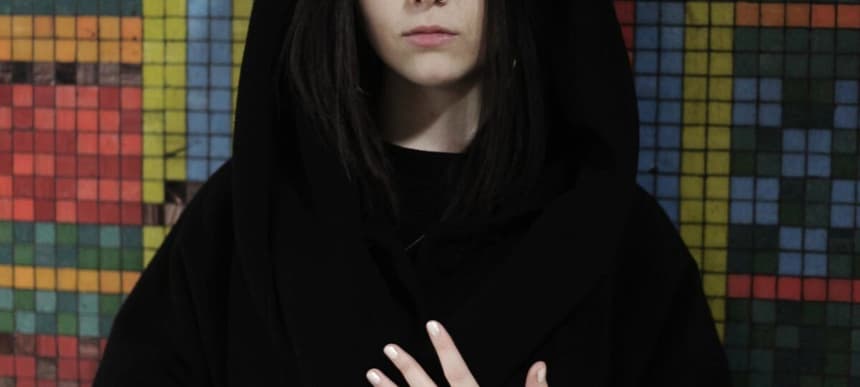 11.06.2014, Words by dummymag
Dummy Mix 214 // Mokadem
Mokadem is a new producer from London. Born Louisa Mokadem, she makes spectral electronic music that feels as at home heard on headphones as it does in clubs: bass-heavy and atmospheric yet full of subtle melodic progressions, taking influence from non-Western music and marrying them with distinctly UK club rhythms.
It's this latter point that's most evident on her new Dummy Mix. Although she describes it as mostly music from some of her favourite producers, the first thing you'll notice is how heavily it channels Eastern melodies, whether that's sinogrime, cute J-pop influences from A.G. Cook, Japanese producer Kenji Kawai, or Fatima Al Qadiri's "imagined China". You can chalk this up to her West London upbringing ("I grew up immersed in Arabic and Asian culture so I was definitely affected by my exposure to a lot of those things," as she told THUMP a while back), but it's as much down to the fact that there's so much good music coming out right now that draws from similar influences.
Mokadem is actually involved with two Dummy-related activities in the coming weeks: first, she'll play Dummy's party at the Lock Tavern on Saturday June 21st (alongside E.M.M.A. and Cadenza) as part of the Camden Crawl. Following that, a new Mokadem track called Nothing appears on our new compilation, 'Dummy: 21st Century Pop Music 2014'.
Hello, Mokadem! Are you STOKED for the Camden Crawl?
Mokadem: "Hi! No, not really. Joking! Yeah, I'm totally stoked."
Who will you be down the front for?
Mokadem: "I've wanted to see Shabazz Palaces for years, so I'm gonna have to sneak into that. I'm also really into Dummy's Friday stage."
So, can you introduce yourself to Dummy's readers? What do you do, what are you about, etc?
Mokadem: "I make tunes, and I'm about always trying to trigger people's autonomous sensory meridian response."
What have you put together for us in this mix?
Mokadem: "Some of my favourite tracks from my favourite producers. The first track is from Jürgen Müller's 'Science of the Sea', and I had completely forgotten about that album until it came up on my shuffle last night – it's great. Another favourite is Le Bon Viex Temps by I:Cube; I heard my neighbour playing it in his garden and I asked him what it was out of my window."
What are you currently drawing inspiration from in your music?
Mokadem: "I love what A.G. Cook is doing at the moment. I've had his new track on repeat all week."
Lastly, what was your favourite TV show as a kid?
Mokadem: "Button Moon."
Tracklist:
01. Jürgen Müller – Jenseits Des Stromes
02. Fatima Al Qadiri – D-Medley
03. Mokadem – Sleep
04. SPF666 – Tsundere ツンデレ (Massacooramaan remix)
05. Spooky – Cooly Joyride (Murlo remix)
06. Kenji Kawai – Making Of A Cyborg (Rope re-interpretation)
07. Ikonika – Kaka
08. Linden Jay feat. Ruby Wood – Break The Hold (Mokadem remix)
09. I:Cube – Le Bon Vieux Temps
10. Piri Piri – Quest (Neana remix)
11. A.G. Cook – Beautiful
Mokadem plays Dummy's stage at the Lock Tavern for the Camden Crawl on Saturday June 21st (buy tickets). Her song Nothing appears on our new compilation 'Dummy: 21st Century Pop Music 2014', out on June 2rd 2014 (pre-order physical/digital).