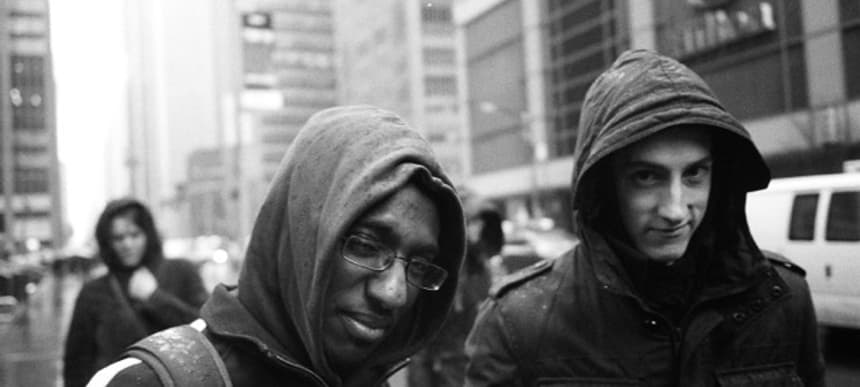 02.07.2014, Words by dummymag
Dummy Mix 216 // Wen b2b Parris
Aside from Mumdance's
recent rip-roaring Egypt mixtape
, Keysound Recordings – the label who've hit a purple patch in recent times with some of the most
expressive
,
forward-thinking
UK dance releases around – are fairly underrepresented in our Dummy Mix series. So it's a real pleasure to have this week's mix delivered by two young affiliates of Dusk + Blackdown's imprint:
Wen
and
Parris
.
Wen will no doubt be familiar to those who've been following instrumental grime's creative outpouring of late, which resulted in his reverential, referential debut album
'Signals'
earlier this year (read Blackdown deliver a
spurring introduction to Wen
). Parris is still rising, but if you've been to any recent Keysound raves you may well have seen him hanging out and spinning dust-flecked dubstep on vinyl. The pair, already good mates – first online, then IRL – just put out a joint release on Tempa, 'Caught/Collide'. Both pieces appear in their Dummy Mix, with
Caught
's murky mindset, shot through with some of Keysound collective LHF's smoke-filled mystery, setting the tone for the forty-minute session. As well as a tracklist, read a short Q&A with the pair in which they lament the not-particularly-comfortable chairs they're sat on, and Wen shouts out the emerging scene surrounding his current home in Thanet, Kent.
Hello, Wen & Parris! Are you sitting comfortably?
Parris: "I'm trying to, I'm currently sitting in an Ikea chair which isnt the best on back support but is making do, but im sure Wen is sitting on something more comfortable than me…"
Wen: "I would be but my cat's claimed the comfy studio chair."
Can you introduce yourselves to our readers? Wen's name may be familiar to some, but Parris is a relative newbie…
Parris: "So I currently go under the artist/DJ name of Parris. I've been floating around for a little while now but have started to find myself and come into my own over the past year or so. I run a label called Soundman Chronicles which is currently gearing up it's 4th release from Facta. I'm mainly focused on my DJ'ing first in which I use mainly dubplates and vinyl. I also produce music as well as a solo artist but have also collaborated on various projects with artists such as E.m.m.a, Etch and Wen. Now that I've taken up half the page I'll allow Wen to introduce himself."
Wen: "I've been working closely with Keysound since late 2012, curating an EP followed by an album under Dusk + Blackdown's mentorship. I live in Thanet, it's a group of towns on the coast (Margate being the best known). I learnt a lot from my friends here. One of them runs a label that I released a single on last year, Badimup, and we just found a new home for our night at this wicked new venue called RMH, so I'm pretty excited about what's happening at home right now. Not to say there's nothing interesting happening elsewhere, music is just flourishing in my area which is sick."
So you have a new collab coming out, and this is mix also a collab. Do you remember the first time you met each other?
Parris: "Before we actually met face to face we started talking online, through Twitter, straight away we find out that we had similar interests musically."
Wen: "Around the time I started to play clubs in London, Dwayne came along and showed me round some good secret spots in the city; for food, records, even tipping me off which tubes I needed to take to go certain places. We just became good friends quickly through jamming in the city, it always revolved around music in some way – it made sense to sit down and try write something together."
What's the studio relationship like between you guys? Is one of you a doer and one of you a thinker?
Parris: "Not really, we try to keep it as even as possible, we often try to explore each others ideas together, so I may have a suggestion or vice versa and then we get the idea rolling. From there its about expanding on it and seeing how we can explore the idea further. The intention of caught was to make a track without any kind of snare / clap as the driving force, rather use hats and sound effects to create the atmosphere while also keeping the groove."
Wen: "We tend to just go through some sounds or samples we like, drag our favourites in and then build up everything from there. We both have quite similar taste, and we know each other well enough that we can be bold in our opinions to one another. So it's not difficult to say "yes I rate that" or "no, drop that". You can't tip toe round each other, you just gotta be blunt and totally honest."
Have you got more music together due on the horizon?
Parris: "At the moment we are both quite busy with stuff outside of music, so we have some ideas which we have started but just need to find time to finish, but there should hopefully be more things coming soon, nothing set in stone yet but we're in talks."
Tracklist
01. Mumdance & Logos – Border Drone
02. Pev & Asusu – Surge
03. Batu – Nova
04. Troy Gunner – Fingerprints
05. Maribor – HIAB
06. Sebmann – Shtun (Llesca Remix)
07. Etch – Toxin
08. Beneath – Soho
09. Wen & Parris – Collide
10. Visionist – Nightflare Remix
11. Mao – Ways of Seeing Ft. 14th (Wen Remix)
12. J-One – Rise
13. Wen & Parris – Caught
Tempa released 'Caught/Collide' on June 23rd 2014 (buy)