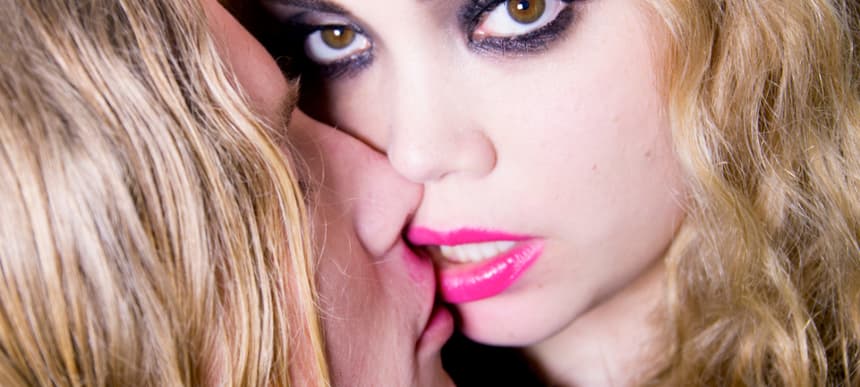 20.08.2014, Words by dummymag
Dummy Mix 222 // JJ
JJ have been releasing music for five or six years now, putting singles, free downloads, mixtapes, EPs, and the occasional full-length album out into the world with seemingly little interest in what was going on in the music world around them or what anyone else would think of it. Instead, they established their own particular brand of pop music – dreamy soft pop, simultaneously euphoric yet woeful, heavily referencing the language and rhythms of street rap – and perfected it over the years.
'V' is the latest album from the Swedish duo of Joakim Benon and Elin Kastlander, and remarkably it's their first since 2010's 'j n° 3'. Their glossiest album to date, 'V' doesn't drastically alter JJ's chemistry, but it does hone in on and sharpen their sound, and it contains some of their most considered songwriting, arrangements, and engineering.
Their new Dummy Mix seems like a sum of JJ's influences, where Fleetwood Mac sits alongside Future, Meek Mill, and Lil Wayne, as well as music by the duo including collaborations with fellow Swedish artist Yves Saint Lorentz. Have a listen below, read a short and typically cryptic email Q&A with the band, and marvel at the fact that the tracklist that they provided us with writes their name, in vintage JJ style, in lowercase.
Your new album 'V' lands about five years after you released your last album. When you listen back to 'no° 3' now, what sort of memories does it bring back?
JJ: "Ultrachaos.
Extreme love. Xanax.
Black holes. White lines.
Black thought. White lies.
Colour. The colour red.
Sweet memory.
I wanna go.
I wanna come.
I wanna know.
I know I want some fun.
Do you want fun?
Come have some fun."
On that same topic, what's the big difference between the state of mind you were in making that record and the state of mind you were in making 'V'?
JJ: "If we were in kindergarden then. Now we been in the isolation cell."
What's in this mix?
JJ: "In this classic mix from jj we will hear true stories from life. If you listen, you will hear: jj My Way, Fleetwood Mac Little Lies, Future Straight Up, etc."
What do you like doing when you're not making music?
JJ: "Breathe. See. Make more Love. Be still. I don't know. It feels like everything is music to me. It gets made all the time. I can't shut my ears or my heart. I love to share."
Tracklist:
01. jj My Way
02. Fleetwood Mac Little Lies
03. Future Straight Up
04. Lorentz Där dit vinden kommer (feat. JaQe, Duvchi, jj & Joy M'Batha)
05. Kendal Johansson Courtesy Lafs
06. Rich Homie Quan I Fuck Wit You Girl
07. Lorentz Mimosa (feat. jj)
08. Popcaan Everything Nice
09. Meek Mill I Don't Know (feat. Paloma Ford)
10. Lil Wayne vs T.I. What you know bout lollipops (jj Mashup)
Sincerely Yours/Secretly Canadian released 'V' on August 19th 2014 (buy).